Discussion Starter
·
#1
·
Thought I'd add a little to the knowledge base. Maybe I missed it, but I haven't see pics of a ZX10R install.
I decided on the '07 ZX10R basically because it is the closest to the stock shock in terms of length.
Sorry, I didn't take pics of the cutting process, but just suffice it to say that it took a number of tries to get it right. Obviously, you have to take the battery tray out, but it slides back in fairly easily so that you can see where you are at in terms of fit.
Here's the under seat view now after surgery. The shock reservoir forces the battery up about an inch in the box. I cut a piece of styrofoam to fit the space and the battery is snug in the box. However, this means you no longer have room for that little tray dealio that sits on top of the battery. I suppose that battery cover serves some purpose, but I do know what, so I just took it out and pushed the fuses in behind the battery. It doesn't pinch and if you angle it correctly, doesn't move around either. The connections to the battery you see are for a Battery Tender/heated vest. Seat fits fine over the top of all this.
Left side with the side cover off. Little ragtag on the cut, but the shock fits perfectly behind the subframe rail. Maybe a 1/4" of clearance. Adjuster is accessible only with the side cover off, obviously, but this is a 15 second operation.
Right side not too noticable except you can see the styrofoam spacer. And my wife's Passat... :nana: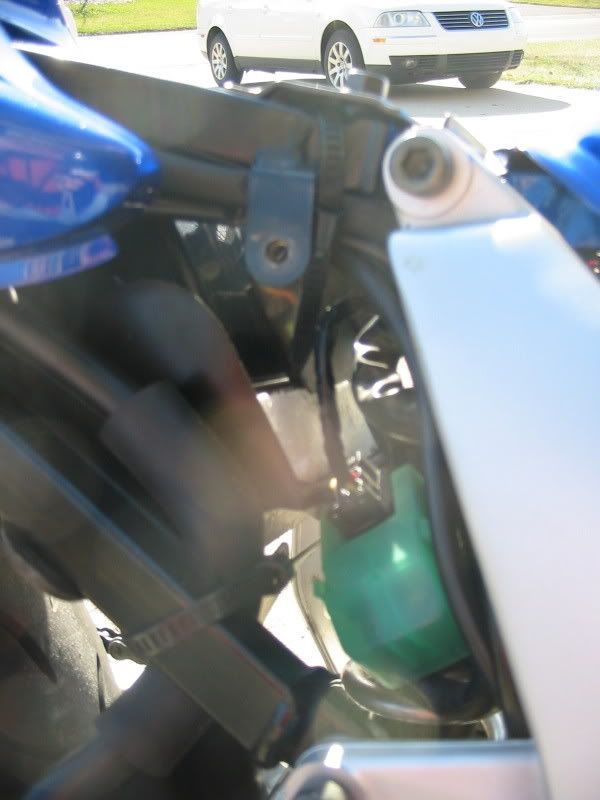 This really wasn't all that hard to do if you have a way to suspend the rear end while removing the old and installing the new shock. Took me an afternoon to take apart and put back together. You'll need a nut for the end of the stock bolt at the bottom of the shock, but this is a standard size; I had one laying around in my very minimal the shop.
I just got the carbs sorted yesterday so haven't really hit the twisties at all, so can't really comment too much on the performance of the shock. So far, the 100 or so miles I've put on have been good. I'm 160lbs and had to soften up the rear because it was beating the crap out of me on the frost-heaved roads of Michigan, but after I dialed it back a notch, it feels quite good.