Discussion Starter
·
#1
·
So I've been holding back on posting anything until I had something resembling a finished motorcycle, and as of this weekend, I do!
I bought my SV new in the summer of 05. I was working full time as a motorcycle courier in the SF bay area, doing 100-300 miles a day in all weather. I chose the SV because it was affordable, sporty, and had a reputation for being dead reliable. Also... I was graduating from a GS500 and didn't want to step full-on into a SS600.
I put ****ed near 20k miles on my SV with no reliability issues. I did get hit by 2 cars, and I binned her once at a Sears Point (Infineon) trackday in the rain... amazingly durable bike. But we all know that.
Anyway, in the spring of 06 I put down a deposit for a 2006 R6, and picked her up in March. After that, I pretty much stopped riding the SV. Both were sportbikes, and the R6 was just so much *more* of a sportbike that the SV felt kind of soft and spongy. Also, the high-seat/low-bars ergos of the R6 were, for some reason, way more comfortable for me than the SV's more conventional setup.
I stopped riding for a living in summer or fall of 06 and bought a cheap car (GF was too worried about me getting hurt on the job). The SV gradually fell into a state of disrepair. I loaned her out to friends, taught 3 or 4 people the basics of riding on her so they had an idea of what being on a bike felt like before they packed off to MSF, etc, etc.
The last time she ran was in January of 07, and she was in sorry shape by then.
May of 07, my R6 got stolen. I went to fire up the SV... and nothing. She wouldn't run. Money was tight, I was *super* ****** about my R6 and didn't feel like sorting the SV's problems... so she continued to sit.
In the fall of 07, I decided to resurrect my SV, and turn it into a bad-ass streetfighter. Upgraded suspension, aggressive as hell ergonomics, improved suspension, and stripped of everything possible to save weight. Really, that's the cafe racer ethos, but I didn't plan on making the bike look like a cafe racer.
Then my house burned down. Major delays. I made some minor progress after I moved to a new place; and the bike looked like this: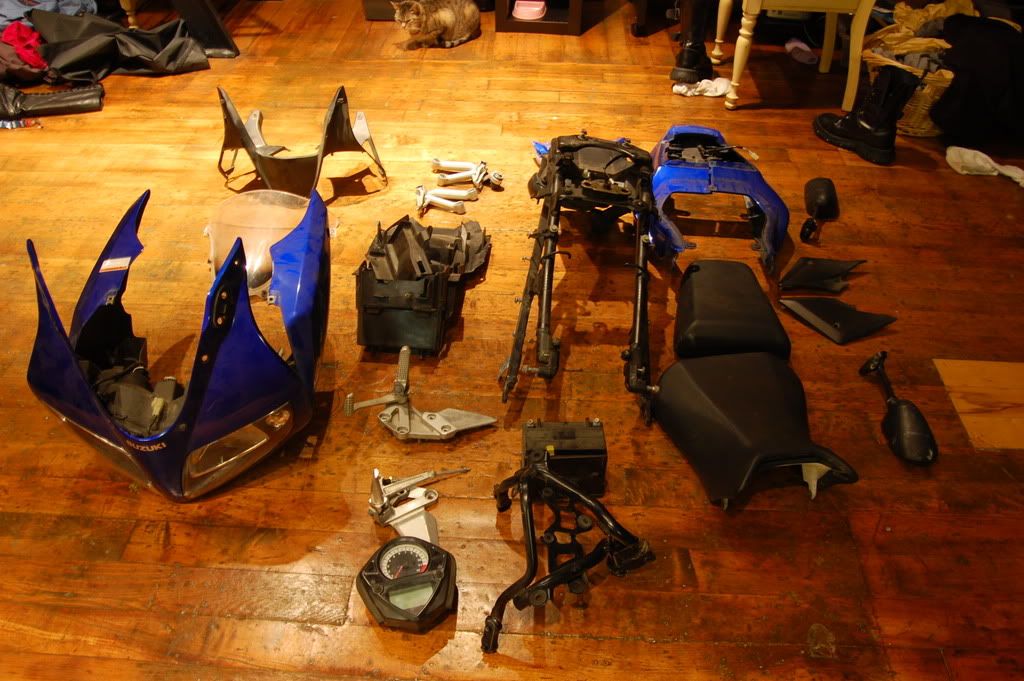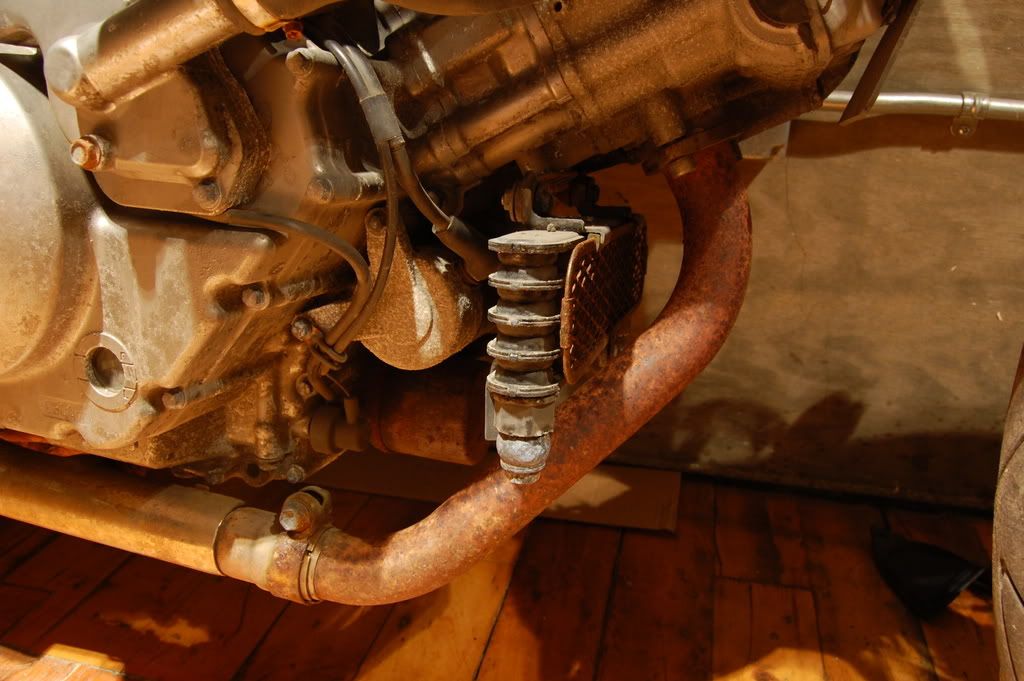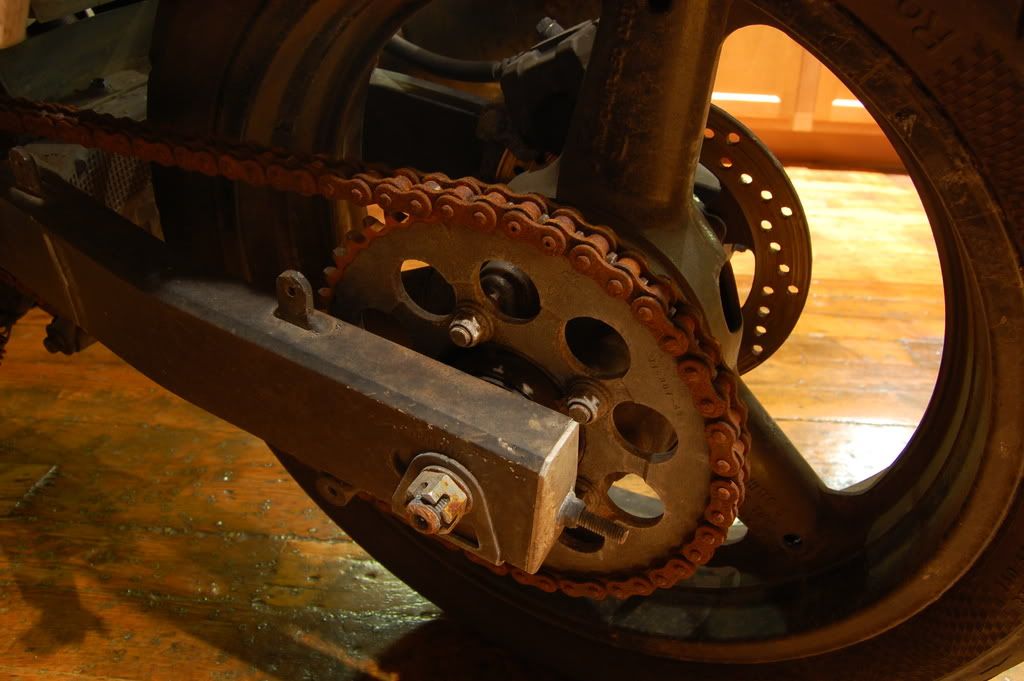 In a word, awful. That's the better part of two years sitting around 100 feet from the pacific ocean.
The financial fallout from the house fire hit pretty hard, and all progress stopped on the bike until around 3 months ago.
A friend was kind enough to loan me his SV1000 so I had something to ride, but he really wanted his bike back. He pretty much kicked me in the ass to start the project or give the SV1K back. IE: work on my project consistently or go without an effective means to get to work and school.
So, I enlisted the help of friends and the folks at BARF (especially the all-mighty Zoran), and started making progress.
I stripped her down as far as practical to the frame and spent a few weekends cleaning and repainting.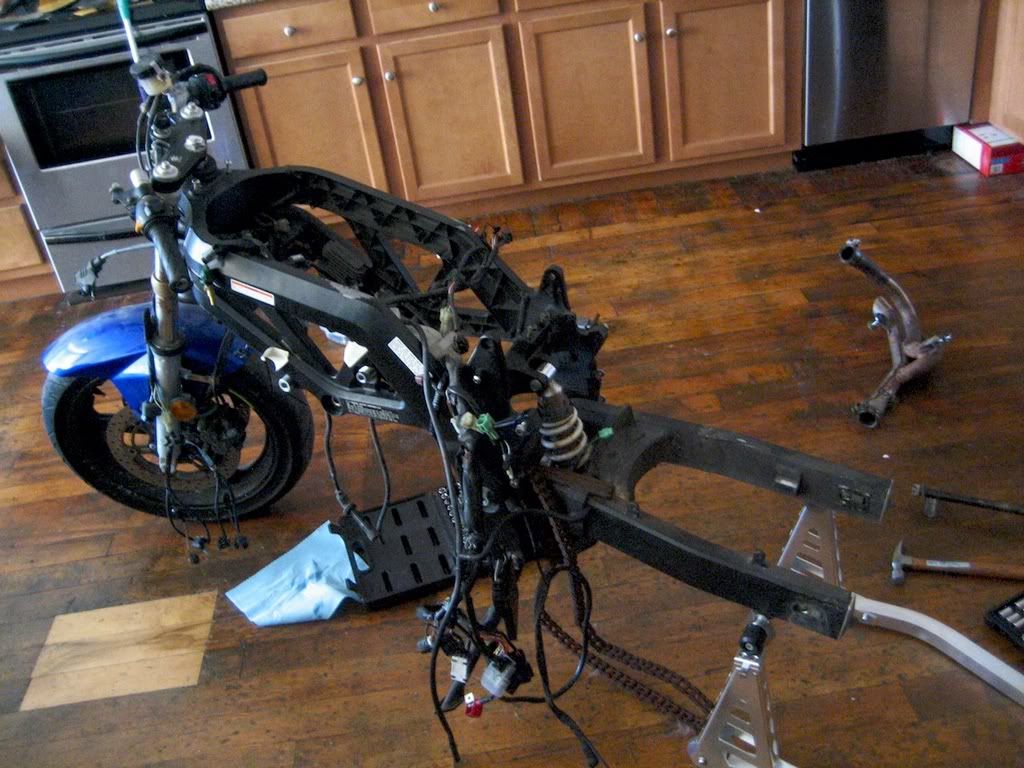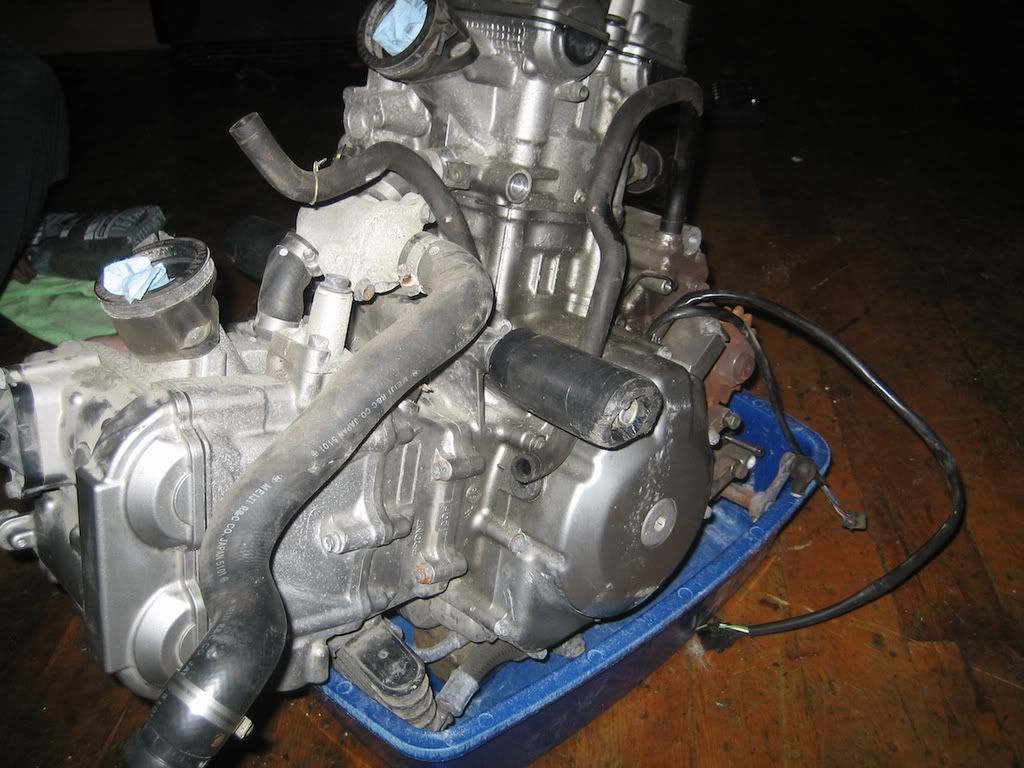 The motor eventually came fairly clean, and I repainted it.
New suspension went in.
I painted the tank to match the frame and motor.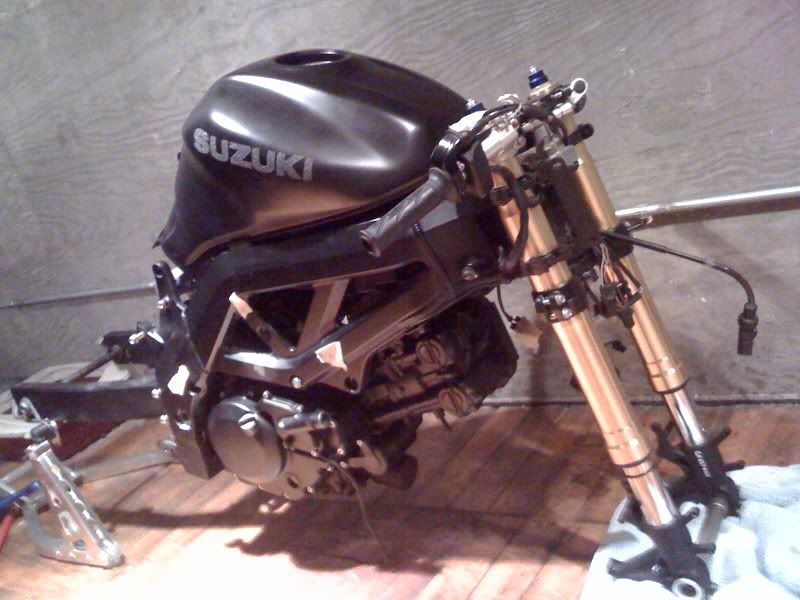 More bits and pieces came in. An F3 wheel and spacer kit. 520 chain and sprocket conversion with aggressive gearing. R1 brakes. Acerbis headlight. A new front wheel. Etc, etc, etc.
A ridiculous amount of time was spent hand-polishing the wheels. I'll *never* do that again. I should have listened to my friends. Heh.
At this point I started work on the most fun part of the project: the tail. I'd known from the beginning I wanted a bobber. An acquaintance of mine on BARF inspired me several years ago with his SV bobber. It was mean as hell, looked great, sounded great, etc. It was also beat to hell, and a first gen. I wanted to do something similar, but with a 2nd gen, and in a less haphazard way.
Out came the cad software:
New saddle and the bracketry to support it.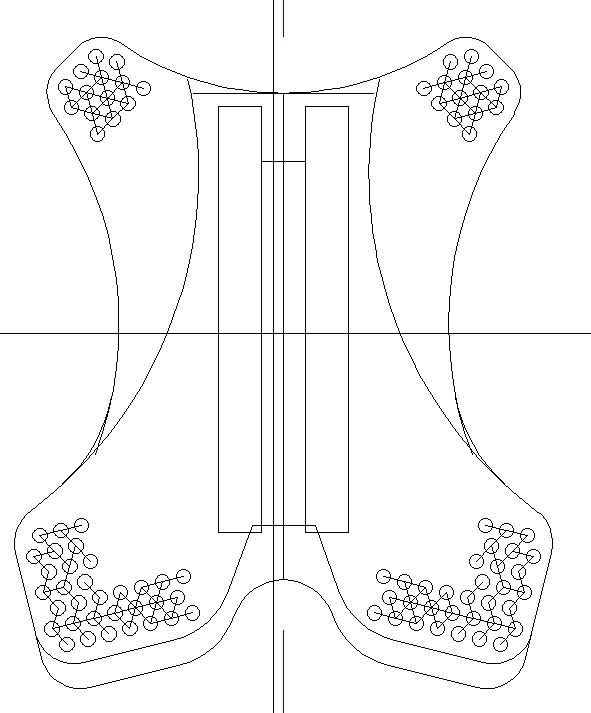 The original plan was to get these CNC machined, but that proved to be a bit outside my shoestring budget. So, I did it the old fashioned way with saws and hammers in my buddy's metal shop.
And now the bike is almost done. I'm waiting on some new pod brake lights and turn signals to come in, and I need a new battery (mine was toast after sitting for 2 years). After that she should be good to go. Instruments will come in a month or two (I'm planning on getting a Vapor). I'm going to get some race bike foam padding for the saddle as well. In the meantime though, here she is in her 95% done glory: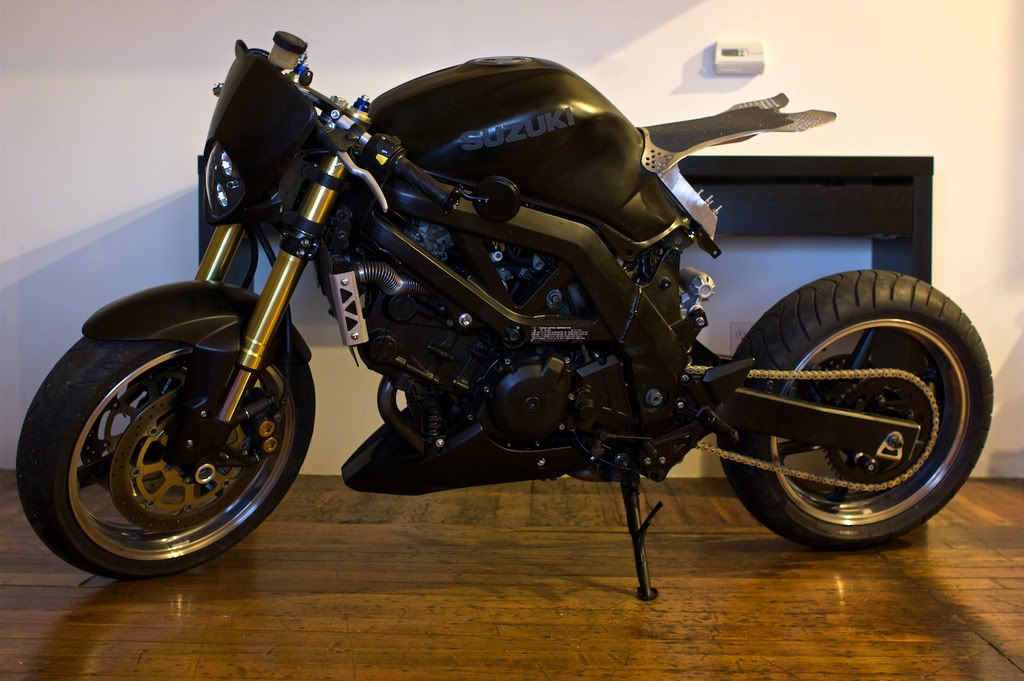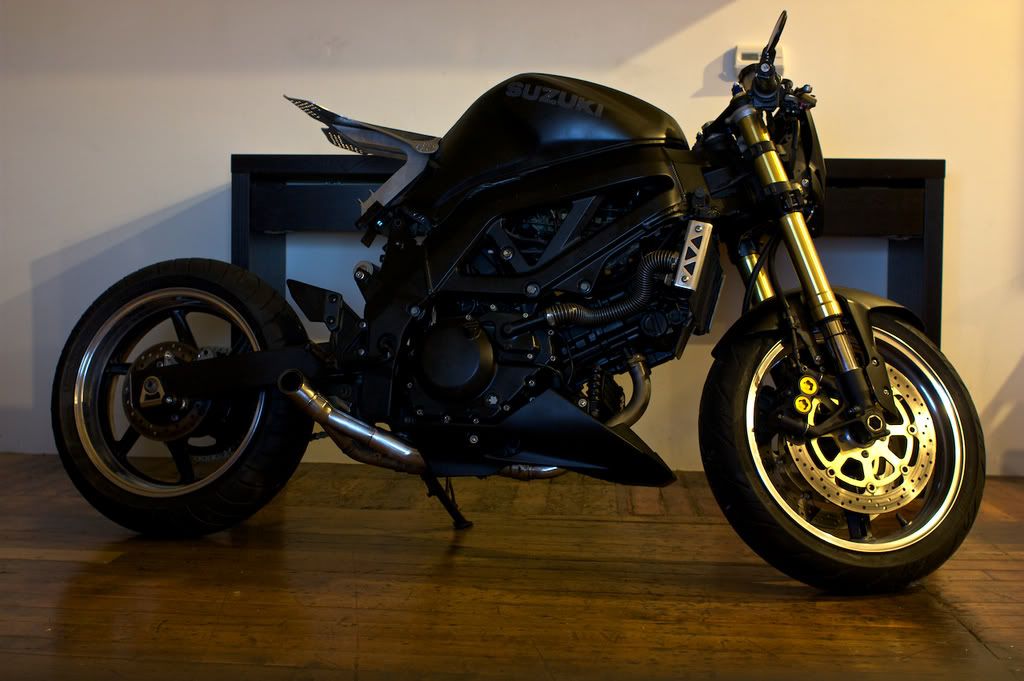 The entire electrical system has been relocated under the tank to a custom tray which includes mounts for most of the sensors, the fuse box, ECU, battery, etc. I've moved to pod filters to make room. A PCIII and some dyno time will sort the fueling. I'm unsure as to how much weight I've saved, but before I put the rear tire on, with coolant and oil, she weighed 308 lbs. Due to a lot of do-it-yourselfing, help from friends, and good deals, I've only spent a little over $1000 getting the bike to this stage.
I should have video of her first start-up in 2 years this weekend. I'll post it here, of course.
Hope you guys liked the writeup, and didn't find it too long-winded.