Discussion Starter
·
#1
·
We'll I purchased a track bike late last year and it was red. I hate red. So I decided since I wouldn't be doing any track riding till spring time I would take the bodywork off, fix a couple of holes and bad areas and repaint it. Well this was my first time doing any fiberglass and painting and I probably spent way to much time on it with repairing holes, leveling low spots, scratches, dents, etc and block/wet sanding for a track bike. But the more and more I did, the more and more I wanted it to be perfect.
Now I needed to come up with a paint scheme. I looked at other peoples track bike paint jobs and really didn't want the typical one or two tone job with a bunch of different companies stickers on it. I had seen a couple of theme bikes that I had liked, the Willy's Jeep SV from Canyon CHaser and Amac's A-7 Corsair 2 SV. So I really liked the idea of doing a military type theme like theirs, and like WW2 history. So I started looking at planes from WW2, the corsair, mustang, spitfire, yak, wulf etc. Well since its a Japanese motorcycle , I decided to do a Japanese plane, the Mitsubishi A6m3 Zero. I did some research on some paint codes and found one that was close enough and shot it with the help of my dad who has painted projects in the past. I then had a friend cut some vinyl up for me since I didn't feel like buying 3 or 4 different colors of paint.
Here's the bike as I purchased it.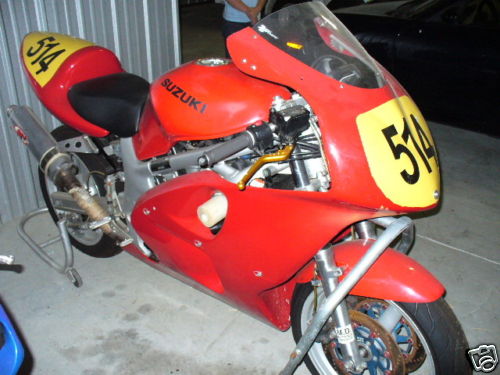 Done shooting the paint. ooohhh all shiny.
Mounting the bodywork up.
All mounted up.
And with some vinyl and wrapped seat with brown pleather.
Too gay?
Too lazy to paint the sheet metal undertail.
Then its first track day at Summit point, Shenandoah Circuit.
I got a lot of compliments on it at the track and it made all the work with it. Time to put it away so it doesn't get scratched ;D
J/k heading to VIR this weekend.
I'll probably do a write up on Shenandoah and Patriot sometime this weekend.