Discussion Starter
·
#1
·
I got hold of this 2003 used and abused SV650S now N... ish. 32k miles on the clock and probably been down more times than a $20 whore and carries the same baggage.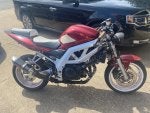 Body (what remains) is surprisingly good and whoever did the paint job did decent work (was originally that copper/orange color). It has a list of times that needs to be addressed: Fork seals looked original, steering stops in the forward position (bearing issue) and half the nuts and bolts are from a hardware store (some missing). One rearset is OEM another is aftermarket. Grips are the ugliest option I've ever seen put on a bike. That's just the icing on the cake, much more to come in time.
So I started to break it down.
Pay no attention to the stands that no expense was spared on... Seriously, I spent nothing. I found an old 2x4 and wondered "how sketchy can I make this".
First to be addressed were the forks. Rusty, rotted and in need of love. Just like that $20... Oh never mind. That mess was one of the dust seals. And yes, I have all the high dollar tools.
Next to be worked on (and where I'm currently at with the project) is the steering head. It would literally stop in the forward position. How long that's been going on for is a mystery but the fact that peeps rode with like that is mind boggling.
Anyway... I just to get some good grease to pack the new bearing with and I can put the front end back on.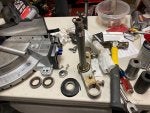 A little out of order with the pic but next on the list is to rebuild the MC and change the caliper seals. I figure since I'm doing all this other seal work let get the bike as refreshed as possible. I do have a set of brake lines on order since I have a thing against rubber hoses and have issues with OEM's still using them. From there the wheels will be stripped of their custom paint job (really really really bad paint job) and powder coated then new bearings for those too.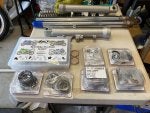 This will be a slow going project as I'm in no rush but I though it would be cool to post about it.