SV Streetfighter Build
So I am making this my general bike thread now. I am going to be doing more stuff; exhaust, paint, other mods in general. Thanks for the feedback so far.
(original post)
Hey guys,
I have a SV1000S. I am removing the stock upper fairing. I want to mount this headlight in a fixed, non turning fashion to the fairing stay tabs.
This is the headlight I got: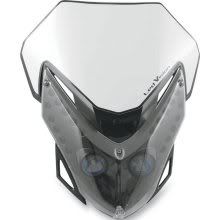 I want to make something like these Aprilia's have, to tie it into the whole bike. What do you think? Little fiberglass, or carbon "wings"? I think it could look pretty dope.
I know some might say that I am trying to fix something that isnt broken, as the SV1000S basically already has a headlight smoothed into the bike, but I want something smaller and slimmer.
I ordered the headlight, prob wont have it for a little, but once i start working, I will keep people posted.