Discussion Starter
·
#1
·
Had a free weekend, and while I should have worked on the house, I wanted to go for a long ride.  Called up my Dad and told him I was thinking about heading up his way, to the SF bay area.  He was up for it, and we agreed to work out the details of meeting up when the weekend got closer.
Off to the motorcycle shop for some luggage to get me through a long ride, and a weekend.  I picked up a cortech sport tail bag.  Since it is summer that is all I needed to pack clothes for the weekend.
Friday came and I was anxious to get on the road.  I packed up and did some maintenance on the SV the night before, so everything was set, except for that pesky thing we call work.  Off to work, and come to find out there was nothing pressing, so two hours later I was home getting suited up.  The phone rings and it was my Dad saying he was leaving and to meet him in San Miguel when I got off of work.  Guess he was anxious too.  I told him I was on my way out too, so we confirmed our route, and off we both went.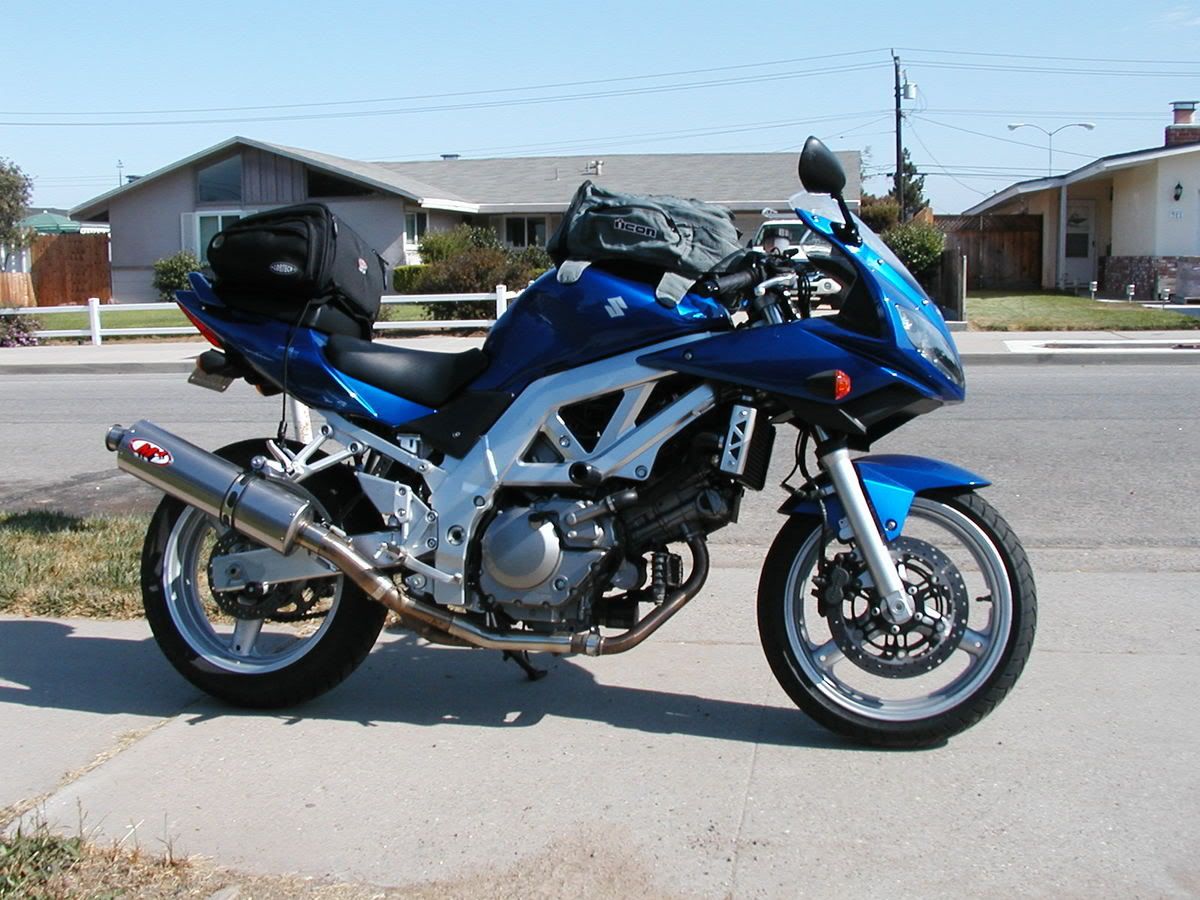 I lagged a bit leaving the house, and stopped in Paso Robles for gas.  Ran into two motorcyclists at the gas station who had left Orange County at 5am and were heading for Carmel.  I steered them off the slab, aka 101, and onto some Monterey county roads that I later took on my way home.  Had to stay the course to run into dad over on 25 though.  Off again, through San Miguel and over some hills on a very terrible stretch of road.  After 20 miles, and knowing there was about 50 more until I could get off of the severely patched, pot holed, road snake infested, alligator asphalt I hoped to see Dad soon.  Fortunately the crappy road conditions let up after crossing an interesection.  Soon after that I found the old man taking a rest under a shady oak.  Good thing too cause the temps were up around 100.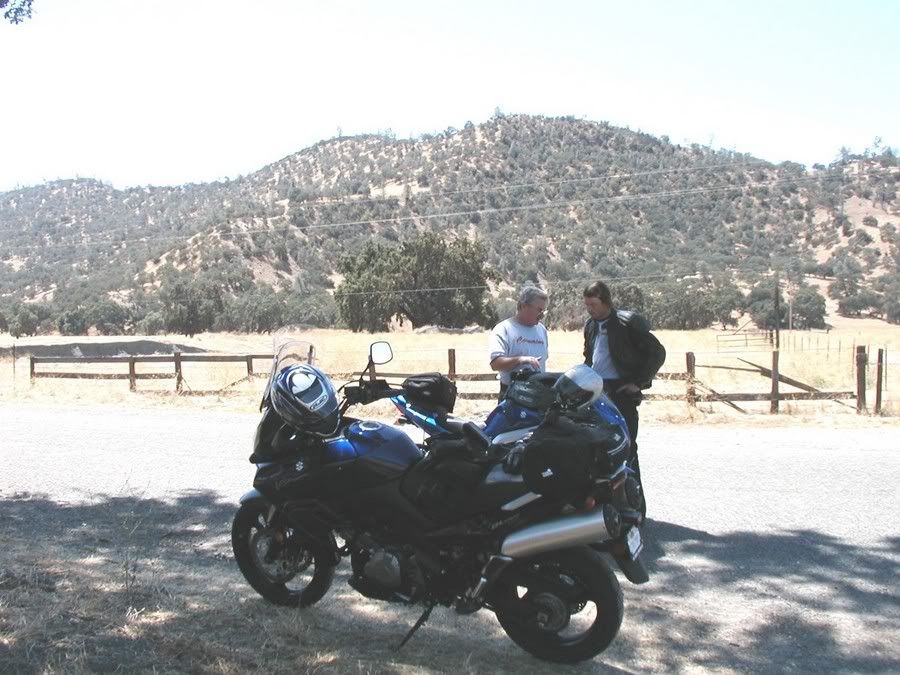 After greetings, sipping some water, and consulting the map, we decided to head west for the ocean, and get away from the heat.  So through King City, up to Greenfield, then Carmel Valley Road.  Carmel valley road goes through some neat country, but the road could use a little work.  It seemed that most of the turns had minimum of one unsettling bump at the entry and exit.  And some places it looked like the asphalt got so hot the lines started to drool sideways across the lane.  Through Carmel I noticed the motorcycles of the guys I saw down in Paso Robles.  I wonder if they liked the alternate route?  Onward and upward.  Over Laurel pass was fun, and kept us just east of Monterey, then to Marina where we stopped for lunch.  Then on up 1 to highway 9, past Alice's and a bit north to the San Mateo bridge and over to Dads place in Castro Valley.
350 Miles.
Day two we took off and rode through the mountains on the east side of the bay, around Lake Chabot.  Took a spin on Dads F650 Dakar.  Pretty fun bike, feels really leggy in the turns though.  Guess I am just used to the SV.  Stopped somewhere and got this shot of the bay covered in fog.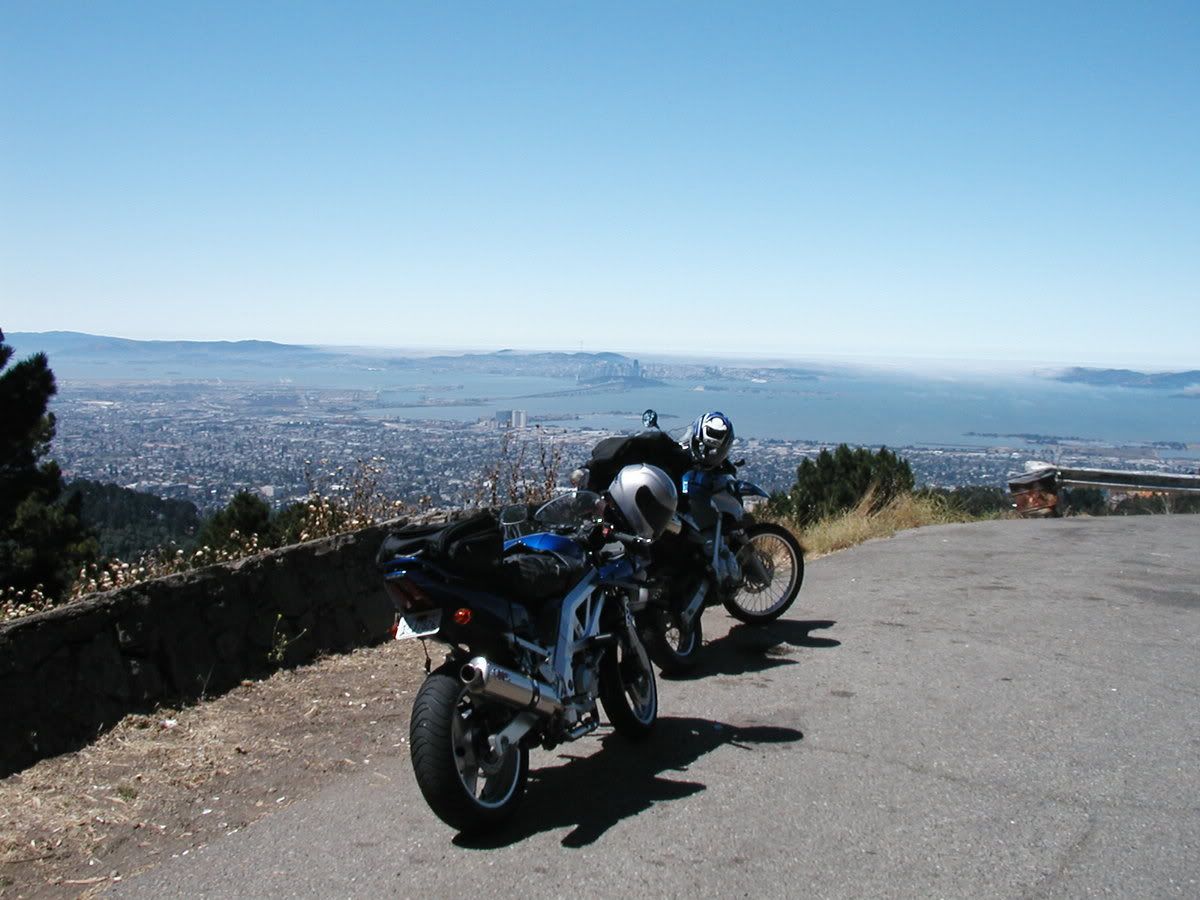 Then down into traffic to get across the bay bridge and into the city, then north across the Golden Gate.  It was pretty cool seeing the vertical cables just dissapearing up into the fog.  Then when we got to the north side we had a laugh about a lady sporting a skirt on the back of a Harley.  Fog decent make for skirt weather, and at 50mph it decent get any better.  Dad has the luxury of being semi retired so he rides alot of roads that are nearly impossible to get on during the weekend, which was the case with the Muir woods this Saturday.  Check the map again and head for another road, Lucas valley, which rumor has it is where George Lucas lives (whatever).  Cool road from the 101 west to 1, then up to a town called Marshall for Lunch.  East from there back to the slab, then across another bridge and back to the Stable.  150 miles.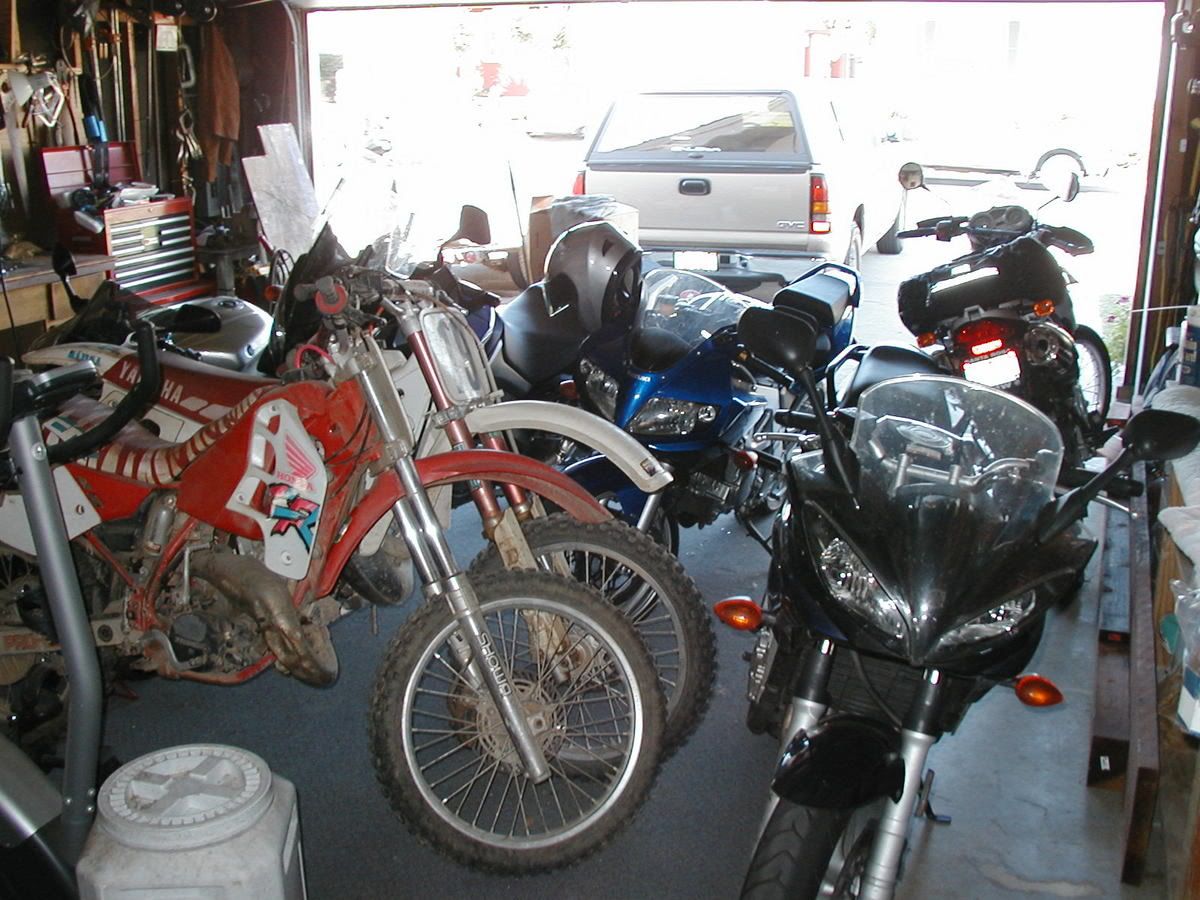 How many motorcycles can you find?
Day three.  Had to go home, but before I left I wanted some more of the Santa Cruz mountains.  So we headed west over the San Mateo bridge, and out to Half Moon Bay for breakfast at a place where the owner would belt out tunes along with the music while cooking.  With full bellies we headed south, skirting the 1 on some fun backroads.  Managed to stop and take some pics at this spot.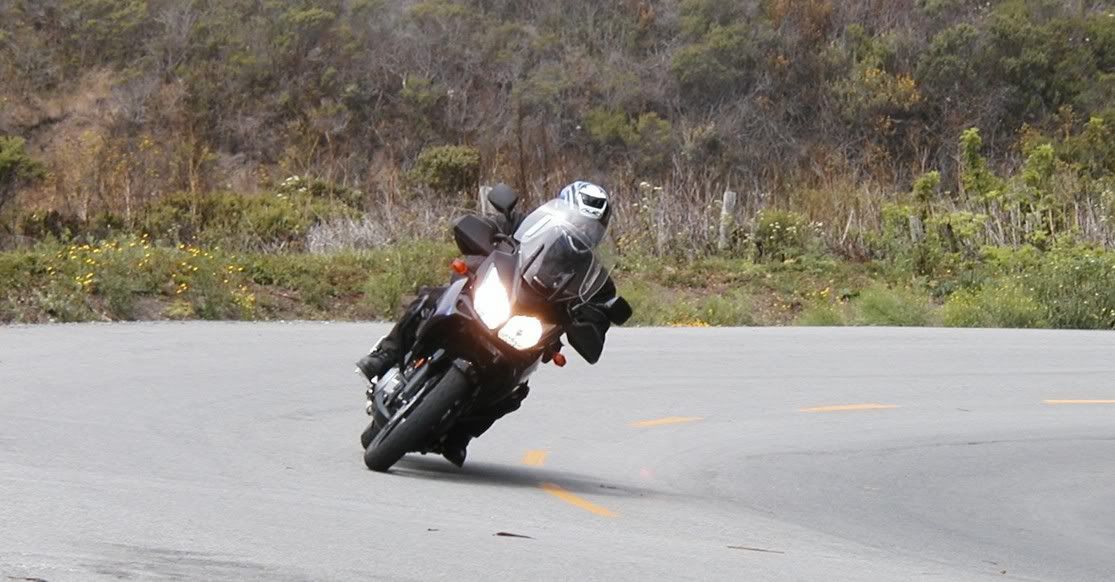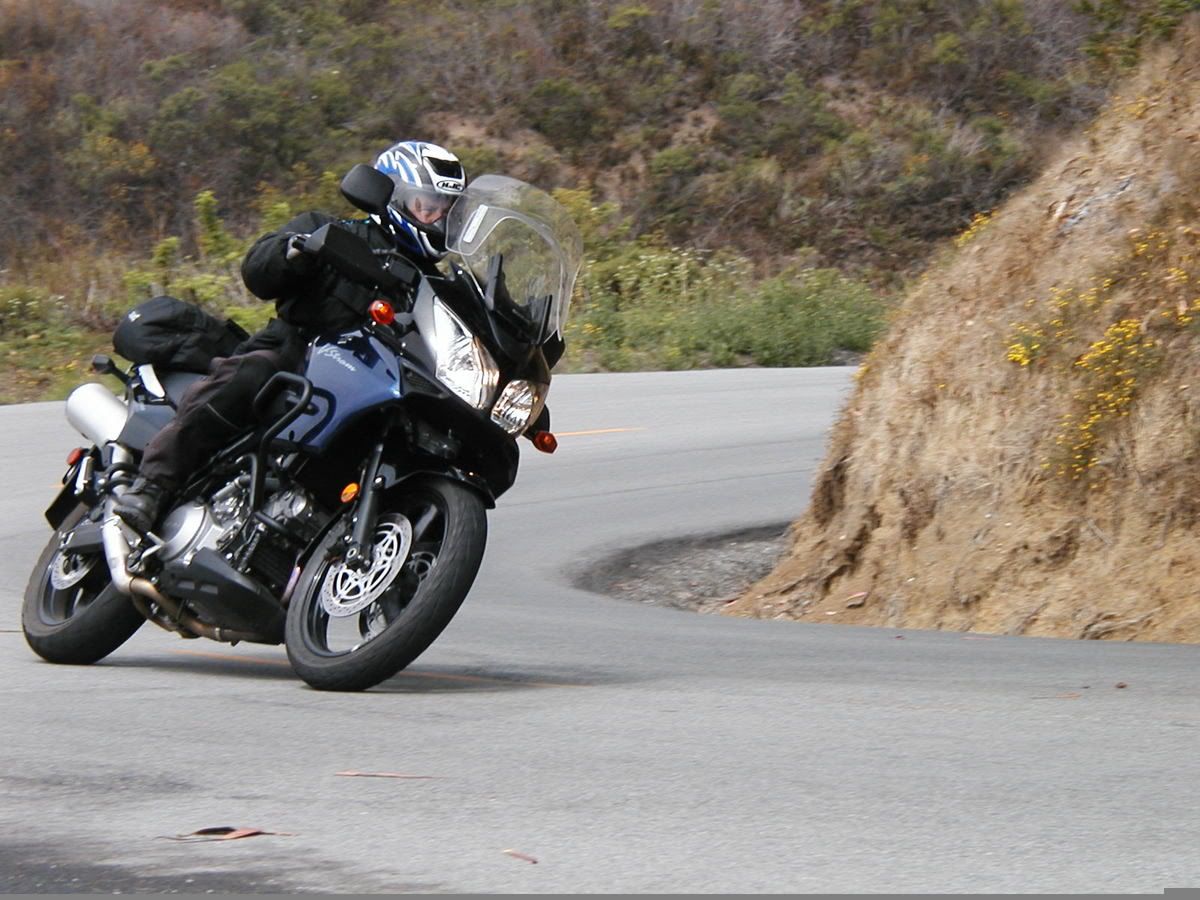 Dad on the ugly duckling (DL 1000)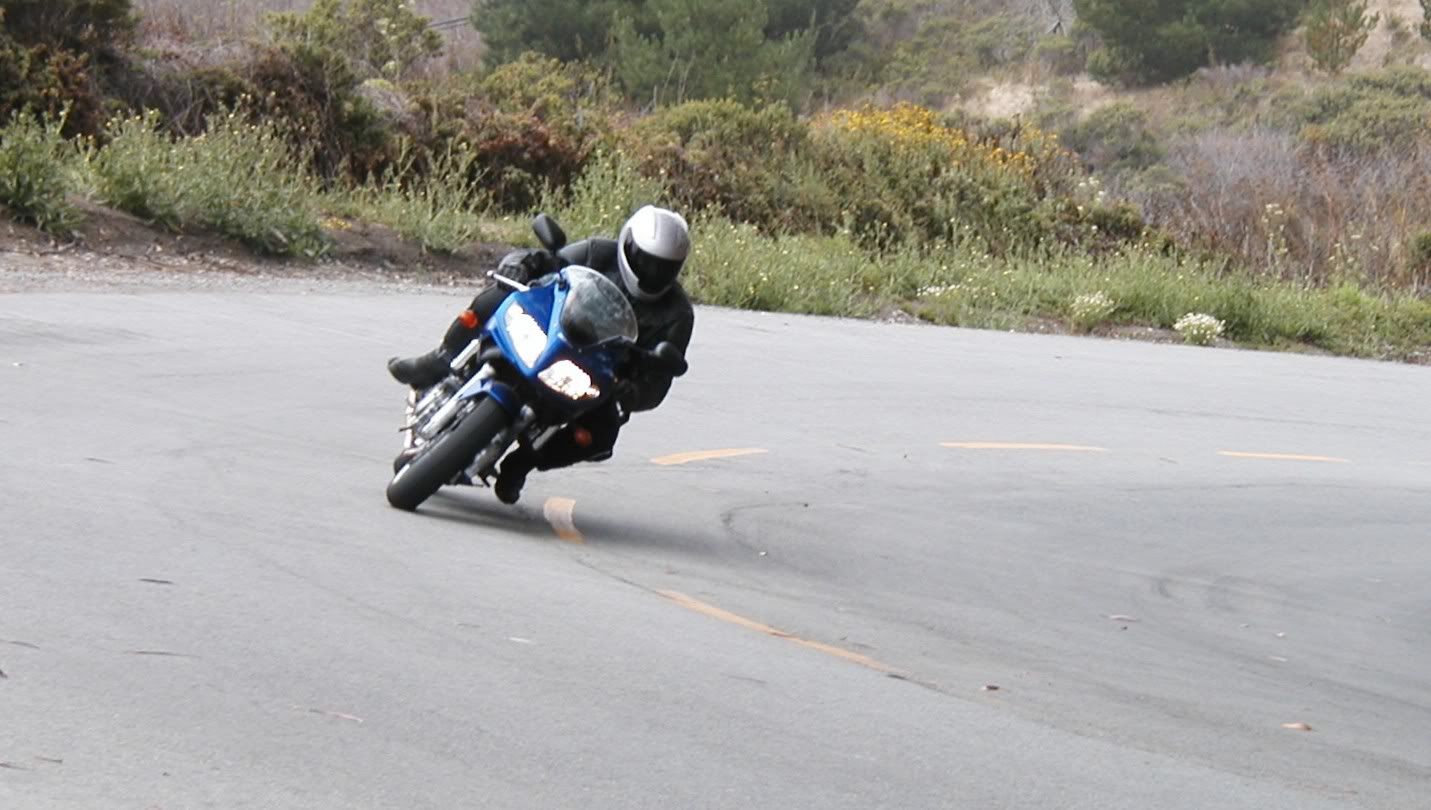 Then made our way back up to Alice's where there were at least 100 motorcycles.  South on Skyline Blvd, and onto some other road that should have put us into Freedom if we would have seen the jog in the road at an intersection.  Minor detour that we figured out once the road turned to dirt.  A bit of backtracking, then down a bumpy single lane road through the woods into Freedom.  A fuel stop and some fare wells, and Dad headed back north toward home, and I went east toward Hollister.  I thought I might spot the Corbin factory for a future trip to get a new saddle, but Hollister was quite a bit bigger than I thought.  Found my way back to highway 25 and pointed the SV south toward home.  This northern section of 25 is really nice.  Good pavement, nice construction, and what motorcyclist dosent get a grin when he or she passes a sign like this.
Turned off at King City because I would be pushing the range of the SV to try and make it to Paso Robles, and I wasn't looking forward to that bit of road just north of San Miguel.  Got some Taco Hell in King City, then took a small jog north on the 101 to G14.  This road is big and wide, probably for access to Fort Hunter Ligget.  Big and wide and nice swooping corners made these miles go by pretty quickly all without the boredom of being on the slab.  Up between Lakes Naciamento, and San Antonio.  A beautiful road, not much traffic, and plenty of curves to keep it interesting.  Some so interesting that the highway department had to get creative with their sineage.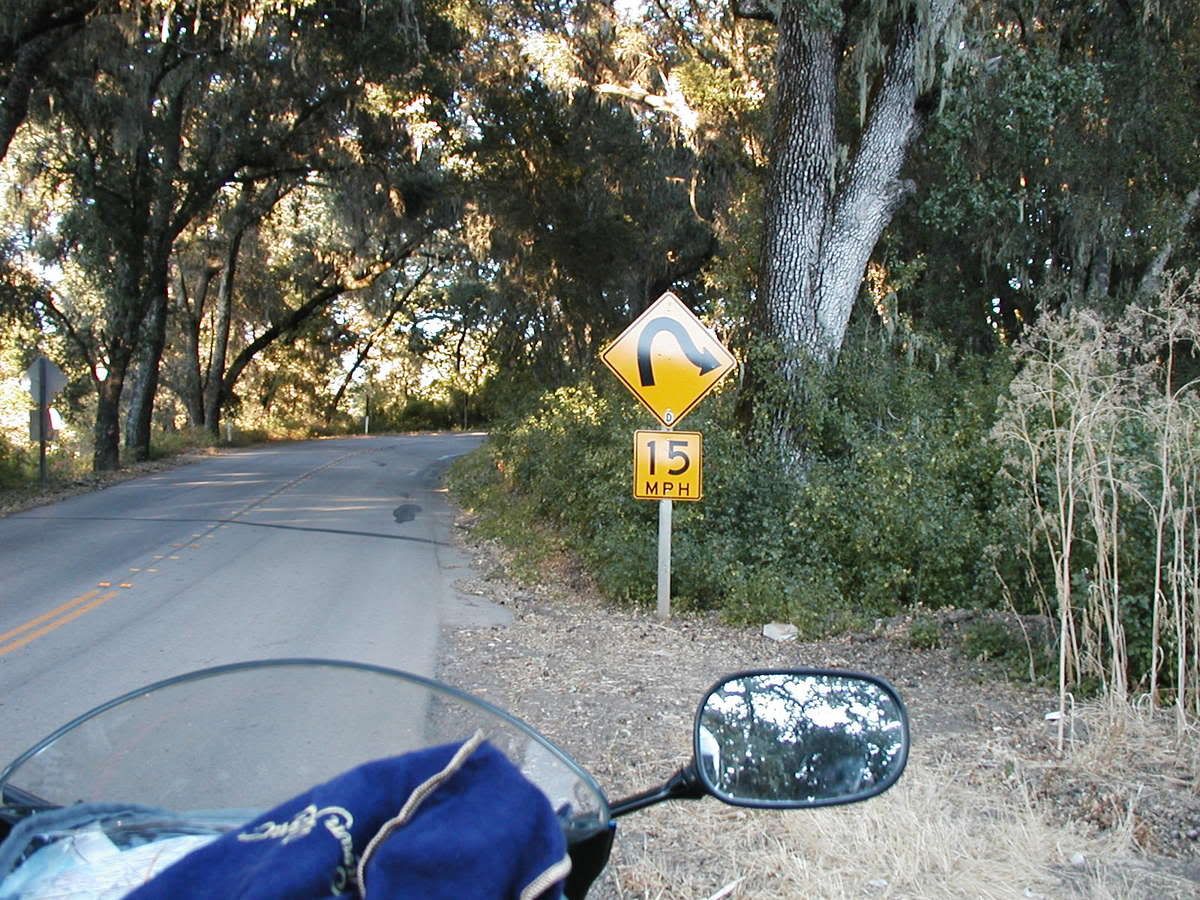 A quick hop west on highway 46, then down one of my local favorites Old Creek road to Cayucos and highway 1.  The temperature difference was about 30 degrees from just a bit inland to the coast.  The fog was socked in too, so I changed out my shaded shield for the clear one, then blasted south on the 1 to the 101 and back home.  350 miles
850 miles in three days.  The SV was great.  The stock handlebars started feeling a bit low on the straight stuff by day three.  And the stock seat was making things a bit sore, but wearing bicycle shorts under my riding pants helped tremendously.  I was glad for a few days off, but now the weekends almost here and I am ready to do it again.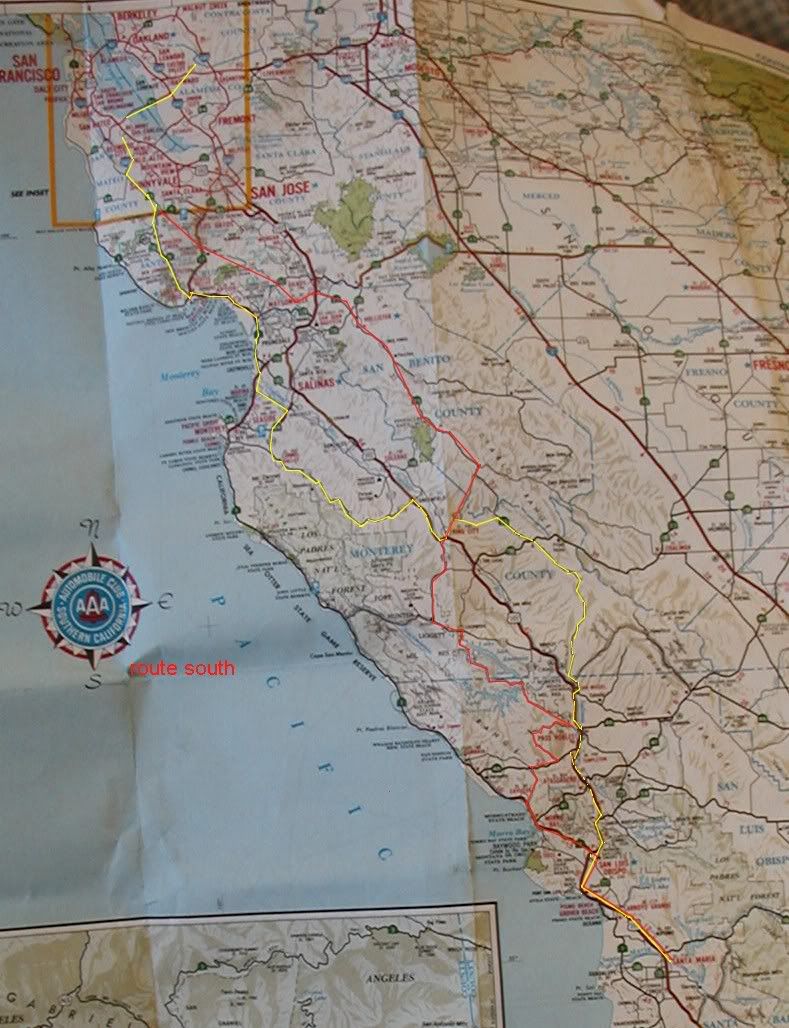 Yellow was my path north and Red is south.  Didn't get to put in the Saturday loop cause the map didn't go that far north.