Discussion Starter
·
#1
·
But .. ah.. not by Ducati.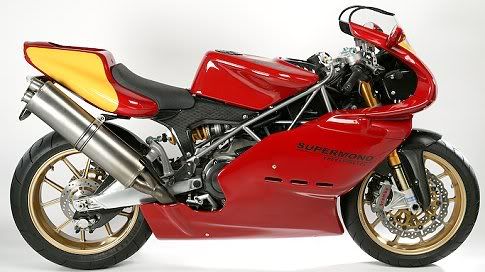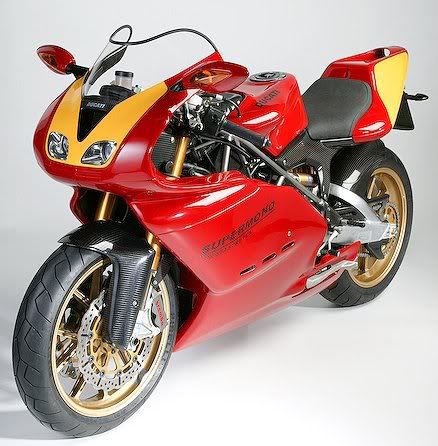 What's your ideal motorcycle? If you're like us here at MD, you love a light, torquey, easy-to-ride four-stroke Single. And the apex of thumper development may be the 1993-1995 Ducati Supermono, a limited-production, race-only machine penned by Pierre Terblanche (designer of the SportClassics, 999, and Multistrada, among other Ducatis). With a high-revving desmodromic four-valve cylinder head and 549cc (later 572cc) of displacement, the Supermono boasted 80 hp in a 277-pound package. Wrapped up in sensuous bodywork and as loud as Satan after dropping a can of creamed corn on his toe, many racers and trackday junkies have fantasized about owning one of these sexy beasts. Too bad the limited production numbers and $30,000 pricetag made the bike a toy for wealthy collectors.
Briton Alistair Wager is one of the world's top experts on the Supermono; he's personally worked on 20 of the 67 machines that were built (he also managed Ducati's AMA Superbike racing team). He thought Ducati should have produced the bike for street use, as "the Supermono was designed as a race bike that could easily be converted into a streetbike," according to Supermono designer Pierre Terblanche. "Unfortunately nothing ever came of it." So he set to building a street-going replica, the Supermono Strada.
Since Alistair has a parts account with Ducati, getting many of the needed components is as simple as placing an order. The Supermono Strada uses the original cases, with the big-valve
Testastretta
top end from the 999 superbike. Displacement is now 595cc, bumping power up to a claimed 88 hp at the crank. The big exhaust can is now moved to the right side (to keep it away from the chain), and tiny headlights (from the 749) and mirrors make things street-legal. And you won't need a rental van filled with push-start volunteers to follow you around on Sunday mornings: the starter from a 916 takes over starting duties.
Öhlins suspension, a more street-oriented standard-ratio transmission and radial-mount Brembo brake calipers with bigger 305mm discs sweeten the deal. Frames are built in England, and the swingarm is from the Ducati 1000SS. Weight is just 294.5 pounds dry.
continued:
http://www.motorcycledaily.com/06april09_supermono.htm