Discussion Starter
·
#1
·
*Lucky for you guys, I typed all of this up already and somehow deleted it......so here is the shortened version. If you don't want to read this long and wordy thread, just reply with a picture of your baby and the things you gave up for her, that she will never know about.*
Your may be thinking that I posted this in the wrong forum, but rest assured, I am in fact talking about my beloved SV.
So after the several days we've had here in the Lower NY area, I figured it was about time that I got the old girl out and put her through her paces.
So I woke up early this morning and began to get the SV together for her maden voyage of 2009. Nothing special was involved....I through the battery back in her, greased the chain, checked the oil as well as tire pressure and there I was........
After about 5 minutes of cranking, checking, cleaning, and cranking, my baby sprang to life the way that I had always remembered her too.
While I was back inside suiting up for the not so uncommon commute to school (32 miles, mainly highway), I began to consider the relationship that I had with my beloved machine.
I left my house at around 10:13 am with a tantalizing 34.5 degrees (its been snowing, so this is like a **** heat wave).
As I continued my commute, with my combination of The Grateful Dead, Blink 182, The Fratelli's, DMB, and Deirks Bentley blairing, I thought even more into the interakit bond that this machine and I share.
The best I can do is compare it to a woman (or man if so inclined) that you or I love unconditionally, but probably shouldn't:
She cannot understand, or feel feelings or love..........
She cannot adore you for the wonderful home and life that you have rewarded her with.
She cannot appreciate, and thank you for all that you have given up just so that she can breath in fresh air and premium fuel (because you love her, you don't cheap out on that sh!tty 89 octane
[email protected]
) that you give her.
She does not feel compasion for the knuckles that you have bloodies trying to losen her stubborn bolts in order to help her run better.
There is no thought and simpathy for that vacation with your loved ones that you sacraficed so that she has sweet new rubber to grip the road with.
And she definitely has no concept of all those sleepless nights you've suffered because you hurt her on one stupid day that you got cocky.
She is simply a machine, who cannot feel love, loss, hope, or fear..............so why do we do it all? Why do some of us give all that we humanly can to these machines who in return can give us nothing?
The same reason that many of us do it. The reason that Brad (JBSwear) has spent so much time bringing his now gothic naked-thing back to life
, or that Richard (Zuki) has put some much time, money, and effort into creating something that is all his own, and will perform like something no one has ever seen before. Or like how Sam (swiest) did, and how Mike (mada), transformed something that everyone liked into an amazing vehicle that can only fully be appreciated by their own creators. These things were all done for reasons more then just simple work on a machine......so why?
......And I answer (please acknowledge that this a drunken response made several hours later in reflection of normal life's events).
I do it for the feeling I get. Just like giving to a person, we feel satisfaction in knowing that we gave up something for ourselves to make someone else better off. Whether or not they ever say thank you, we are gratified by the positive affect our actions have taken.
Our SV's will never thank us for all that we have given/sacrificed for her. But we are very much so rewarded for our actions.....
Sometimes my bike will take a familiar road alittle faster, or make a laptime just a fraction of a second quicker. Or sometimes it will simply provide me with a smooth and predictable ride when I take my mother out for her first time on a motorcycle in about 24 years (when my father had taken her for the first time).
So here's to you my baby......My wonderful machine that I would give up so much for. Although she cannot feel what I feel, her gift has been much more valuable.
(To my SV)
You have supplied me more then I could ever ask for. You began as an interest......which lead to a hobby.......which became an obsession.......and have ended with an addiction that I will clearly never be able to break.
I will never consider all the blood, sweat, and tears that I have put into you as being a waste of time. I have learned many lessons along the way, as well as made many new friends from the community.......*
Allow me to add that......if you ever wish to meet compassionate, fun loving, and welcoming people, there is no better place then here.
But here is my long, drunken, and extremely drawn out point. Nothing you are passionate about is a waste of time. Whether or not those around you understand it, do not be discouraged. There is only a finite amount of time spent here and the best way to spend it is doing the things we love, even if they will not love us back.
And for those of you who don't know me, here are a few of the things I love.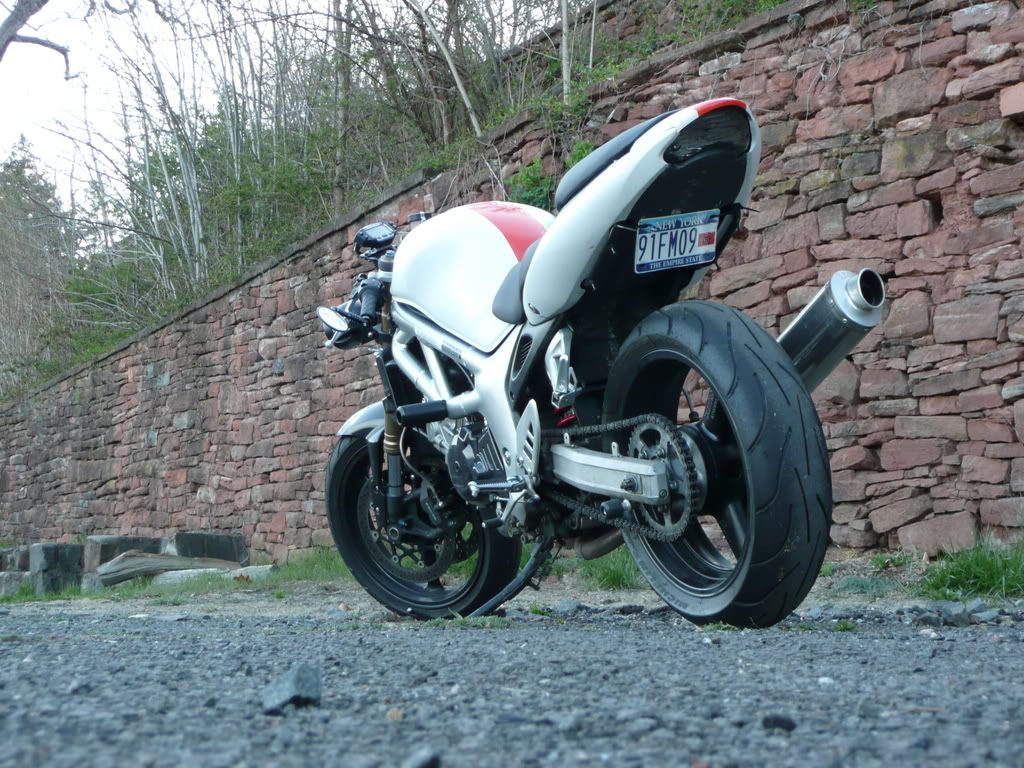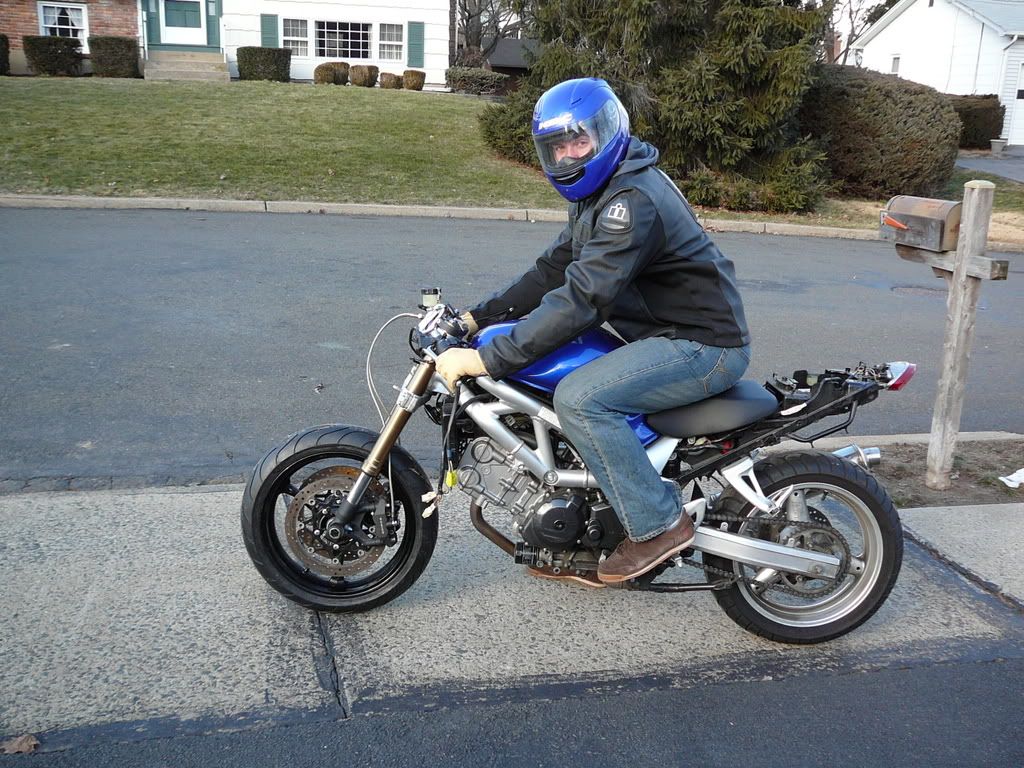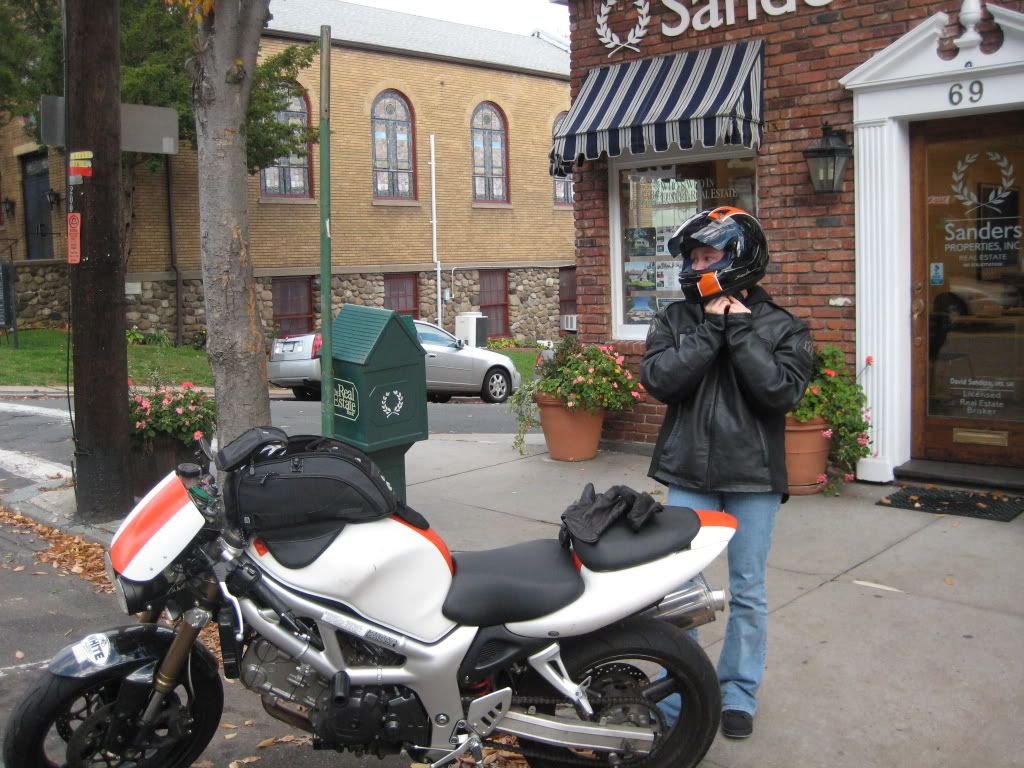 Yes I let her wear the arai.............is that love or what?!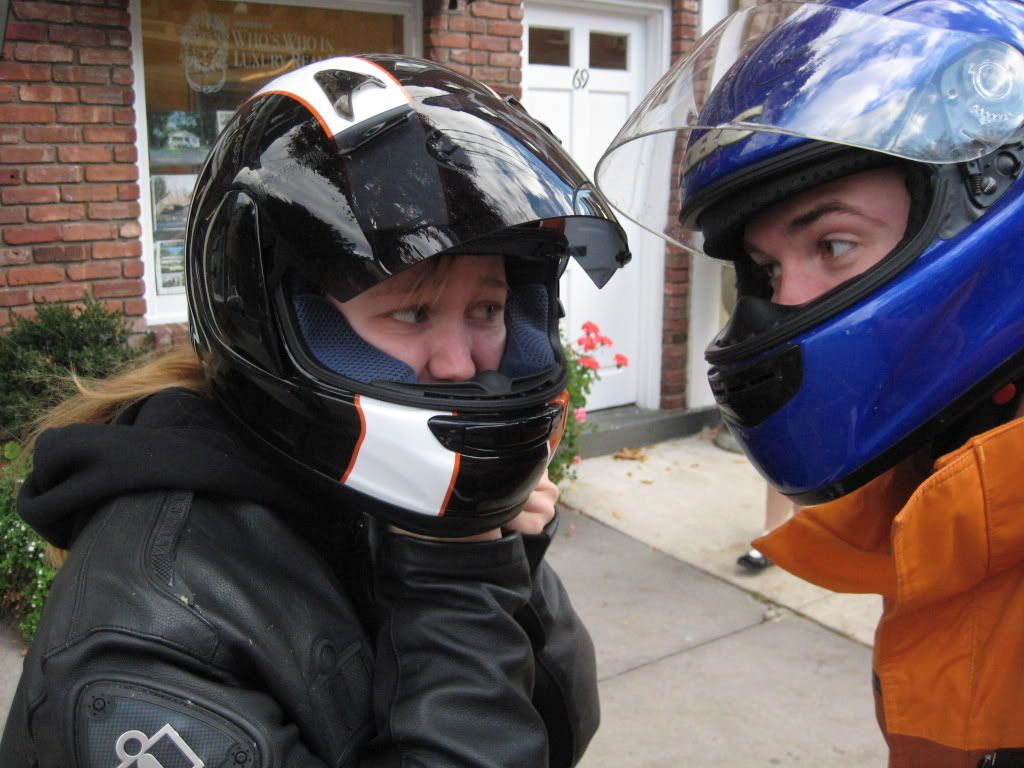 And now I am hammered (somewhat like what follows, so once again, take all that I have stated with a grain of rice)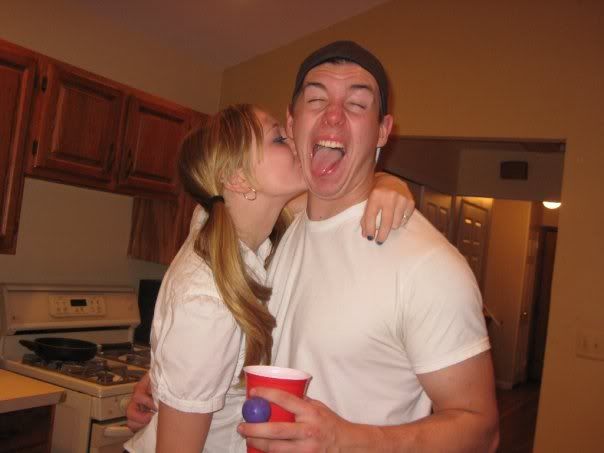 I hope all of you are well, and see you guys (to those who know who you are) at the rally!!!!!!!