Discussion Starter
•
#1
•
Comment/Discussion thread:
http://forum.svrider.com/showthread.php?p=2043119#post2043119
Backstory:
4th of July. Scout and I are sitting around having a beer with a couple of our neighbors, waiting for the fireworks to start. One of our neighbors friends is there as well. We all get to talking and he asks me about my bike in my garage, so we start talking about bikes.
I say that I'd love to get an old bike and fix it up, but I haven't found the right one at the right price yet, and really I hadn't been looking that hard since I had a ton of other stuff on my plate, having just bought a house.
He mentions that he's got an old '71 Cb350 in his back yard that's been sitting there for the past four or five years. His son had it before, and was "storing" (abandoning) it. Apparently the son had worked on it a little, but it hadn't run in some time, and he finally got fed up with it and gave it to his dad to fiddle with. Well, nothing much ever came of that, and the bike sat idle under a cover for the better part of five years. Which brings us to the 4th of July, 2010.
"Do you want it?"
Uh, yes. How much?
"Just come pick it up, and I'll give you $40 for gas."
:rock:
I borrowed JBSwear's trailer, and drove down to Georgetown in DC to pick up a 39 year old bike that I had never seen before. But it was free, so I didn't really mind.
This is what I ended up with.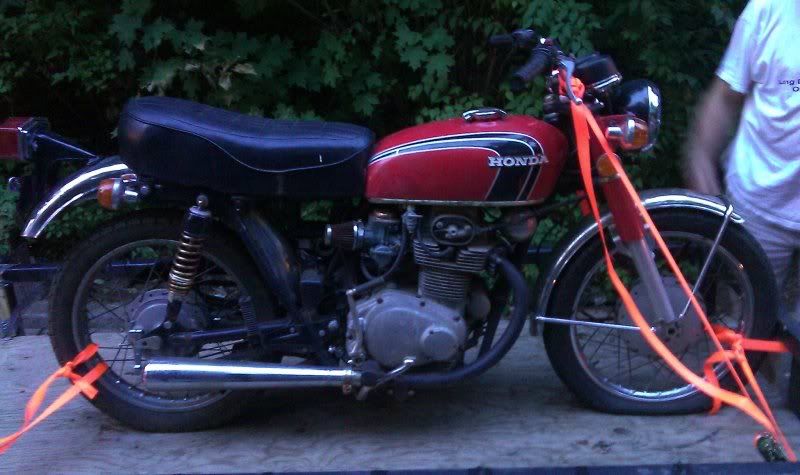 Now, being as how it's a CB350, it's way too small for my Sasquatch sized ass. However, it's just right for Scout, and would make her a rockin' little bike so she can cruise around with some class, and would make a neat little cafe racer. It'll probably be a slow project that I'll only be able to work on as time and money allow. But I'm looking forward to seeing it run.