Discussion Starter
·
#1
·
Actually someone asked for pics of my new signals so here ya go. Motrax short stalks with iridium lenses. I'm kicking myself for not ordering the black ones! They mounted easily enough - just drilled out the black plastic mounting plates the originals mount to, cut away the excess plastic on the fronts, soldered the connections and bolted them up. The rear factory (ugly as sin and soon to be replaced) tail section has a metal plate that spans the inside of the fender and holds the signal mounts in place. The factory signals bolt to that but I found that the nut on the new signals was wide enough to secure the plate just fine.
Mods so far - ProTaper bar, bar end mirrors, de-baffled the slip on, new signals. Soon to come will be seat cowl, new under tail, and buell headlight swap.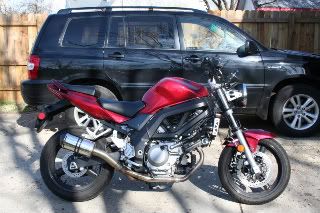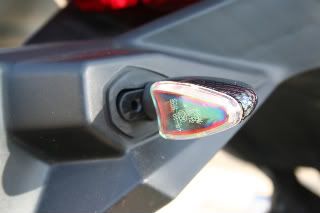 You can see what a clean install you get by retaining the original mounting plates.
They are small but VERY bright.