Discussion Starter
·
#1
·
Buddy and I (fellow board member CuBuff) decided to take advantage of one of the random warm weekends GA had in February and hit the road. Our usual routine is to go north and hit all the good GA roads - 60, 129, 9, and 180.
This time, however, we decided to pack a change of clothes and buy a map and merely pick a direction. We decided to head more east than usual, so we took interstate 575 for about 20 miles north, then onto GA 53 to take a different way to Dahlonega. Once there, I picked up my new jacket from Rider's Hill, which I had ordered the weekend prior. I got a Fieldsheer Aston and it's exactly what I wanted (review coming later).
From there were took a right on 129 instead of our usual left and went into Helen, discovering GA 356, which heads north east. It was a beautiful road that climbs and climbs and runs you past lake Burton. The we went east into Clayton, chasing an r6 who we eventually caught at a gas station for a water break. He told us some nice backroads to take into NC, so we solidified our plans and made our destination Cherokee NC, home of the reservation and also of a Harrah's casino.
We decided to stay the night there and do the famous Blue Ridge Parkway in the AM. We got the last room at the hotel (don't remember which one) and went to dinner. It took us about 10 seconds to figure out that not only was the reservation dry, but the entire county was too. How are we going to unwind after an awesome day of riding without booze?? I drew the short straw and rode the 12 odd miles through the freezing dark back to Bryson city for a bottle. I borrowed CUbuff's RF1000 since I forgot my clear shield and discovered that these things fog up pretty bad. It was an interesting ride, fighting the fog and cold, a small rocklide, and a drunk driver or two.
In the AM, we left Cherokee and headed towards the BRP. Hwy 19 was a gravelly mess, and when we got to the turn off for the BRP, we were surprised to see snow on the ground...and a road closed sign. We took pictures and went back the way we came through Cherokee, which overall had a really depressed feel to it, especially the second time through.
We then "slabbed" it down 441 back to Clayton, back west on 76 to GA 75, another incredible road through the Chatahoochee Nat'l forest.
Now, on to pics:
Packed up and ready:
At Rider Hill picking up my new jacket:
Some random NC gas station (note SuMo guys in background):
The freaking huge Harrah's casino in Cherokee:
Suiting up to freeze my a** off to go get some whiskey:
Success!:
Blue Ridge Parkway, anyone?
Nope, not this time: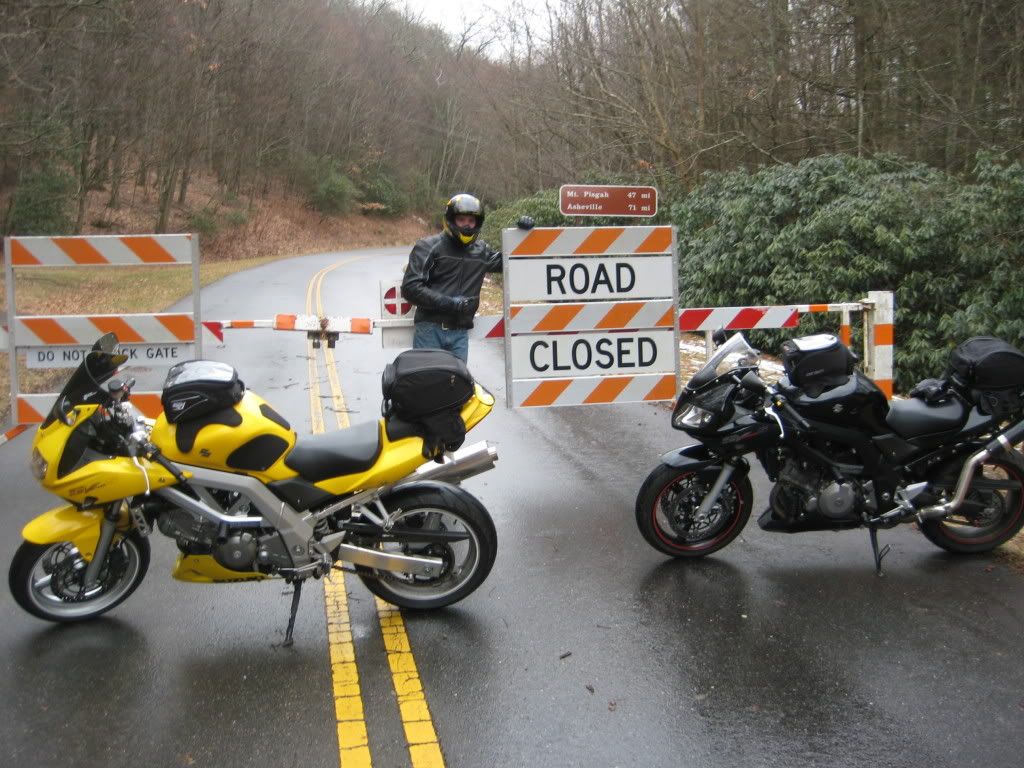 I like this shot:
All in all it was a great trip. Sorry for the long ride-report...