Finish my second R1 fork graft. This one went much better than my naked yellow bike conversion. MADE A CUSTOM AXLE. I got the steering lock working (by using the 96-99 GSXR triple clamp), using SV wheel, speedo working, stock fairing clears clipons and lots of adjustment room on the forks to set sag (R1 forks are longer than some of the those GSXR forks used for conversions). CUSTOM AXLE is needed to run the stock SV wheel and speedo sensor. ( The blue SV below is running the SV front wheel, SV speedo sensor and a fabricated axle.)
You can run the R1 axle, and R1 wheel and used magnets and hall effect sensor as the speedo sensor. Doing it this way the swap is 100% bolt on and no fabrication is needed. (see yellow SV for that setup.) The 04-06 R1 front wheel is a 5 spoke rim. It goes very nice with the 6 spoke Honda F3 rear wheel. I even managed to find gold colored R1 calipers.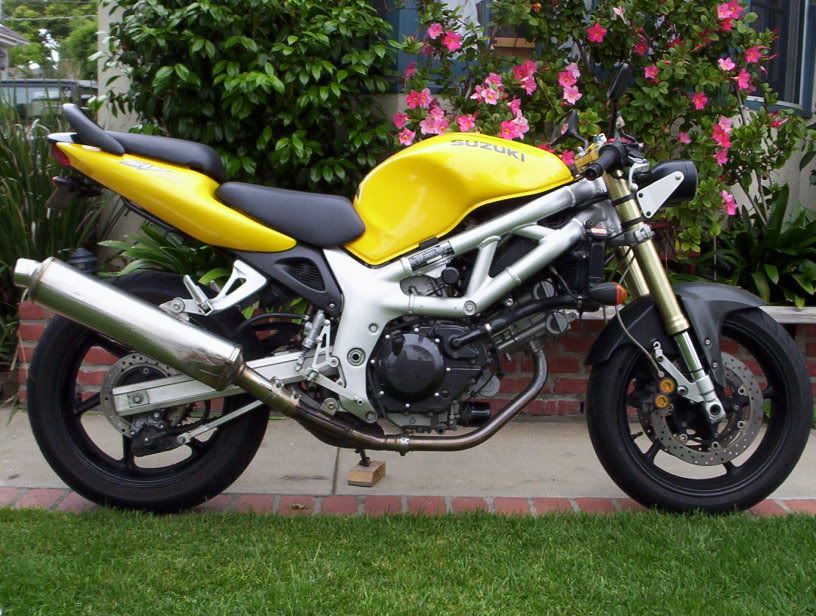 Do not use current generation R1 forks cause those rotors/calipers are for 320mm rotors. Previous generation R1 forks (98-01) will work. Those are 298mm which are close enough to work.
I only did the 1st generation SV swap. The R1 rotor and the SV rotors are about the same size so swapping wheels is only a matter of making a axle and then spacing the calipers over the SV rotors.