So today, after struggling through some carb issues, I finished the bike. Of course, I still have tons of future plans, but I am finished implementing my original design.
***EDIT***
Just in case anyone was wondering, here was my motivation to finish:
Methinks you have no idea in what is involved in building a motorcycle.

Buy one that works. Like Nex said, pre-made is best. Do maintanance, upgrades, mods. This is how to learn.

You don't learn to swim by being dropped 100 miles off the coast into the ocean.
***END EDIT***
The original rebuild thread can be viewed here:
http://forum.svrider.com/showthread.php?t=91286
Here is a quick before picture, in all of it's beat up glory. That was the good side too!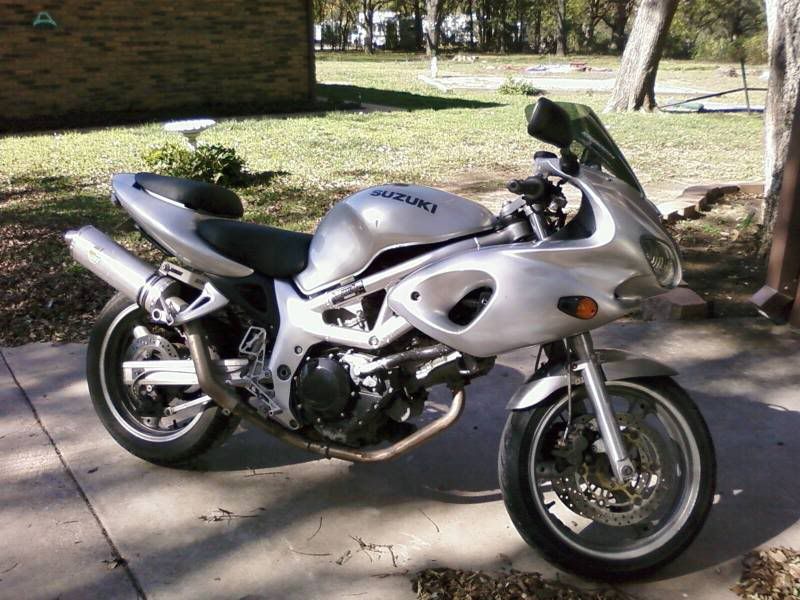 Mods include:
04/05 GSXR 750 Forks
SRAD triples, blacked out
SRAD Axle
Busa front wheel, painted bronze
Stock SV rear wheel, painted bronze
SRAD rotors
05 R6 Calipers, lines and Master cylinder
Swatt 3.5" rise black clip ons
Matte Black Powder coated frame
Partially blacked out engine
Bed Liner on swingarm and subframe
Custom sheet metal under tail, bed liner coating (idea courtesy Dackler)
Custom Fender Eliminator, modified from an ebay piece
LED turn signals in rear, LED stalk signals in front
Buell Firebolt front Cowl and fairing stay
Lexus RX330 Projectors with Celica clear lenses
DIGITAL 55watt hid Ballasts
Stock S gauges mounted to buell stay
Hella combo Driving light/Fog light with yellow bulb in fog.
Zero Gravity Double Bubble windscreen with Gold bolts
SV1000 Belly Pan sectioned and shortened (not installed yet)
Bronze fuel cap
Subaru Impreza Blue paint with flex additive and tons of clear, still needs buffing.
Chopped Leo Vince Slip on exhaust
Polished stock headers
Pod Filters
Dunlop Roadsmart tires: 120/70 and 160/60
03/04 ZX6R rear shock
ProGrip 699 black gel grips
Future Plans:
SV-Racing-Parts gold rear sets
Pazzo/ASV shortys in gold
Purpose Built rear shock and suspension tuning
Misc Black powder coating, including some triples because the paint on mine wont last.
Track Days!
Current Accessories:
CL-950 Sadle Bags
JC Whitney top case mounted to Passenger seat base
CL-50 Magnetic tank Bag
Pictures:
Bear in mind the bike is in commuter mode for these shots. Also, I am not a photographer! :nana: