Discussion Starter
•
#1
•
Hi Everyone!
As a service to the forum I started building Plug and Play "Smart" aTRE's for the 2003-2008 SV650 and SV1000 for a very reasonable cost. It just donned on me that SV1000 riders might not visit the SV650 tech section so I am starting a thread here. The same aTRE design works on the SV650 and SV1000 with a different factory plug. The SV1000 uses the "triangle" shaped plugs seen in the picture below.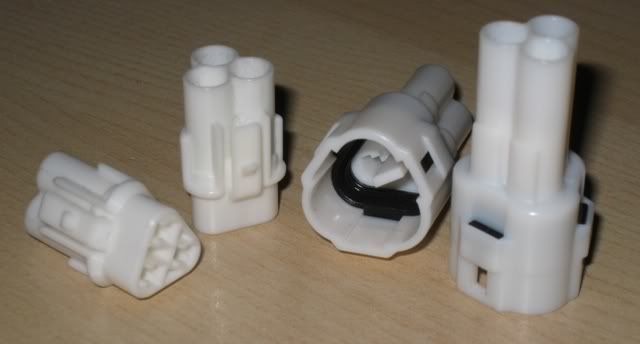 The SV1000 aTRE units will look identical to the ones pictured below except they will have 15K resistors and SV1000 style plugs above instead of square SV650 plugs seen on the units below. For a complete description of the existing SV650 aTRE offer and feedback on my aTRE please visit the following link.
http://forum.svrider.com/showthread.php?t=95450
I am building these plug and play aTREs in 2 versions for the SV650 and SV1000:
Version 1: Standard aTRE - $27
Version 2: Switchable aTRE - $35
These prices cover the cost of the build components, my labor and shipping to the lower 48 states.
If you are interested in purchasing one of my TREs please send me a PM that includes the following information...
1. Your email address
2. Number of units desired
3. Your SV model (SV1000 or SV650)
4. Which version you want. (Version 1:STANDARD or Version 2:SWITCHABLE)
5. If you are outside the US please send me your address too so I can modify the shipping accordingly.


Thanks!!

NOTES:
1. Version 2 will still be the same smart plug and play design but will include a switch to allow you to switch between stock and TRE mode for on-the-fly comparison and eliminating the need to uninstall the aTRE to go back to stock timing. The switch will be on a 12 inch lead allowing you to mount it somewhere within reach.
2. Both versions may give off a very slight neutral light glow above 4k RPMS. This glow is purely cosmetic and some users report they don't see it at all.
For more info on this phenomenon check out the info at the bottom of this post.
3. SV1000 units will be the same basic design as the ones below but with the appropriate white triangle shaped 3 wire plugs instead of the translucent 4 wire square ones used on the SV650.
Version 1: Standard aTRE - $27
Batch of 5 SV650 TRE's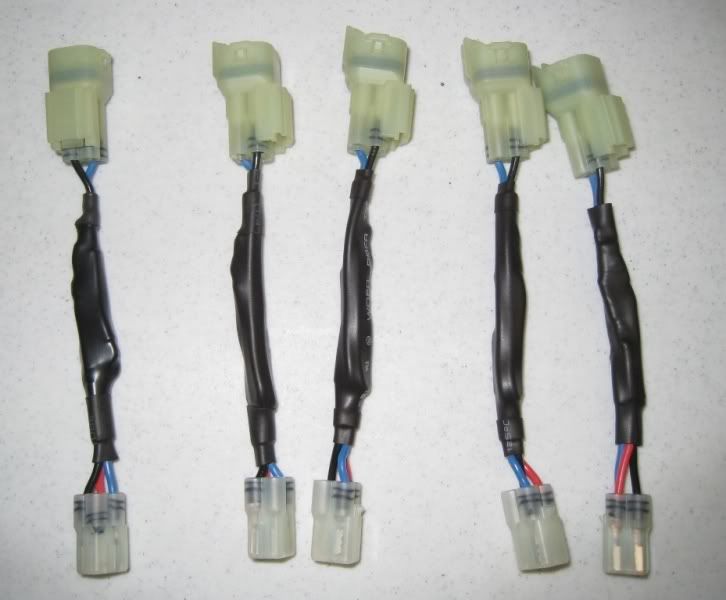 TRE in Packaging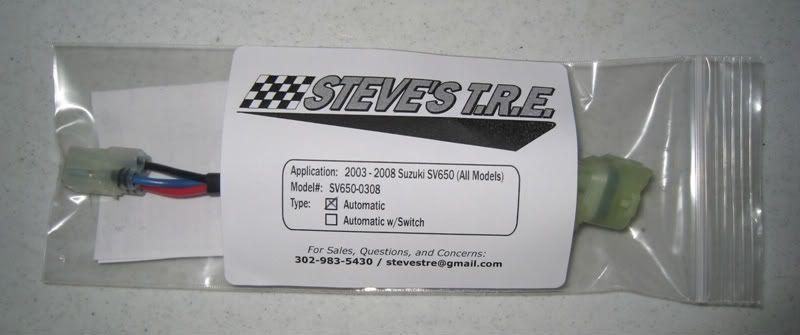 Version 2: Switchable aTRE - $35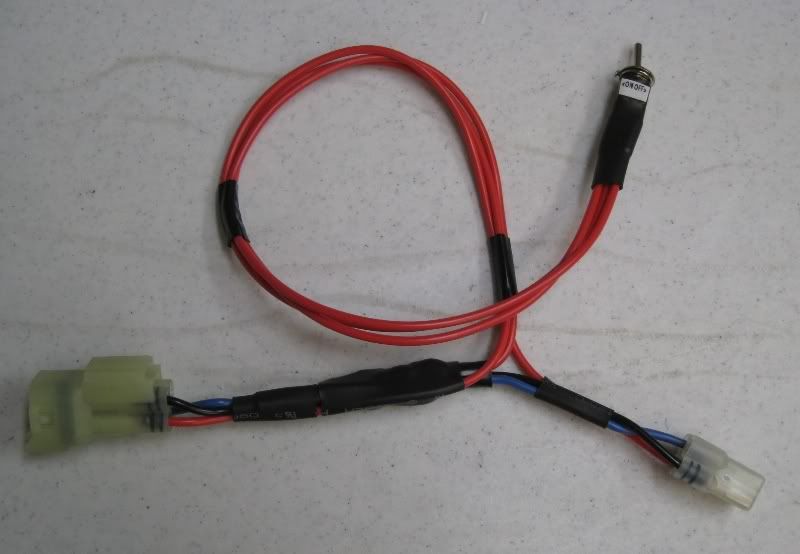 Steve's TRE Installation Video !
I created an installation video for my TRE.
Here is the YouTube link.
Link to Steve's TRE Installation Video
aTRE Installation Instructions
Ignition must be off before installation!
1. Remove side panels
2. Remove seat
3. Remove two hex hold down bolts at front of gas tank.
4. Prop up gas tank.
5. Locate ECU/GPS harness plug near gas tank hinge.
(Harness plug will be translucent or white with blue, pink and black wires coming out of each side.)
6. Disconnect ECU/GPS plug and plug aTRE in line with harness.
7. Position and secure aTRE to ensure there is no interference with gas tank and hinge.
8. Lower gas tank and replace two hex hold down bolts. Reinstall seat and side panels.
9. Go for a test ride, Enjoy!
Note: Switch for switchable aTREs can be mounted by simple zip tie or panel mounted in a ¼" hole.
Disclaimer: This product is intended for race use only. The act of installing this product implies buyer's full responsibility for all outcomes derived from its installation and use.
-----------------------------------------------
So what is an aTRE and what does it do?
It stands for "Automatic Timing Retard Eliminator". It is important to understand that "timing" refers to when the ignition spark occurs, relative to the position of the piston during the combustion cycle of your engine. The optimum place for the spark of ignition to occur is just a before the piston hits top dead center. If the "timing" is set in this manner, there is maximum torque provided by the firing of the piston.
If the ignition is timed too early then the fuel and air are ignited while the piston is still coming UP, so that a lot of energy is wasted battling this upward momentum. This is called advancing the timing.
If the spark occurs too late then the piston is ALREADY moving DOWN, the fuel/air mixture is NOT fully compressed anymore, and less "push" is obtained from the explosion. This is called "retarding the timing". It gives you something less than maximal torque. Proper timing is crucial to maximize the "push" to the piston, which equals more maximum torque.
Suzuki has deliberately programmed the SV computer for less than maximum torque in gears 1, 2 and 3. Presumably, this is done to protect the rider from the full power. What they've done is to "retard" the timing, or make the spark occur TOO LATE, on purpose, so that maximal torque is NOT achieved.
The "ATRE" changes the voltage signal sent to the SV's computer by the gear position sensor and removes the "retarding", to time the ignition spark to when it will give maximum torque. Thus you have "eliminated the timing retard".
The "automatic" part of the name comes from the fact that this TRE is designed to working automatically while maintaining the neutral voltage for smooth starts and proper neutral timing. It "automatically" turns on the TRE function when you switch into gear. This simple plug and play modification gives you better combustion and power in gears 1, 2, and 3. You'll notice the SV has smoother more responsive performance without the excessive jerking and engine braking in lower gears.
-----------------------------------------------
A Note About TRE Performance
I don't want to mislead anyone, no simple aTRE will give a "dramatic" difference in performance. A $27-$35 electronic part isn't gonna produce power like an engine swap or turbo or some $1000 horsepower producing device, it is a subtle change. Knowing this and experiencing this I think the improvement is worth what I am charging but it really blows my mind that "others" are having success selling the same device for $100+ dollars. Please keep in mind that my TRE, and any TRE for that matter is only modifying the voltage going to the ECU to eliminate the timing retard and make the bike think it is always in 5th gear. It only effects the lower RPM range on the first 4 gears. If you feel smoother acceleration and throttle response in lower gears (less jerky feeling down low) and a mild increase in lower end torque then it is doing its job.
-----------------------------------------------
Neutral Glow Phenomenon Experienced by Some Users
I did some testing regarding the neutral light ghosting. I have actually been corresponding with a very helpful forum member who happens to be an electrical engineer (thanks Gregg) about how to eliminate the ghosting. I tried adding another resistor to the design but it didn't remedy this cosmetic issue. I was told the ghosting phenomenon is a common problem in LED drivers, it is caused by the sneak current path through the 47K resistor and the transistor's Base/Emitter junction. The ghosting is purely cosmetic and very minor but I decided to take a few pictures for those who are curious to see what it looks like and how it compares the neutral light intensity when actually in neutral.
The pictures below were taken in a dark garage and you can see how minor the neutral ghosting is even in low light. Also I should say ghosting does NOT get any more intense as RPMs rise above 4k but it is present as shown below in the switchable aTRE in both on and off positions.
1. aTRE installed bike idling in NEUTRAL.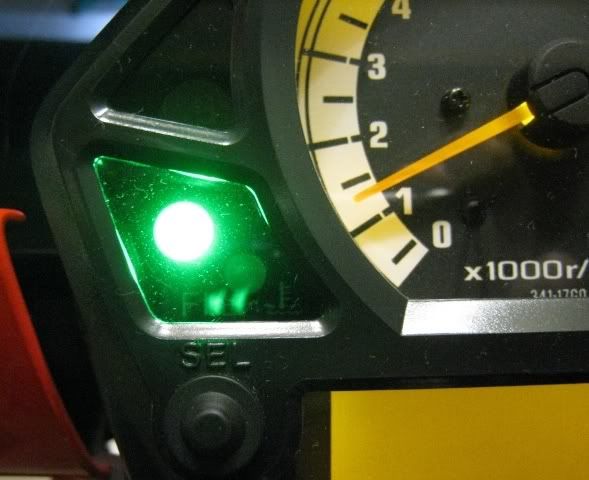 2. aTRE installed bike idiling in GEAR.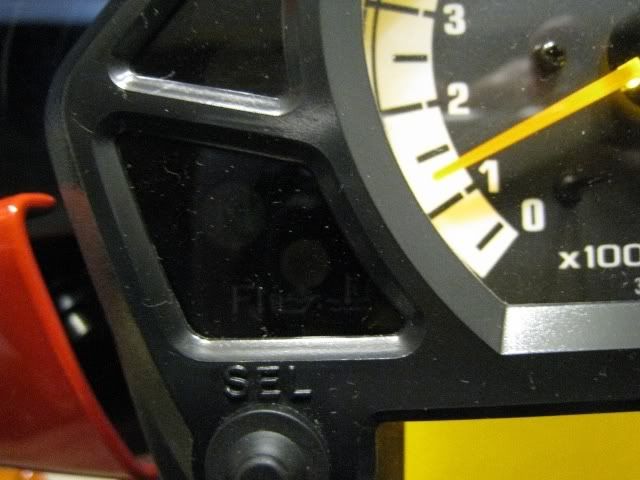 3. aTRE installed bike in GEAR REVVED to 4k RPMs.