this is the 'before the crash shot':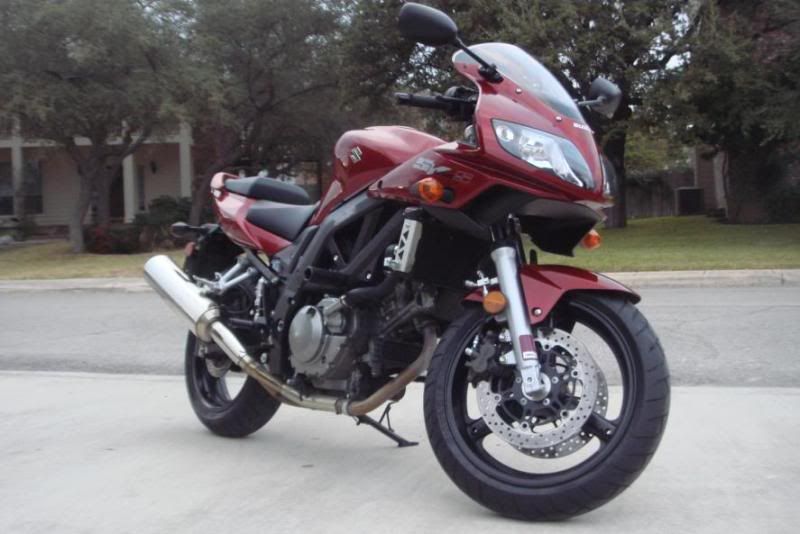 so......about 3 or 4 sundays ago i got off work and it was POURING rain. i tried waiting it out for a bit, but i needed to wake up early and take an exam. so i decided to just take the back way home; i couldn't see crap on the interstate.
anyway, long story short, light was turning yellow/red at an intersection. i was contemplating blowing the light, but i saw cars from the intersection and decided against it. i was moving a little too fast, i locked up the rear brake, tried to throttle out of it and made matters worse, so i squeezed on the front---and it locked up too. bike was skidding all over the place, i couldn't hold it any longer and just hit the eject button.
me and the bike slid for a while. i stopped right before the intersection and the bike slid through it. some people kept driving, acting like nothing was wrong; only one man got out of his car and offered help. nothing really happened to me, i had jacket, boots, gloves, helmet, etc, just a sore elbow. the bike was a little thrashed. the left rearset was torn up, clutch lever broken, mirror broken, rear spool slider broke in the swingarm, tail plastics a little scratched, and that was about it. frame slider took a hit, but since it wasn't dry it just slid on the wet asphalt.
my girlfriend came by with tools and some spares to get it rideable. thank God the rain stopped for the repairs and the ride home.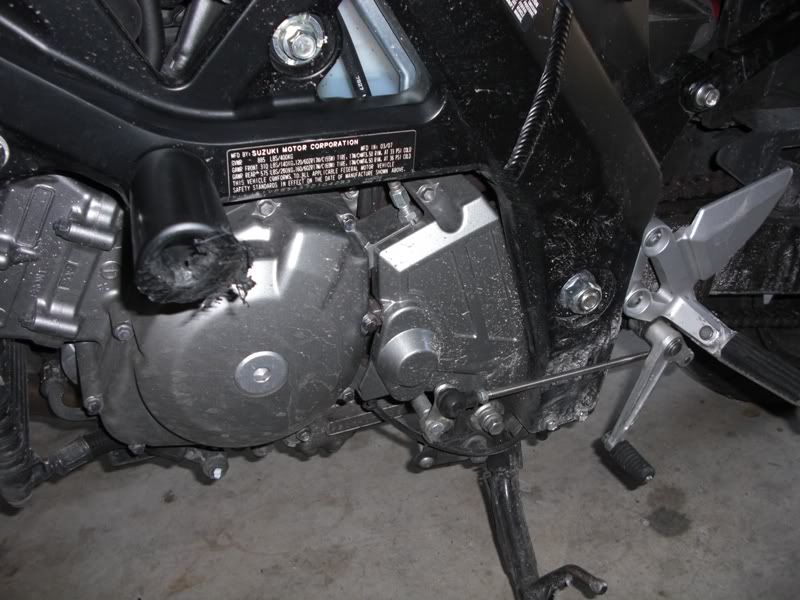 this is my 'spare' rearset with the wrong shift rod. shifting was a PITA going home. the shift rod length was too long, and it didn't hit me at the time that the pinch bolt doohicky on the shaft splines were adjustable.
i really don't want to screw this one up, it's about the only thing left now. i need an extractor or a reverse bit. the slider/spool bolt broke off in the swingarm.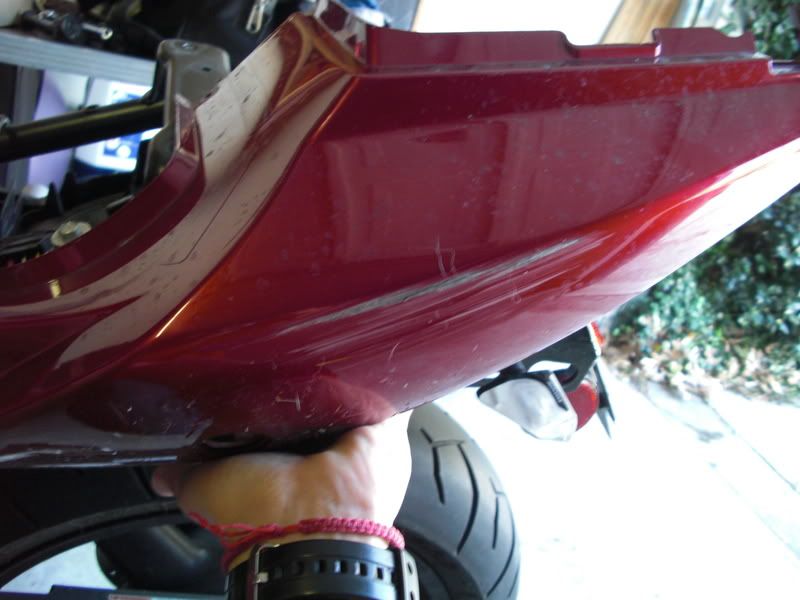 it's really not bad at all, but it just kills me. i decided to just get paint done since i had some extra cash and the damage from a hill country ride on PR37 awhile back still needed to be taken care of. (gas tank had some chips, front cowl was a little scratched and gouged on the left side. also needed a left lower fairing painted, i've had a gray one sitting in my garage for almost 6 months)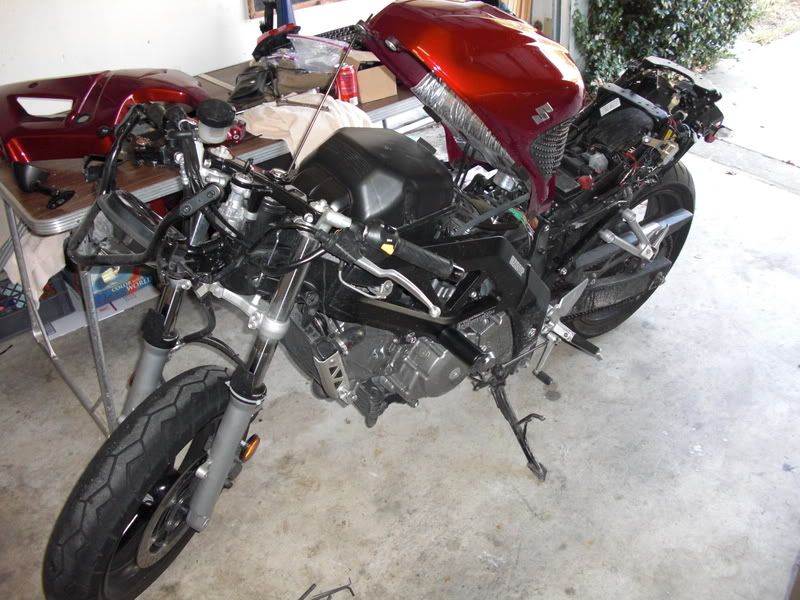 stripped down, almost. i actually rode it around the neighborhood for a bit all hooligan style haha.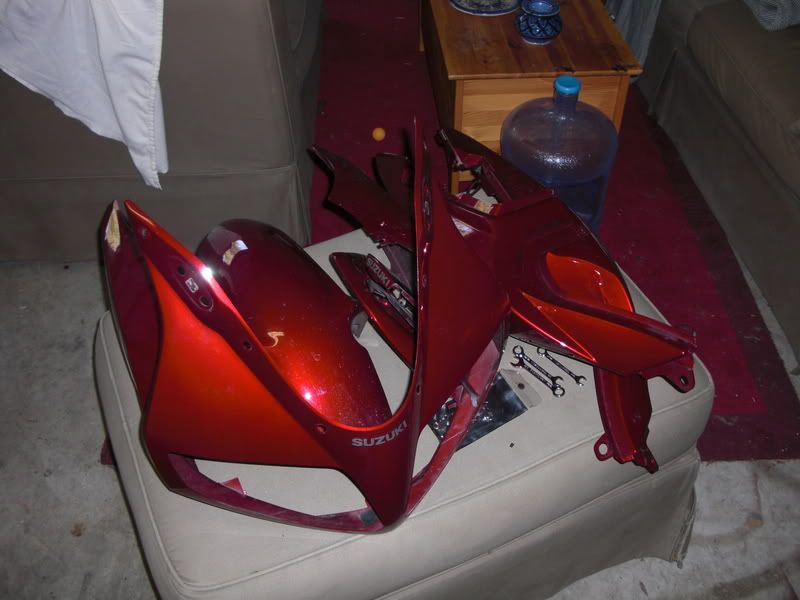 a big pile of crap, ready for paint. since my paint guy had boatloads of black and it would be cheaper for me, i went for the 'murdered out' look.
While the plastics were getting painted, I trailered the SV to Road & Track (a specialty suspension shop here in SA) to get new chain & sprockets put on (EK chain & a Vortex sprocket combo) since i had no impact wrench or chain breaker & riveter. Picked up the bike the same day, picked up the plastics and began putting everything back on.
The stock chain was getting stretched like a mofo after about 13K miles and some of the links weren't articulating the way they were supposed to. I also changed the gearing on the bike, going from a stock 15/45 to a 15/47, to which i have been very pleased with the new change. Threw on some Vortex rearsets & some R&G sliders, reapplied my stompgrip pads, and here is the finished result.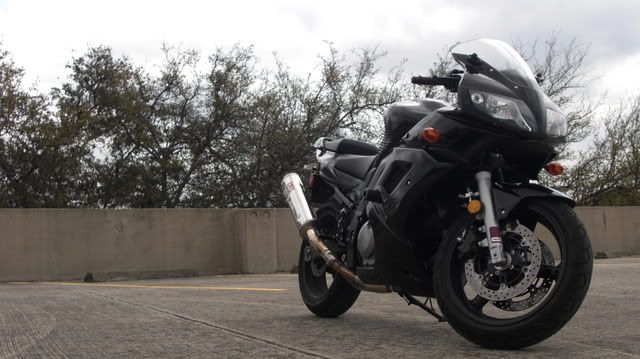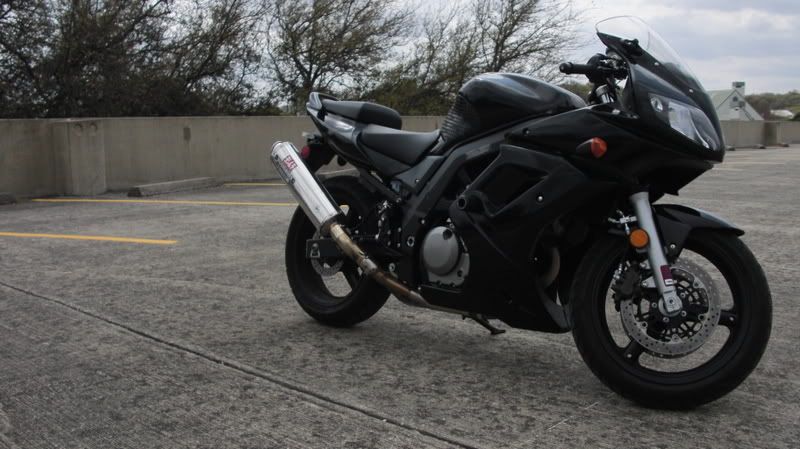 I'm please with the results so far, except for this:
http://forum.svrider.com/showthread.php?t=95496