Discussion Starter
·
#1
·
My girlfriend and I decided to finally go see Mt. Rainier yesterday. We were going to head out casually at eh 8 or 9, since I didn't want it to be
too
cold in the valleys, but she woke me up at 5:30 saying she couldn't sleep, and we were out the door by 6:20! This from the person who told me the day before "I don't
do
7 am Greg" , lol.
We delightfully rolled southward past all the traffic on Issaquah-Hobart rd and made our way down to Enumclaw for breakfast. We got there before 8 am and our destination, the Kettle, was closed! It's a fantastic restaurant that's open from like 5am to 2pm and serves HUGE, and I mean
HUGE
breakfasts for about $7. Think of a big plate, and then fill it (to the edges) 3-4 inches deep, and that's what you get. Even I couldnt finish last time I was there. We settled for the 410 diner which paled in comparison but wasn't terrible. Got some good chicken strips
From there we headed east on 410 for a time until I spotted a Forest Service road I'd plotted ahead of time, NF 75. It turned out to be gravel (I was crossing my fingers for pavement) but it didn't stop me. We stopped about 10 miles in when I hit something in the road...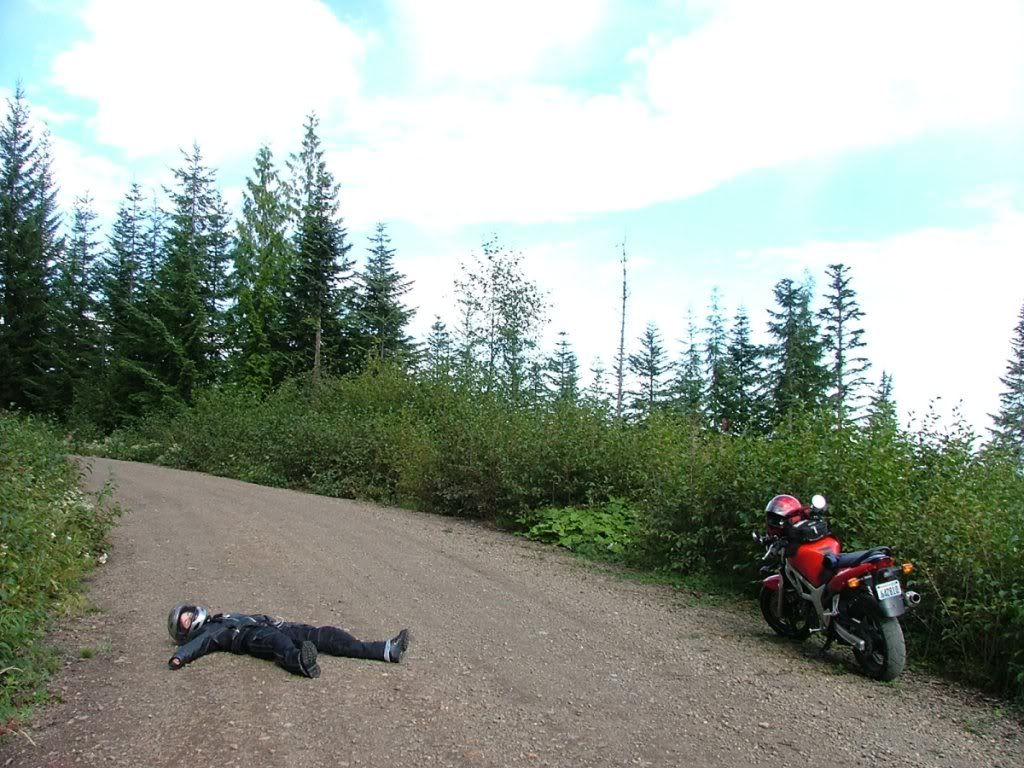 ... crap I think I killed it
I got this cool pic of the huge trees and sky at the same place.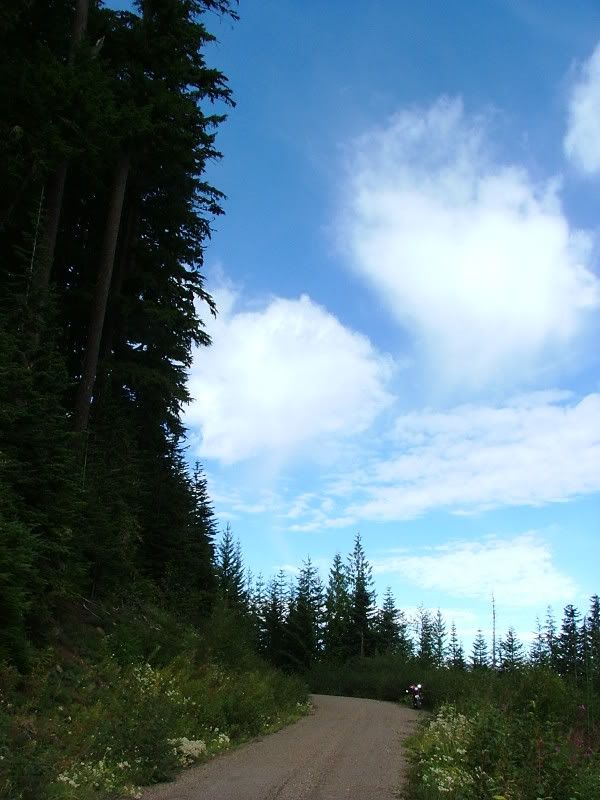 I wanted to keep going to try to find FS 7300 which coulda taken us back out to 410 without backtracking, but I had no idea how much further it was and the gf decided she wasn't too keen on this whole "curvy gravel road with unprotected thousand foot dropoffs" thing. As she put it, "Oh yeah, it's great, you got the forest, you got the bike, and you got the 50-50 chance of horrible death!" Bah!
Bike looks forward, she looks back.
So we headed back to 410 and rode the rest of the way to the Sunrise turnoff. The first half of the road up to sunrise is awesome. Just before the actual ranger station is a parking area in the middle of a U-turn with some amazing vistas, it's labeled "Sunrise Point".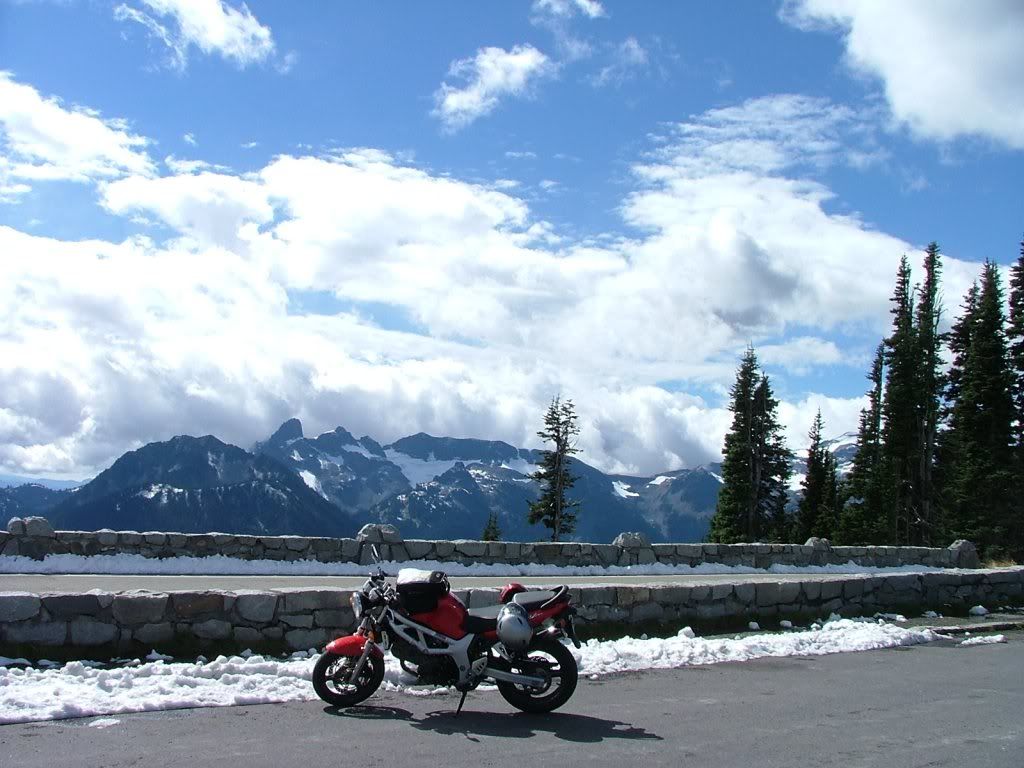 ---
I love the reflection in the melted snow in this one.
---
These silhouetted hills made me think of West Virginia, except they're probably 2 or 3 times as tall
---
Another shot of the ol' dome.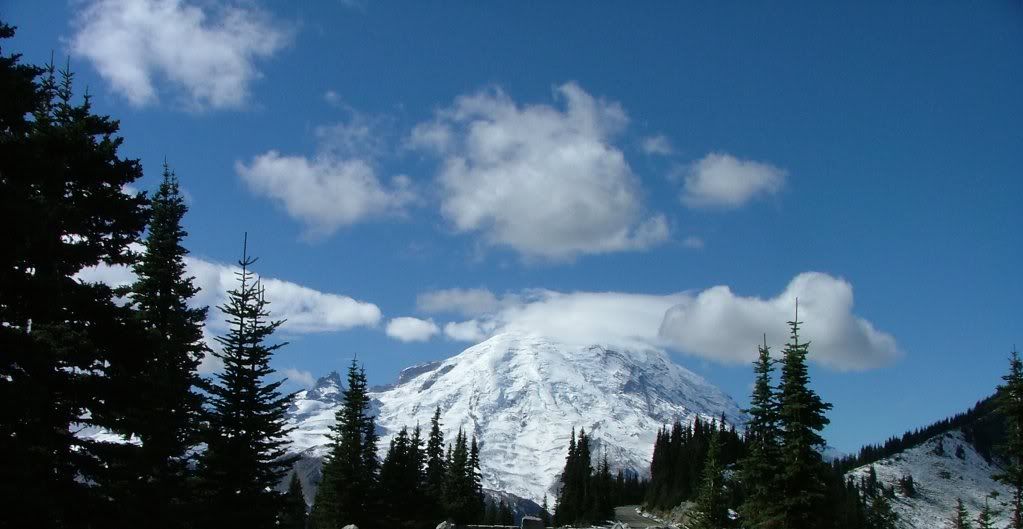 ---
We went to the ranger station and such and it was all cool, but like most riders my fun for the day came from the corners getting there. I'm lucky enough to have a girlfriend who can use the camera well and she did me the favor of snapping me in one nice hairpin.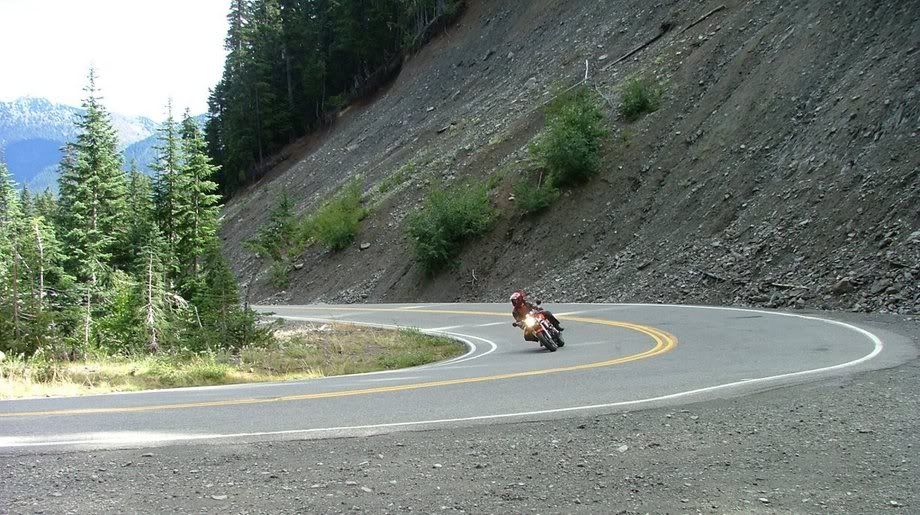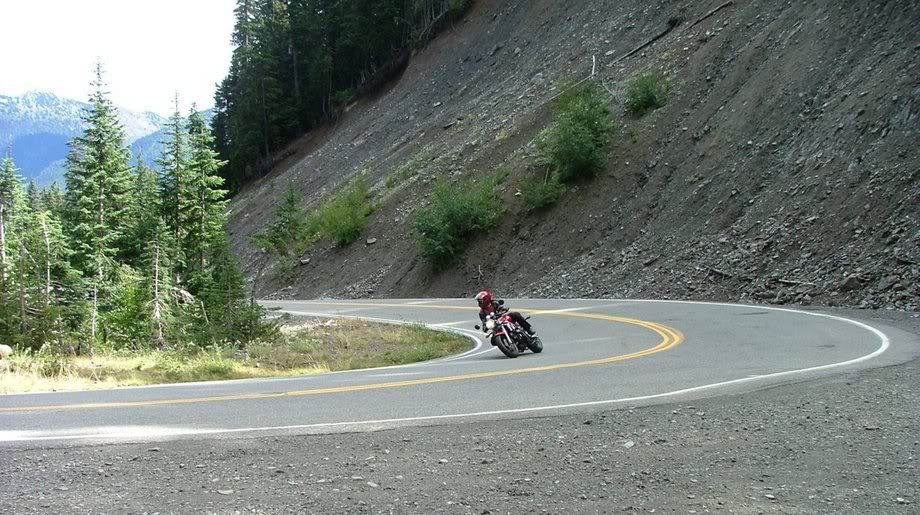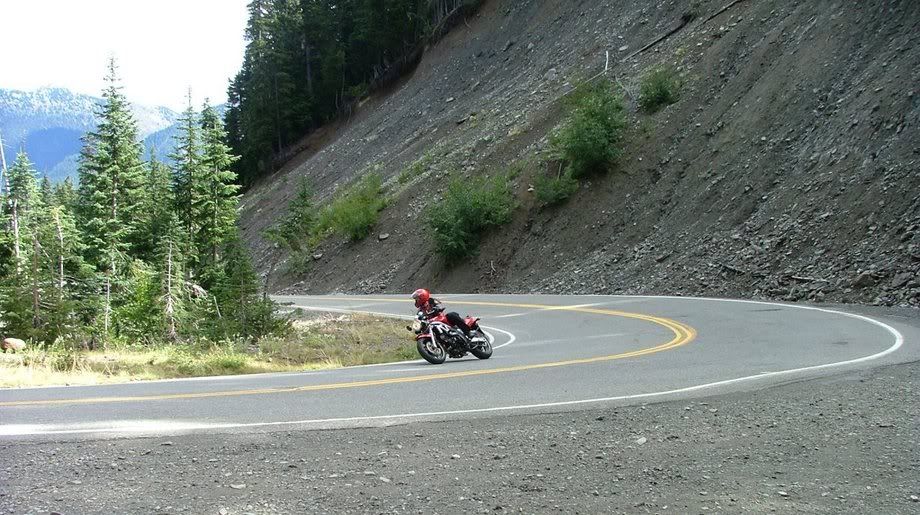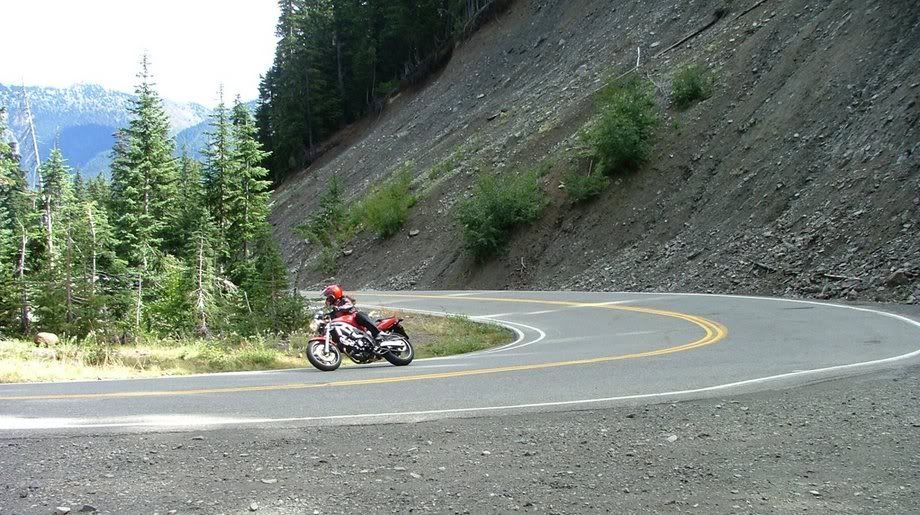 And a crop:

In those pics I was just going casually, but on the way up the mountain I'd been fiddling with a late, race-style turn-in, which isn't my usual technique. I typically go the way I think a lot of people do which is a progressive lean in and out kind of thing. Yesterday I was waiting till a good bit later and then just flopping the bike over, and man - it was a blast!! There's a guy I ride down to SBNW with each year and while we're all railing Windy Ridge hanging off and everything, he does it bolt upright on his Sprint 955 =P Some say he sold his soul to the devil to be able to go so fast without hanging off at all, but I think it may be that he uses this later turn-in. It's really fun and it feels like you're about to slam your head on the pavement, haha. Or so my girlfriend told me... 8) .. she didn't like it. She claimed it made her brain slosh in her skull. In a series of corners though, it was a real hoot for me. It kinda feels like you're totally on your side and just rotating around your head. Try it sometime! =P
Anyway, we did something around 250 miles and were home by 4 o'clock. Got to go past all the traffic coming home too, it's great going the opposite way!
I wasn't in much pain afterwards or anything but I'm looking forward to getting the Bikemaster bars on my bike instead of these SM1's that put me in a near clip-on position. Hope you had good day with your bike too.