Discussion Starter
·
#1
·
Decided with winter coming I'd start a build thread, since I'm trying to figure out what to do with the beast over winter break..It's hard to tell in the pics but it has it's share of dents and rash from the previous owner.
Bought it in May of 2009 for $2,300. 5,963 miles...I put 4,xxx miles on it since I've owned it.
So, here's a pic from Craigslist about 3 days before I bought the bike...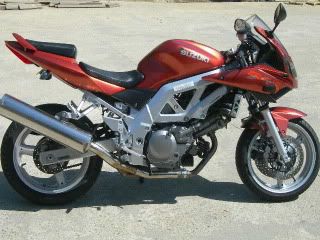 Small changes I've made so far. I changed some lights out. Smoked integrated LED taillight. Smoked LED turn signals in the front. Put a Leo Vince Carbon Fiber high mount on it.
Plan on pulling her into the basement in a few weeks here for tear down. Plan on fixing/replacing the jacked up fairings and tank. Thinking about buying some lower fairings.
I'm still up in the air about a color. The silver frame is killing me on a color decision. So in light of that, I'm debating on powder coating/painting the silver bits (frame, sub frame, wheels, etc.) Going to do some small things to it in the process. Maybe some new grips, tires, windscreen.
We'll see and I'll post pics of the progress!! Thanks for looking!