Discussion Starter
·
#1
·
I just recently purchased the Mototeck undertail from Kneedraggers.com and thought I would do a review seeing how many undertail and fender eliminator posts seem to appear here.
I decided to purchase this undertail because I wanted to get rid of the mudflap shovel but also I wanted to stay away from the bland fender eliminators.  I choose this product over the popular hotbodies undertail because I was not very impressed with the light output from the blinkers and also the color match always seemed to be off a little on almost every bike I saw this kit on. 
Summary= Great product, kinda pricey( 209.00 at kneedraggers.com), good alternative to hotbodies, super bright flushmounts
CONS= Plate mount will be torn off if you mount it where I have it in the pics. Side mount the plate or hide it up under the shock.
Things I liked...
-Very Bright flushmounts visible from the sides and from some front on bike angles
-Made out of thick abs plastic (stuff seems really durable)
-Perfect paint match and the paint appears that it will hold up well to rock chips (I had to drill into the thing and no paint flaked off)
-Thorough Step by step instructions with pictures available on mototeck's website (anyone can do this install)
-License plate bracket included (have to drill three small holes in the bottom of the undertail)
-super tiny but really bright license plate illumination light
The brightness of the blinkers and the location of the plate were the real selling points on this undertail for me.  I think I draw enough attention just riding a bike that the last thing I need is to get a fix it ticket because my plate is tucked to far back under my tail.  I dont have photoshop and I just snapped a couple pics without my plate on but the little light lights up the plate very well at night.  Overall Im very happy with this product and I think that the 209.00 price tag I payed was worth it.  Enough said here are some pics...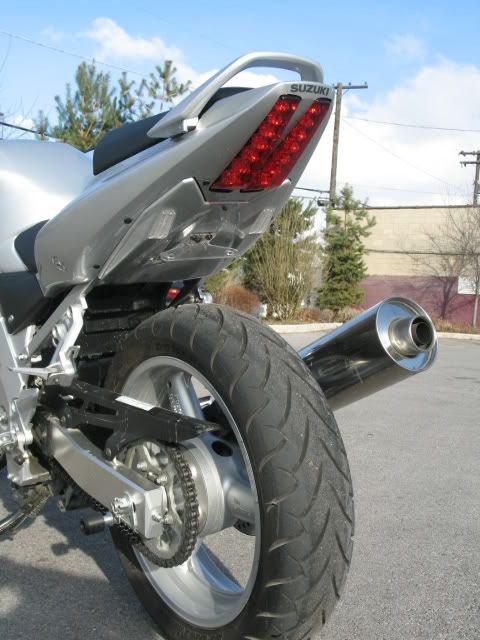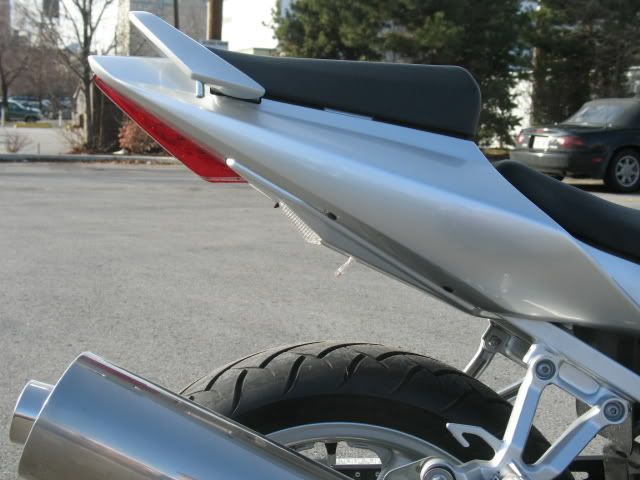 (This pic was taken with the hazards on)
Notice that the lights hit the street behind my bike, when flashing.  Very visible from the sides of the bike