Discussion Starter
·
#1
·
I recently pitched my idea for motorcycle parking to senior management where I work, and they actually went for it!  As of this week, my
SV650
has a reserved parking space at work.  Here's the memo I wrote to pitch the idea, followed by a photo:
"Motorcycles are a viable, and these days a very economical form of transportation.  Motorcycle commuting conserves gasoline and reduces congestion, on the highway and in the parking lot.  There are several staff members who ride motorcycles, and some of us ride to work regularly.

I propose we create a motorcycle parking area in the parking lot, using one existing parking space at the southwest corner of the lot, beside the alley and the fence.  This would require striping off that corner of the lot and erecting a sign by the curb to indicate motorcycle parking.

The southwest corner of the lot would be the best spot for motorcycle parking, because the bikes would be protected by the curb along the alley and by the fence beside the parking lot.  In addition, that corner is near the building entrance which would reduce the risk of theft or vandalism.

There is enough room to easily park 3-4 bikes in that particular space.  It would free up parking spaces for automobiles, if all the motorcycles ridden to work could be parked in a single space, rather than using a separate parking space for each motorcycle.

Please consider this idea and let me know what you think.

Thanks,

Stephen"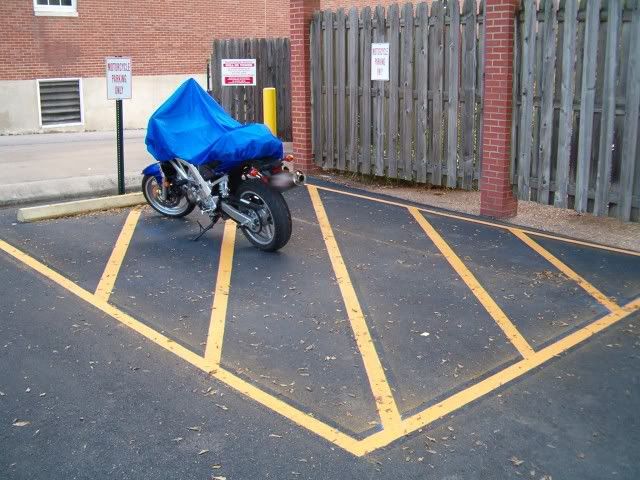 I think it was the idea of freeing up spaces for cars that sold the idea, because the parking situation gets pretty tight in the company lot at times. 
Woo-hoo!