Discussion Starter
·
#1
·
First: I bought my SV a few months back which came with a Sharkskinz aftermarket fairing kit. I am looking into getting some motosliders but need some more direction on what/how to go about it. Im guessing the no-cut frame sliders wont work on my fairings since I dont have the bolt that the oem "S" fairings have. So I'm guessing it's safe to get the "S" sliders and cutting holes in my fairing?
Second: After looking at my fairings, it looks like the hole for the sliders will have to go through the seam where they bolt together. Now, I consider myself to be a mechanically inclined individual and I would be perfectly comfortable with drilling a hole in a normal piece of fairing, but drilling through the seam poses a few questions for me.
A.) How do I go about drilling through the 2 separate pieces without damaging/cracking the fairing? as one piece, or drill 2 hole halves in each section of the fairing then bolt back together?
B.) Will drilling a hole through the seam make my fairings any more unstable or weak?
c.) Should I just sac up and pay the ~$100 for a shop to do it for me?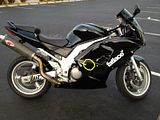 rough estimate of where the hole would have to be cut