****CLICK HERE FOR MORE PICTURES****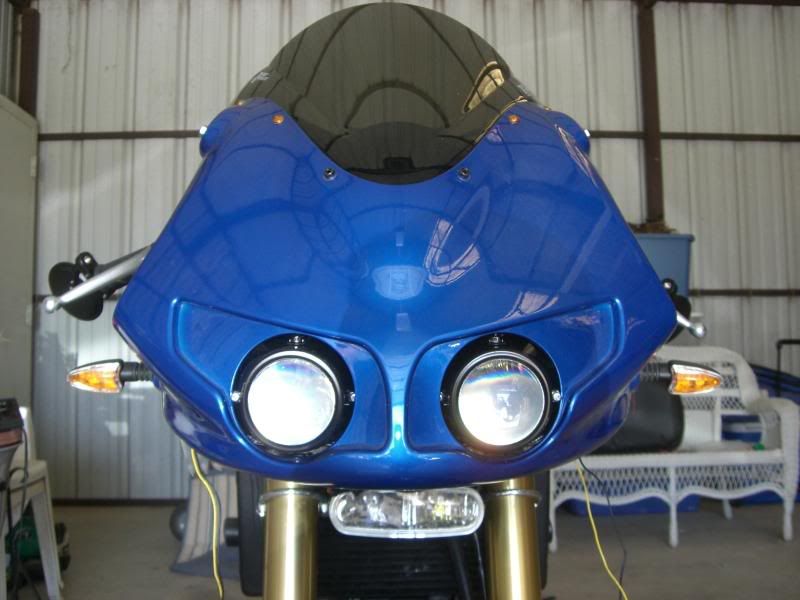 Alright, so after posting up some pictures of the newly completed bike and hearing everyone's input, looking at it closely, and riding it for two weeks I have decided on changing some things.
I would just like some input on the possible ideas I am tossing around.
1) Remove light between forks, get lower clip ons, lower front cowl, clean up wiring under the cowl somehow.
2) Remove entire from cowl and go with a single round, monster or vrod headlight. Again, do away with light between forks.
With #1, the belly pan will get mounted. With #2, belly pan will be sold.
My reasoning for #1 is that I don't like the fog/high beam between the forks and I don't like the gap between the fender and cowl. I barely drive at night anyway so I could simply aim one of the projectors up (or remove it's cutoff) to replace the high beam.
My reasoning for #2 is that I really don't NEED any of the look pretty front end components, which is why I am asking whether or not looks alone are reason enough to keep it. Really, this is the only thing that sets my bike apart from the rest though...
My reason for wanting to clean it up so much in general is that when I originally decided to buy a project bike, I had the image of a motorcycle that was nothing but motorcycle... Bare necessities with a hint of flare (streetfighter). All of the cowl swapping, retrofitting and extra electronics abandon that concept. Is the abandonment worth it considering what I gain in aesthetics and individuality?
I am also contemplating raising the rear some but that is another topic altogether.