Discussion Starter
·
#1
·
So today we finished up our survey job for the National Park Service at Mammoth Cave National Park in Kentucky.
The only thing we had left to do was control work, which involved sitting around for 3 hours while the GPS equipment gathered data. PSHCW surprises me by asking if I want to do the cave tour while he babysits the equipment. I say sure, since our contact for the park, Steve, had offered up a free tour at the beginning of the week.
So, we call up Steve, and get me a ticket for the 9:45 historical tour, which takes 2 hours. :thumbsup:
I meet up with Liz, our cave guide, and hot little 23 year old from Bowling Green, and she guides us down the hill to the cave entrance.
It's a big hole.
Our first stop in the cave is the rotunda. It's an absolutely huge room underground. The ceiling is around 75' high.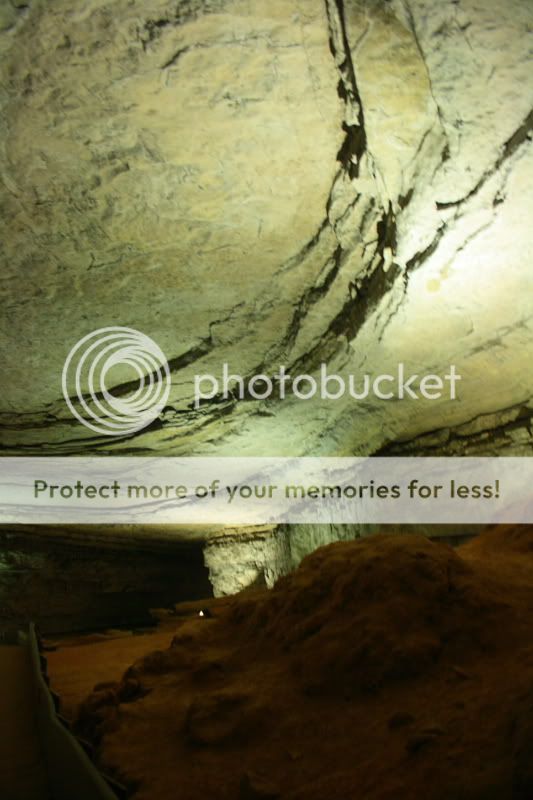 They used to mine Salt Petre back in the early 1800's to make gunpowder for the war. All the artifacts seen in the photo are original, since the cave atmosphere makes a great preservation environment.
Further into the cave.
We stop at the Methodist Church.
Back in the late 1800's, they held a church service, as well as concerts and dances down in this area of the cave. It was always cool, and made for a great escape in the summer.
More of the cave.
This is known as the "Giant's Coffin".
From here, we followed the footsteps of a slave guide who discovered most of the cave known today. He mapped almost the entire cave by himself, using only a torch and his memory. Liz shut off all the lights, and showed us how dimly lit the cave was using only a lantern.
She also turned off the lantern and it was dark and scary. People screamed and I think someone grabbed my ass.
Here we are heading deeper down into the cave. This was after going behind the Giant's Coffin from above.
"Bottomless Pit", around 150' deep.
More of the cave.
We enter "Fat Man's Misery". The ceiling starts off around 6', and ends up getting down to about 5'. The area you walk through is around 1.5' wide, and comes up to about your midsection. I'm not sure how a few of the people in our group got through. If you're claustrophobic, it would surely suck to be on this tour.