Discussion Starter
·
#1
·
Okay so I just replaced my chain and sprockets today and took pics in an effort to show you how easy it is to do and save you a ton of money by not paying someone else do it for you.
Okay so you need to get the new chain and sprockets from where ever you'd like. I recommend
Sprocket Center.Com
for their variety of kits/brands, speed of shipping and overall price. And you
SHOULD
replace
BOTH
sprockets
AND
the chain all at the same time to get the maximum life out of them. Just replacing one or two of the three is going to accelerate wear and cause you to replace them more frequently.
New chain, sprockets and rivet links.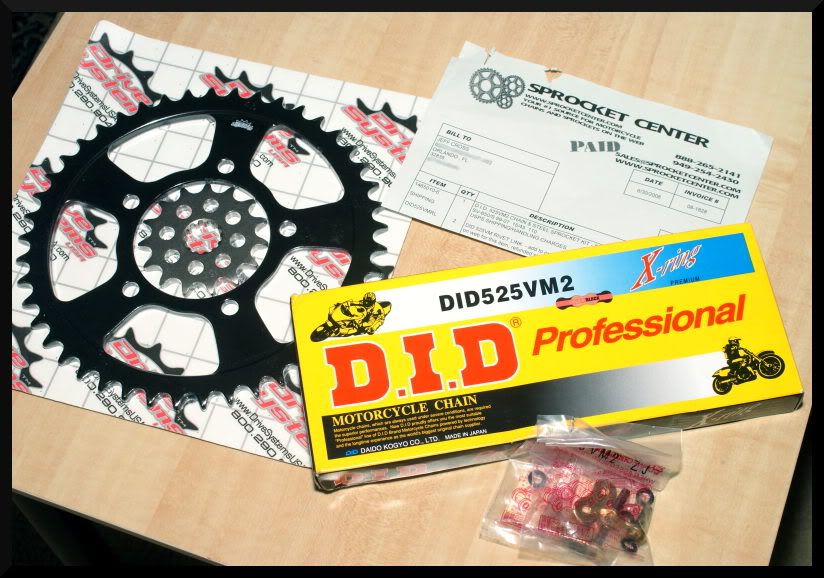 Okay so get your bike on the rear stand remove chain guard and front sprocket side cover. Do not break your chain till after you've removed the front sprocket nut, trust me on this point. Tools: Philips head screw driver, 8mm socket.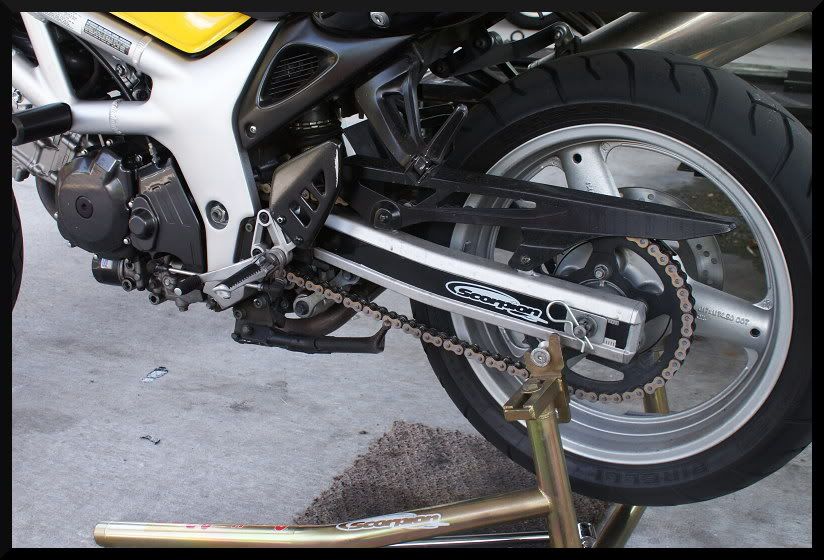 Okay so remove the clutch return spring from the bottom and remove the clutch release assembly from the bike to gain access to the front sprocket nut. Tap back the tab on the lock washer behind the sprocket nut with a screw driver and mallot. Tools: Needle nose pliers, flat screw driver, rubber mallet, 10mm socket, 32mm socket.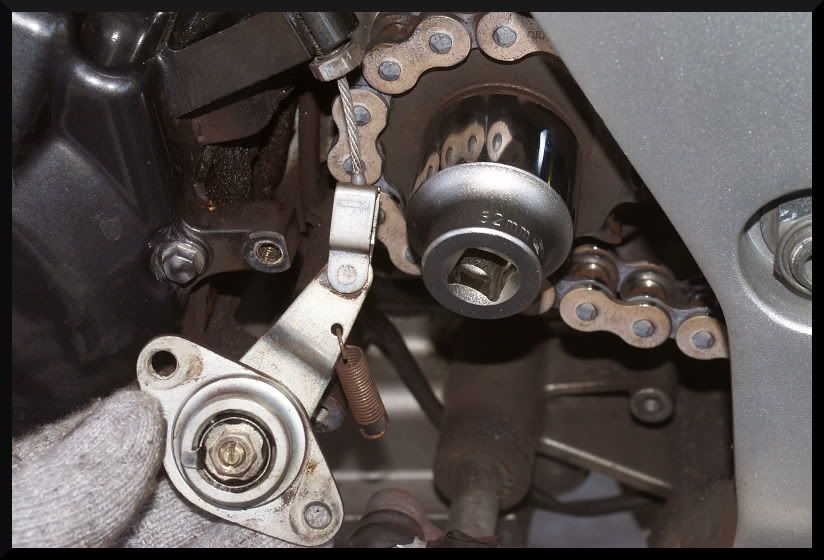 Using a breaker bar, wood block or something to hold the rear wheel in place laid across the swing arms use a breaker bar with a the 32mm socket and short extension to remove the sprocket nut and locking spacer behind it. (see reassembly pic for help) Tools: 32mm socket, 6" extension, breaker bar.
Okay NOW you can brake your chain with a chain breaker tool or you can cut it with a dremel or hacksaw. Tools: Motion Pro Chain Breaker.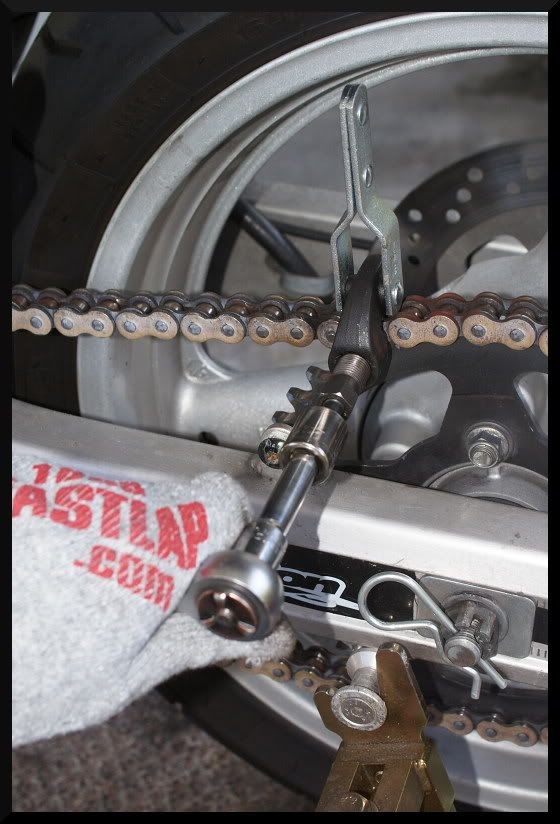 Once your chain is broken remove it from the bike and also remove the front sprocket at this time. Tools: none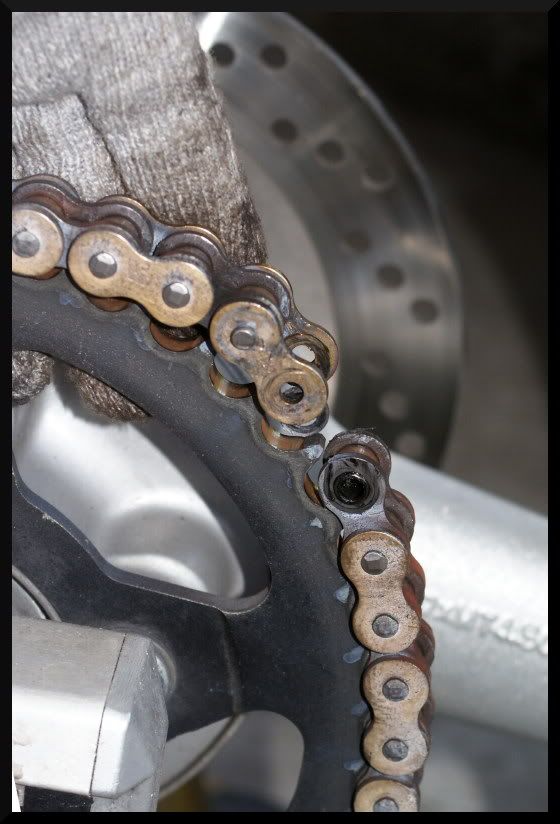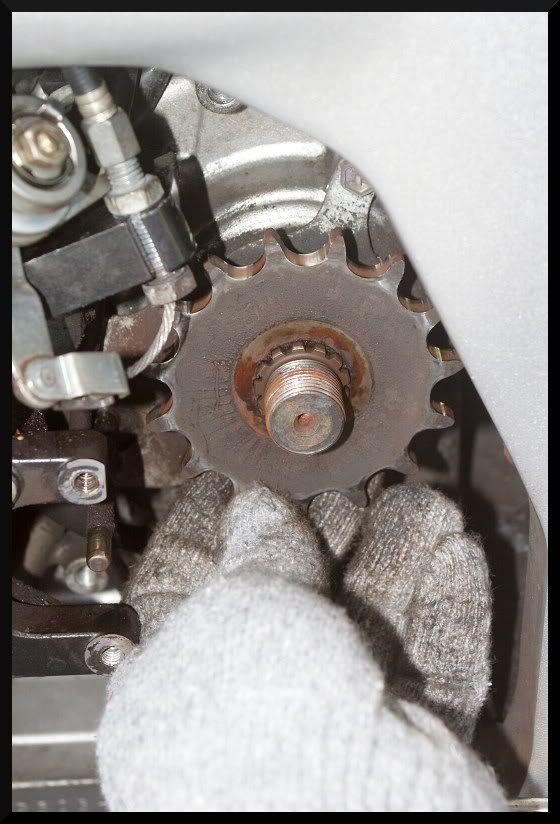 Okay so this is where you should be at this time.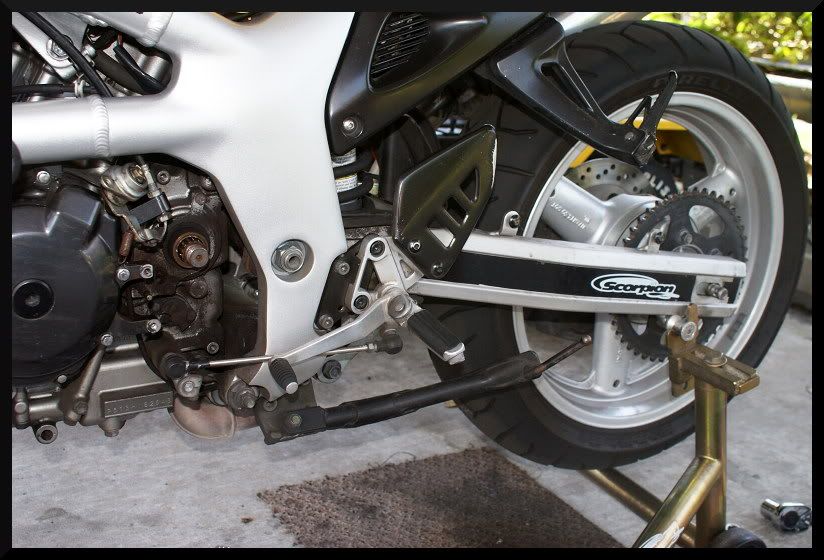 So now remove your rear wheel per manual directions to access the rear sprocket. Remove the nuts with a socket wrench or breaker bar (I had to use mine) and remove the sprocket. Tools: 14mm socket, breaker bar