Discussion Starter
·
#1
·
All,
Why: Buying an SV1000 spoiler costs far less than an after market one, especially when you get into painting it to match. Usually they'll cost you $250-$350, but if you are lucky enough to find one from a downed SV1000, you'll get one that's already the right colour, for about $50-$100.
Why not: The primary problem with trying to put 1000's spoiler on a 650 is the bolt holes are not in the right spot, so you can't hook it up to the frame without spending a ton to get mounting brackets for it, or fabricating some.
What you need:
1. Chin spoiler / belly pan from a downed SV1000, $50-$100.
2. 4 heavy duty zap straps (the electrical ones are junk, get the handcuff-strength ones), $5.
3. A drill (hopefully you already have this).
4. An SV650 that is about to look a whole lot better.
In the first pic below, you will see that it is much cleaner than how I had it down last year, with the zap straps all tucked away. You can see where I hooked it up on the four spots. The white spots are from flashlights I had on it to try to get better light (bike is inside). It would look even cleaner if I had all black straps instead of white.
The drill comes into play when installing the rear ones. You could simply loop the zap strap through the outside of the part (as I had last year), but that looks really ghetto. Instead, drill a hole on the inside of the loop that would go around the bolt...this is an internal hole, and you do not see it. Now you can loop the zap strap completely on the inside.
If you are worried about the stability of it, last year the installation saw 220 km/h without so much as a budge. The straps will hold.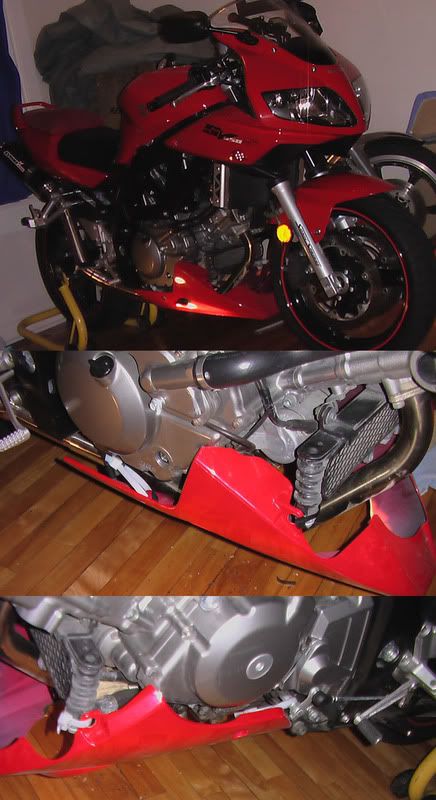 All in all, instead of paying $300 for an aftermarket pan/spoiler, spend the $55, then get some Sonic Springs and an undertail.