Discussion Starter
·
#1
·
Hey guys, my name is Nathan, new SV650S owner, well new to SV's period, i recently traded my 96 gsxr 1100 fighter project for a 2003 sv650 with 10k miles on it! Traded down for many reasons, but this sv was too good of an offer to pass up! the guy texted me at 7pm on a thursday and i found a notary for my title in 20 minutes because i didnt want the guy to change his mind haha.
Anyway i went from this
To this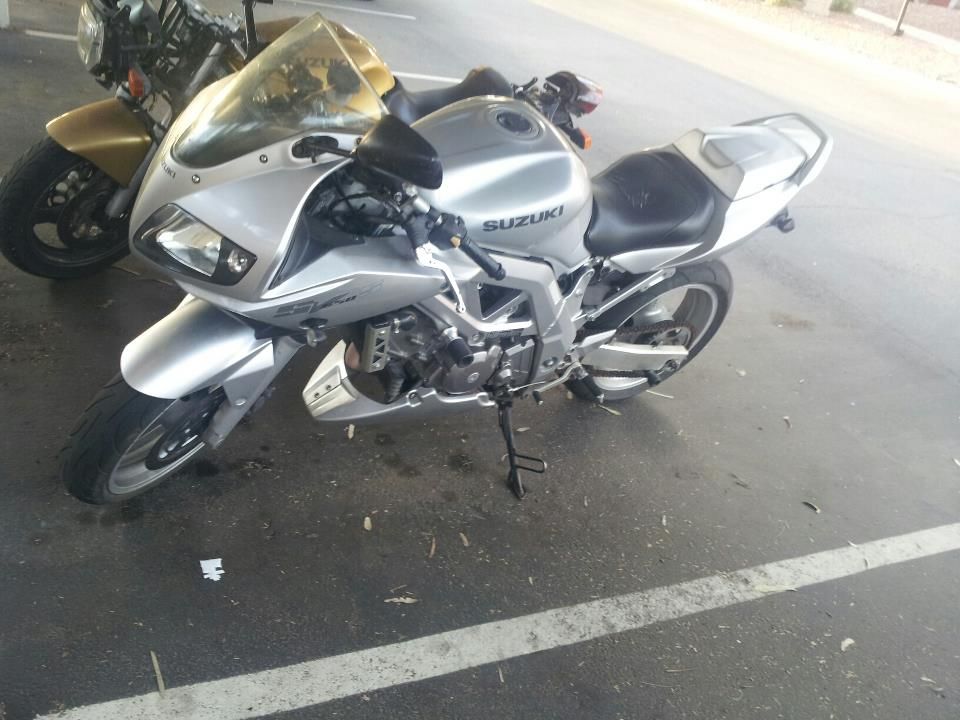 Its very clean!
Ofcourse the first thing i did after getting it over to my house and the start of a day was check over everything and read up on some details and "tips and tricks" Topped off the coolant etc etc, Already adjusted the TPS and it definitely feels better, there are some spider webs around the engine area, the oil is clean, but for safe measure i am doing a seafoam treatment in the fuel for a couple tanks, ofcourse the battle will rage on about the product actually working for some, i know first hand how well it works through a vacuum intake and then a tear down, anyway
I am missing the right side engine bushing, it does have frame sliders, so im not sure why that bushing is missing, probably misplaced, the threads on the hardware that are exposed for the motor mounts have a little rust on them i will probably just buy a complete engine mount hardware kit from ebay and clean it all up and use that.
I will be changing the oil and filter shortly with a FRAM filter as well as Rotella t6 lots of people i know have used it successfully aswell as the great reviews online.
I will be changing out the coolant for engine ice (another topic of battle, im fine with the extra money no biggie) but before that will be doing the cooling system treatment with distilled white vinegar and distilled water.
As far as the suspension goes, its all stock and way to soft for me now (220 without gear) so for the moment ive got the preload on the forks where they can be okay and i need to find a spanner wrench so i can adjust the rear preload, other wise, ill be swapping out the fork oil for 20w as suggested here in a few places, and from that point i will be saving for the race tech parts and gsxr rear wheel swap.
Misc stuff, looking to get a hot bodies undertail kit or atleast a better more low profile fender eliminator kit as well as some high quality headlights (non HID) and an integrated tail light.
Thats it for now, sorry to go on this huge thing that was more than an intro but i REALLY love this bike, it was actually the first bike i ever wanted when i started to ride (4 years ago) but i never got one until now
I still have lots of other ideas but i will create a build thread along with more pictures ofcourse and continue there.