Discussion Starter
·
#1
·
so today i got to do a decent amount of work to the bike. i got to put in the new clear alternatives tail light, an '04 GSXR 1000 rear shock and a holeshot exhaust. nothing that was too difficult, but at least they are done.
here are my questions. i've searched and haven't found a satisfactory answer.
of course the battery does not fit exactly like it did before the GSXR shock was put in. most people say they placed something as a spacer under the battery to bring it above the resevoir. i'm assuming that most of these people have the stock seat also. my problem is that i have a corbin seat. the seat pan is lower than stock so i cannot bring the battery up. has anybody found a battery that is thin enough to fit beside the resevoir and still do all we need it to?
i have been looking at this site for possible replacements. and the link is to our stock battery.
http://www.motorcyclebatteriesusa.com/motorcycle-batteries.asp?battery=164
i need something that is 1/2" - 3/4" thinner. the length and height are fine. or i guess i could use a battery that is around an inch shorter and then space it up over the resevoir.
when looking at possible replacement batteries, what is the most important thing to look at? cold cranking amps? amp hours?
also, my bike is an svs that is going naked. how do i get off these brackets that hold on the back portion of the stock bikini fairing?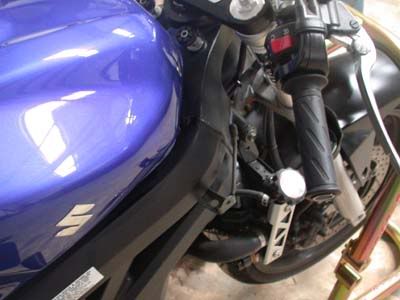 it comes out from between the side frame rails. i can see the bolt that hold it in place on the inside of the frame but it is between the frame and the air box. do i have to take out the air box to get them off? or is it possible to do with it in?
here is what the bike looks like right now.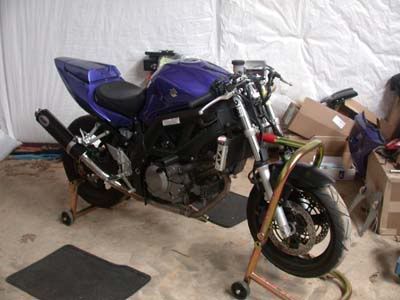 it looks pretty sad in it's current state but it is coming along. i just need the LP headlight bracket to show up and i'll be able to make some headway on the front end.