Discussion Starter
·
#1
·
Hey guys, so heres the build thread I mentioned I'd start in the intro area and here is what im starting with.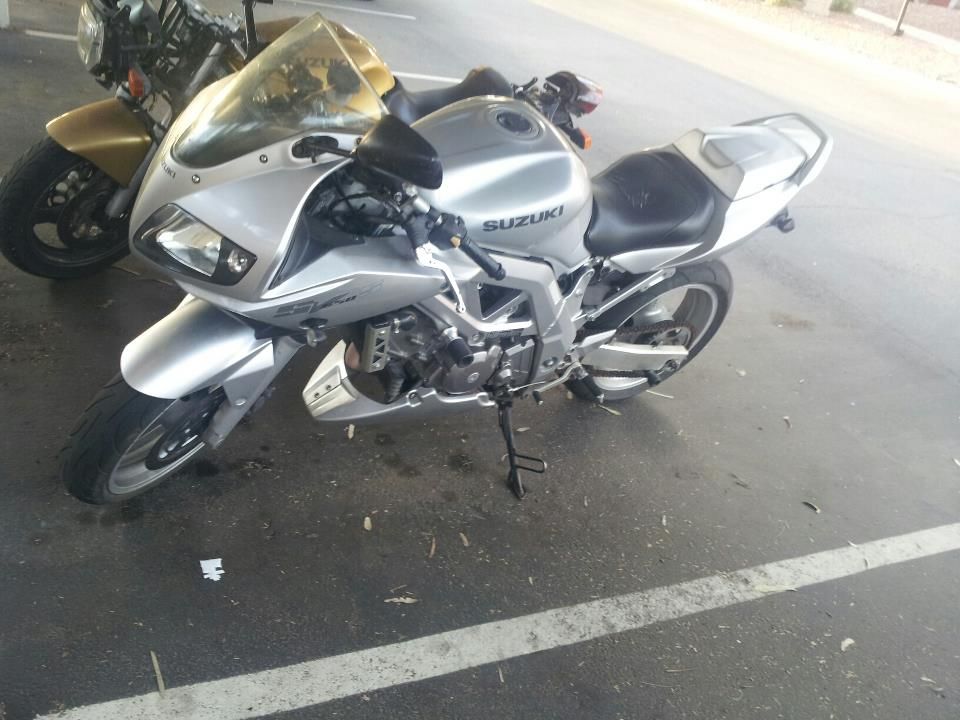 So as far as it stands now
-Speedo Drive is out
-Missing engine mount bushing on right side front cyl.
-K&N Air Filter
-M4 Slip on (love the sound)
-Unknown fender eliminator
-Pilot Power Tires in sizes 120/60 and 170/60 (Wrong size ofcourse)
-Completely stock.
-Missing left passenger rearset
-Previous owner let it down on the right side, no major damage, biggest damage id say was a broken brake lever
Heres what I plan on doing
Engine
-Tank Risers
-Mid Range V-Stacks
-Power Commander
-Ignition advance(?)
-TRE
-Rotella T6 Oil
-Engine ICE
-Full High Exhaust (Havent decided what yet, and ofcourse im limited to '03)
-Sync Throttle Bodies
-Adjust TPS
-EVO Shift kit from factory pro
Suspension
-For the moment I'd like to swap out the fork oil to the 20w (I'm 220lbs) and adjust the rear preload (previous owner has it on the softest setting, 7?) but I dont have a spanner wrench, no tool kit and I cant seem to find someone locally, I'll have to visit a shop. I'll end up settling for this setup with thicker oil and dealing with preload until I have money saved up for the racetech parts (debating that or GSXR front end) the GSXR rear wheel and probably a 2007+ GSXR 1k shock.
Tires
-With my GSXR 1100 I recently went through figuring out what tire was best for what I wanted to do, take the twistys and get good life out of the tire, I believe I've found the solution for me, Shinko 006 Podiums, I was able to lean so far over so confidently without any slippage on the front or rear with these tires and people were saying they were getting 6-8k miles out of them, and I got them for under 200 shipped new on ebay (120/70 and a 180/55) So I will definitely be going with these again.
Cosmetics/Function
-Hotbodies Under Tail kit
-Silver Star Ultra Headlights
-LED Turn Signals / Integrated Tail light
-Double Bubble Windscreen
-Paint (havent decided color yet)
-Rear Sets
-Adding the side fairings
-Clip-Ons
So far all I've done is top off the coolant, check the oil, adjust the clutch, adjust TPS, ride it over 200 miles in 2 days
Anyway thats where i am at now, ill be getting you guys more detailed pictures tomorrow!