Discussion Starter
·
#1
·
I was given a 1974 Honda CB750 by my neighbor across the street. He was moving across counrty and didn't have the room for it. It had no title, looks like a pile of poo, and the electrics are shot, but I know I can transform it into a nice cafe racer. It took me a couple of months, but I finally acquired a title from Virginia. I obtained the title by going through the abandoned vehicle code of VA.
One of the first things I did was remove the tank and noticed it had a failed Kreem coating in it. Removed the coating with MEK, but noticed the previous owner broke off the petcock and then did an atrocious welding job to half ass fix it. Found a guy in Chapel Hill, NC that gave me a tank. Joe (silversx80) hooked me up and picked it up for me.
I then noticed that the front forks were bent. So the hunt began for some new legs. While at it I figured I might as well upgrade a little. I found a local guy that had a set of legs from a 1975 Honda GL1000. They are a basically direct bolt on. He also had the rear wheel that I picked up from him.
Last week I started tearing the bike down to facilitate pulling the engine. I checked the compression in the cylinders and all is good. Cylinders 1,3,&4 each had 110 psi. Cylinder 2 had 116 psi. I know those are a little low for what you would like to see, but I got them by utilizing the kick starter so I figure they were good enough. I have zero history on the bike. I know it has been sitting in a back yard for 4 or 5 years without anything being done to it. I don't even know if it shifts through the gears because the clutch cable is broken.
The day I brought her home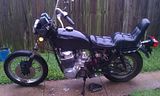 Failed Kreem coating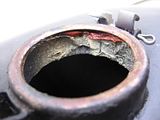 Horrible repair job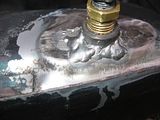 I picked up my new front end and rear wheel. I went with this because it has dual front brakes, aluminum wheels, and is basically a direct bolt on. I say basically because all I have to do is change out the bearings.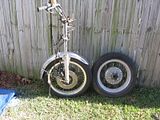 Last weekend I tried to remove the engine utilizing the "drop the bike on its side and slide the motor out that way" method, but it failed miserably.
I managed to wrangle the engine out of the frame. I wound up sliding a piece of steel rod I had in the garage through the rear lower engine mount. From there I was basically able to lift and slide the engine little by little until I cleared the frame. I was worried a bit that since I had the bike on my inferior T-Rex stand that everything would assplode.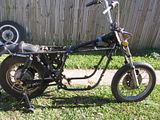 Here she is on the bench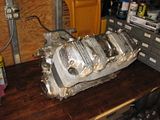 And after I removed the valve cover. Only two bolts required any real effort. I had to use some PB blaster and some heat to loosen the bond. Now I get to start the real work. I have never tore down an engine before so this should be interesting to say the least.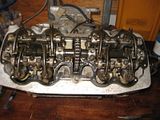 Took a while since I had to read the manual what seemed like a hundred times over to figure out what they were trying to say, but I got the head off.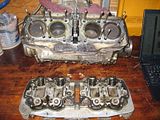 Valve side...lots of carbon build up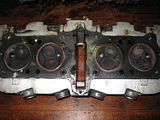 And what the tops of the cylinders look like.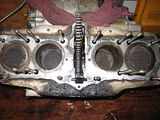 After I pulled the jugs off. It took a bit of banging with the rubber mallet to slowly work it up, but it came off without a hitch. I am a little worried to keep taking it apart since everything seems to look good. My intentions were to take it apart to see if I notice anything broken or wrong and to cleanup the block so I could paint it.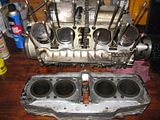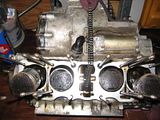 After some thought and consultations with friends I am going to do a full tear down and split the cases. Not know any history of the engine is basically what is dictating me at this point. For all I know it could have a spun bearing or broken primary chain or a whole host of other faults. This will be a somewhat long term project. Right now I am looking at probably $300 worth of replacement parts in the engine alone. The gasket set alone is a little over $100. Seeing how the Navy doesn't pay that well I will have save up before I can really move forward.