Discussion Starter
·
#1
·
So yesterday I was on a big loop though SE Ohio, travelling S on RT377.
Doing about 50, approaching a downhill left hander.
Deer runs out of trees to my left heading straight at me, just as I threw the bike over to negotiate the left hander.
I swerved to avoid a direct hit and hit the deer hard right in it's head with a glancing blow. I stood the SV stright up (now heading straight towards the outside edge of the road) and braked for all I had. Knew it wasn't enough.
Hit the grass on a steep enbankment doing maybe 25, lost the front end and lowsided, sliding down the grass slope. The hard case on the left side caught something and flipped the bike, throwing me into a somersault.
OK...knew my left ankle was ****led immediately. Managed to spin the bike around (it came to rest wheels up the steep slope) and used the slope to help get the bike up. Several folks stopped, one who had a tool needed to straighten the bent shift rod to allow me to get it back into 1st and get it out of the ravine.
The damage to the Sv is remarkably minimal.
Not wanting to leave my bike hours from home and the logistics of correcting that, I choose to ride home, 3 hours away. (WOW did that hurt) barely able to shift gears.
Doctor said cleanly broken fibula (was swollen so bad they were gona cut off my Sidi Way touring boot. They gave me a shot of morphine and as it kicked in I was able to get the boot off with only minor girlie screams.)
They're saying 6 weeks min, and I need to see a specialist next week as they couldn't do a final cast because of the swelling.
So...all that bullshyte aside, the basic question is this:
Would a race-oriented boot have PERHAPS kept this from happening? Here is a diagram that shows exactly where the fibula break is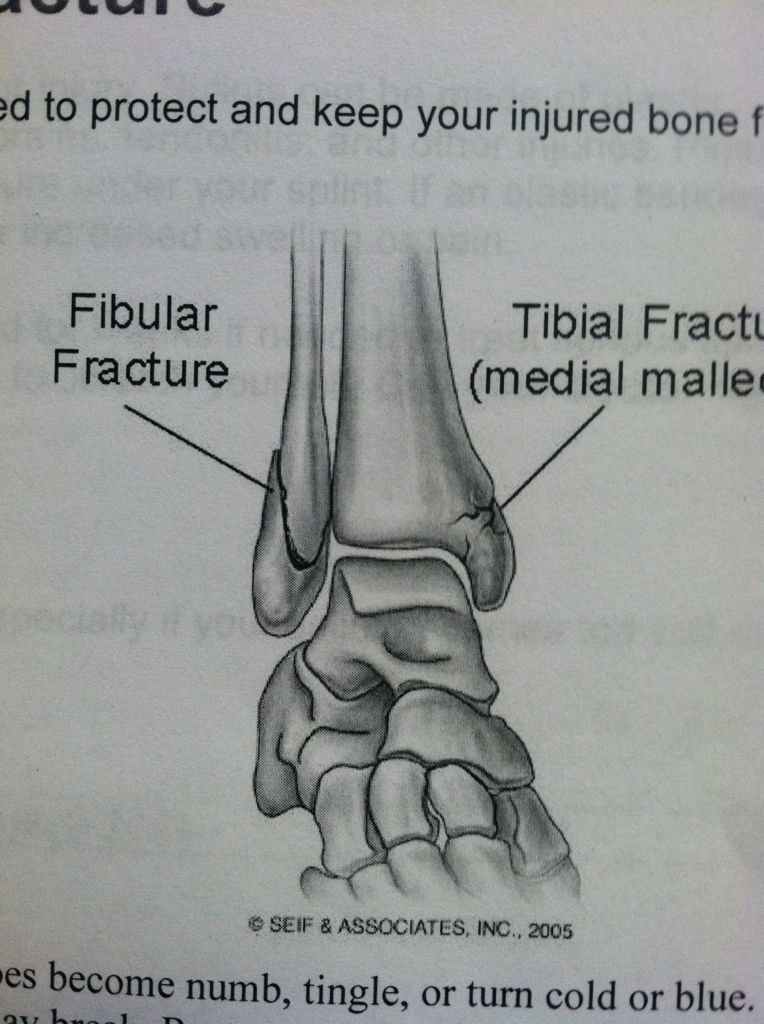 Don't some of the race boots have mechanisms that help keep the ankle from rolling sieways? (which is obviously what happened as the bike lowsided)
If we don't learn from the things we encounter, what good was the experience?