Discussion Starter
·
#1
·
Ok, so I have been riding Bridgestone BT016's for about 3-4 months. In that time I have put 3600 miles on them. I chose this tire because I commute to work about 50 miles round trip, but I also like to go rip up the mountains. I live in southern California, so I ride around LA and SD county. In that time I have been to Palomar mountain at least 10 times, montazuma rd(Sunrise highway) twice and Angeles Crest twice. I REALLY like the construction of these tires. After all those miles, I alot of tread left in the center of the back tire. The triple compound that Bridgestone uses seems to be really nice. For how hard I have been abusing the shoulders of the tires, the center is still very hard and durable. You can see that I am just about to hit the wear bars in the rain groves on the outside of the back tire.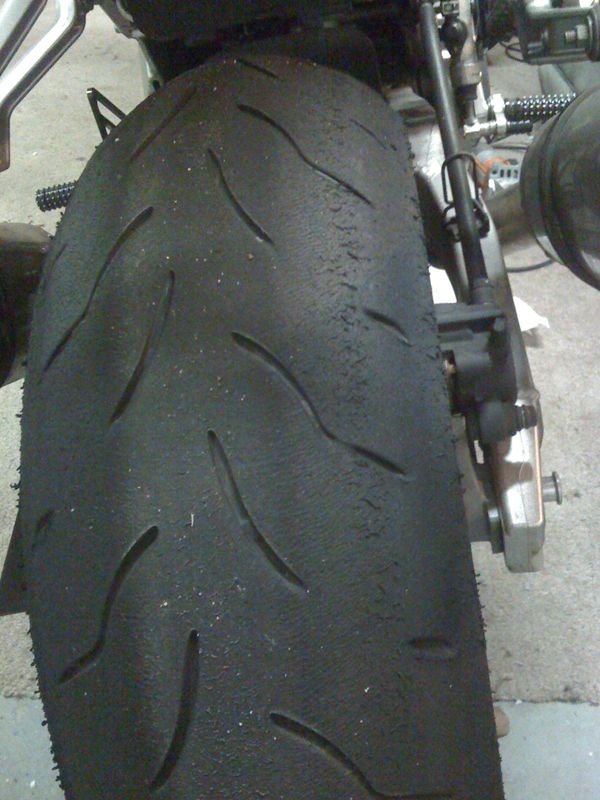 For the first time in my riding, I have work out a front tire before a back tire. The front tire also rode REALLY well. The dual compound is really nice. The center of the front tire still has a little life too. The sides are very warn out tho. I am totally on the wear bars on both sides. Mind you, I NEVER use my back brake when riding the bike hard in the twisties so the front tire is taking all the braking abuse.
Over all I LOVE these tires. I have been riding them REALLY hard. I think I could push one more hard day in the mountains out of them, but I think we all know that is not wise. I would say that if you need to get some commuting miles out of a tire, but also want to push them super hard in the mountains, these are a great tire. The only thing I would like is a slightly pointy-er profile on the back tire. I would like to have a little more shoulder. Like you can see from the pictures, the edges are pretty torn up. Right after a run on the mountain, they are WAY worse. But overall, the very best tire I have ridden on the road. I have had pilot sports, M3's and some Maxxis in the past. These are far superior. K, here is a pic of me riding, sorry, I can't help it.