Discussion Starter
·
#1
·
Wasn't going to do this, but questions about my bike have been polluting other threads and I wanted a referral thread to help keep the other ones on track. Make sense?
Finished it just before leaving for the 2.0 Rally with some last minute help from Igor(ioreper).
It's
(was)
a blue 2001 SVS.
Front end - 04' GSXR750 fork, brakes, clips, wheel, levers and M/C.  04' GSXR1000 triple clamp and SV electronics. With Galfer wave rotors, Goodridge braided lines and a CF fender. Also have a Ebay special steering damper I homemade mounted. Mich pilot power 120-65-17. TWF's bearing kit.
Rear end - 04' R1 swingarm(highly modded), brake, shock, linkage and hugger. Had to shorten the R1 dogbone quite a bit. 03' R6 wheel with a homemade spacer to adapt to the R1 swingarm. Galfer wave rotor(overkill) and Goodridge braided line. Renthal 46t lightweight sprocket with RK X-ring gold(bling) 520 chain. Swingarm drilled and tapped for Moto-slider's spool/sliders. I see he's now making them for the Yami's also. Too late. Mich pilot power 180-55-17.
Polished(may change) frame w/Moto-sliders and stock motor except for Factory Pro's 3.0 kit which includes BMC pod filters, 210-215 main jets and redrilled main air jets. Kit also includes tank spacers. Also using Factory Pro's "quick shift kit".  I'm using the "diesel" oil. Works fine for me.
Exhaust is a Yosh SV full system mated to a Yosh RS-5 600RR slip-on(race baffle).
Solotail is CF made for a Honda 954 with a 954 seat. Taillight is a Clear alternatives older R1 with integrated signals.  Subframe is the stock SV highly hacked up. Homemade undertrays.
KG's SVR6 fairing with 01' R6 headlight, windscreen(zero gravity dark) and mirrors. GSXR front signals. Front subframe is completely homemade(PITA). Veypor as guages. Homemade dash panel with LED Idiot lights.
Vortex rearsets(GP shift). I think that's it. :-\
You're thinking 180 tire and longer swingarm, must handle like crap. Not at all. I'm 100% satisfied with how it handles.  When you see me, you're more than welcome to take it out for a spin and see for yourself. Excellent handling bike!
OK, the pics...  From Igor's photo album: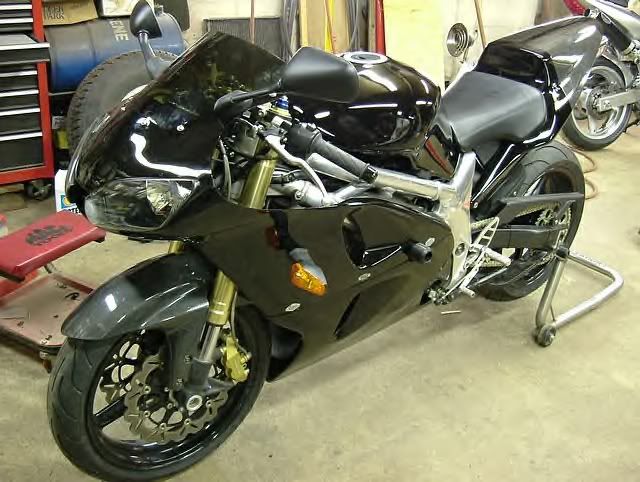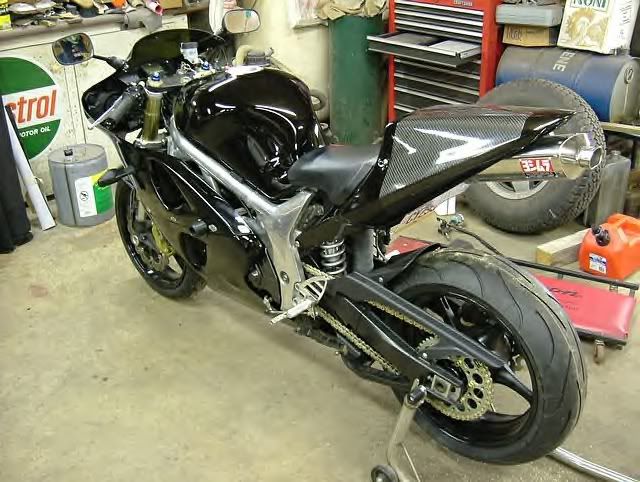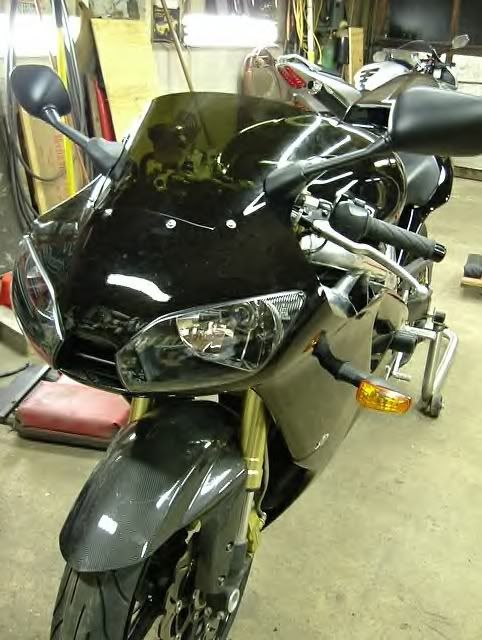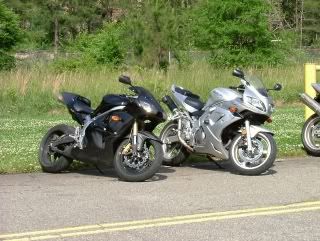 And my new favorite from Greg(MA)'s photos: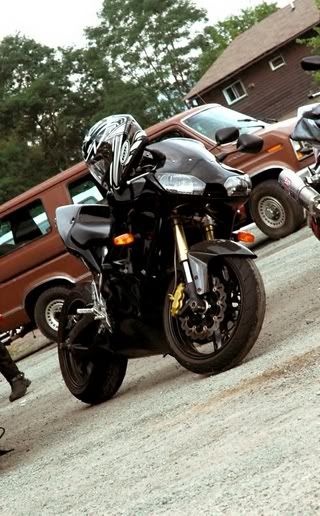 Thanks to those who have already given compliments.  Brad(rivited)
(edited for bad picture links)