Discussion Starter
·
#1
·
FINALLY I'm back on a bike again...and with another SV :rock:
My first 2-wheeled motorbike was an '89 Yamaha Riva 125 scooter that I bought for my wife to ride to work back in '07 -- but I ended up doing 99% of the riding, mostly to the Redbox. Kept it for a lot longer than I planned since it was so fun and easy to ride, but finally sold it this year to make room for something that could go on the hwy. Except for my bedliner paint job to cover the evidence of being downed by a PO, the scoot was all stock with only 3500 miles when I sold it, and ran like a champ.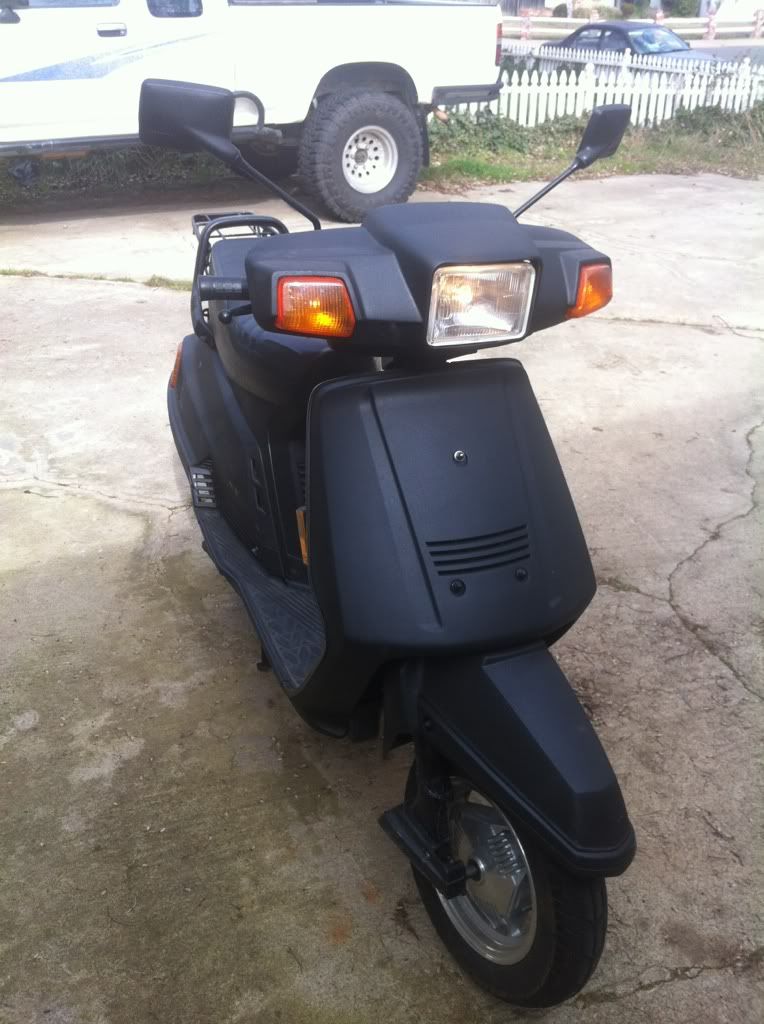 My first real motorcycle was an '01 SV650 naked that I bought in '09. It was a salvaged bike when I bought it and I learned a lot about the SV from SVR, which is why I'm back! It was originally a red SV, and had a '90 GSXR adjustable front-end put on when it was rebuilt, a Fox remote res rear shock setup, I put on a Delkevic shorty, and it had a couple other goodies besides the savage bedliner paint job I gave it. Rode that bike for around 20k before I got in an accident a month before my wedding and put my clutch hand through a taillight trying to avoid becoming the meat in a cager sandwich - that was a fun day.... Needless to say, the wife wasn't too happy and she made me sell it before I could fix it -- still pissed about having to sell it! But you know what they say "happy wife, happy life". Here it is early in the season with the windscreen on: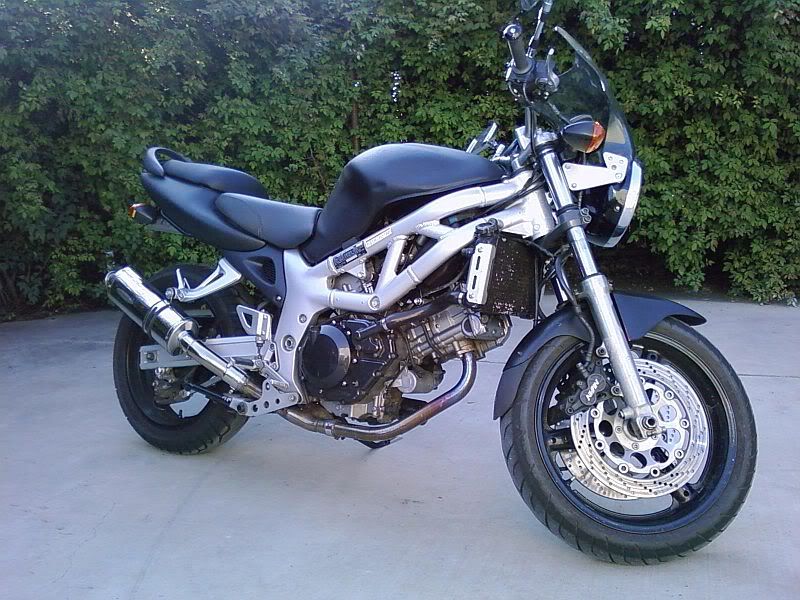 3rd bike I rode around for a while was my buddy's '03 SV650 naked, after having only 4wheels for a year. After I got my SV, he followed suit and we found him the '03. His is all stock except for a Delkevic. He moved away from the area last year and loaned it to me for a couple months until he could find space to store it while they were in housing transition. After he took it away I was again bikeless and had to go on the hunt for a replacement bike.
A couple months ago I was craving to buy a bike again after not owning one for almost 2yrs, so started scouring CraigsList and forum classifieds for some local bikes. I ideally wanted to pick up a used WeeStrom, because it think it's the best bike for the type of riding I do, but couldn't find a single one for sale in my price range for months of looking! I was also looking at classic UJM bikes from the 70s/80s after getting hooked on cafe bikes when I rode a friend's '10 Thruxton that's all done up with aftermarket farkles. I was pretty much convinced on naked cafe bikes for their "cool factor" and I almost went and bought a sweet '78 XS650 that was all done up, but decided against it at the last minute since it makes more sense to buy a newer bike in this economy - and I'd rather ride than wrench! Good thing I didn't buy that bike because later that same day I cancelled the appt to look at the XS, I ended up hearing back from the owner of an SV that I had initially contacted over 2 weeks previous. I though the SV was long-gone because it was probably one of the best deals I'd seen in months of searching for bikes -- so it must have been fate to get me back on an SV and I'm now glad to say I'm the owner of a sweet '06 SV650s that has less than 3500 miles on it! I ended up paying $3700 for it, but I think that's a hell of a deal for a CA bike with so little miles on it, especially compared to everything I saw for sale in the past 6 months -- it's just so clean and basically a new bike that I can almost eat off of! And still has a month left on the warranty! How could I pass that up?!
Bike is all-stock except for Helibars. Coming soon will be fender eliminator, low-profile turn signals, T-Rex sliders I've had sitting in garage for 2yrs, and some sort of exhaust probably a Delkevic tri-oval, thinking of a touring windscreen and maybe some full fairings if I can find a deal. Then I'm just gonna ride the thing and put a lot of commuting miles on it, while trying to keep it around for a couple more years until I can afford a new bike.