Discussion Starter
•
#1
•
http://thekneeslider.com/archives/2009/08/27/cb450r-cafe-racer-kits-convert-honda-crf450r-dirt-bike-to-street-legal-cafe-racer/
Talk about a great first bike, or great fun bike for experienced riders!
240 pounds wet and with somewhere around 55 horsepower, holy fun batman!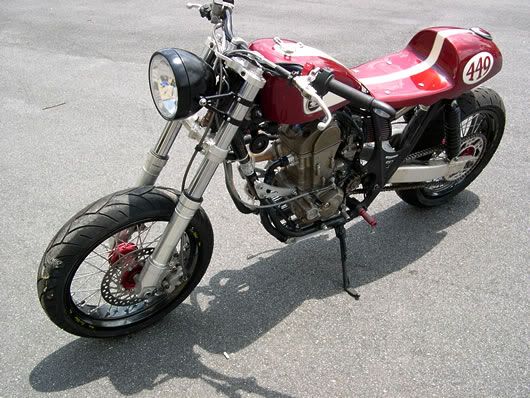 http://www.designcycleinc.com/
As for Design Cycle, we plan on offering kits in various forms (estimate late October availability/delivery for version 1.0; version 2.0 which will be a different style …available ~December 09):
If you own a CRF450R, then we can sell you just the street legal chassis (title included). If you want the complete chassis (minus the engine), that will be the next level kit. Top level kit, will be a running/driving CB450R.
Some other points, we built this kit knowing that you could run it as a street legal bike…and at the end of the day…put the CRF components back on your dirt bike that day for competition on the dirt track. Very quick to put together and apart.
FYI: My previous background was as a Motorcycle Design Engineer for Honda R&D.
You can contact us at (850) 656-0014 Tallahassee, FL for more details. Website does not have this bike on it, but emails come to me.