Discussion Starter
·
#1
·
Hey all, this is my 1973 Suzuki TC125. This bike is very sentimental to me, my grandfather purchased it as a left over in 1974. My father and uncle rode it around our farm for a handful of years "scouting crops" and all kinds of other things of the like. It had sat for 30ish years before I found it in the corner of the shed when I was 15 and started to have an interest in motorcycles. So my father and I started turning some wrenches and got it running, if you could call it that.. I learned how to use a clutch and shift on a bike that wouldn't idle, had quite a learning curve..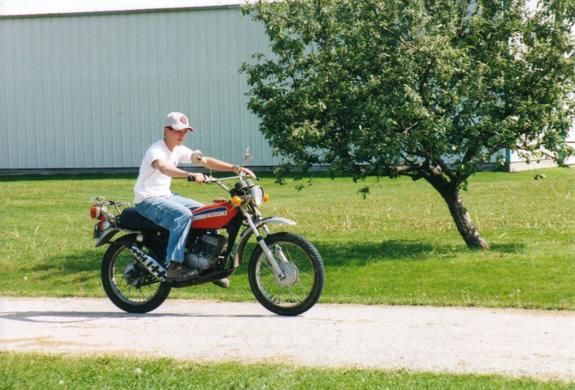 I cleaned it up, rebuilt the top end, started running premix (yamalube & Av gas!!), cobbled parts from eBay to get the lights working and kazaam I had a street bike at 16!! I rode it all around my hometown in the summers until graduation when I bought a 92' Yamaha Seca II 600. And upon getting a bike that would do more than 55mph completely wrapped out and with marginal reliability, the TC was sent back to the shed.
Fast forward to 2012. I am 3 years out of college, have a garage, and disposable income. One weekend helping dad planting I found the TC back in the same corner of the shed I did almost 10 years ago.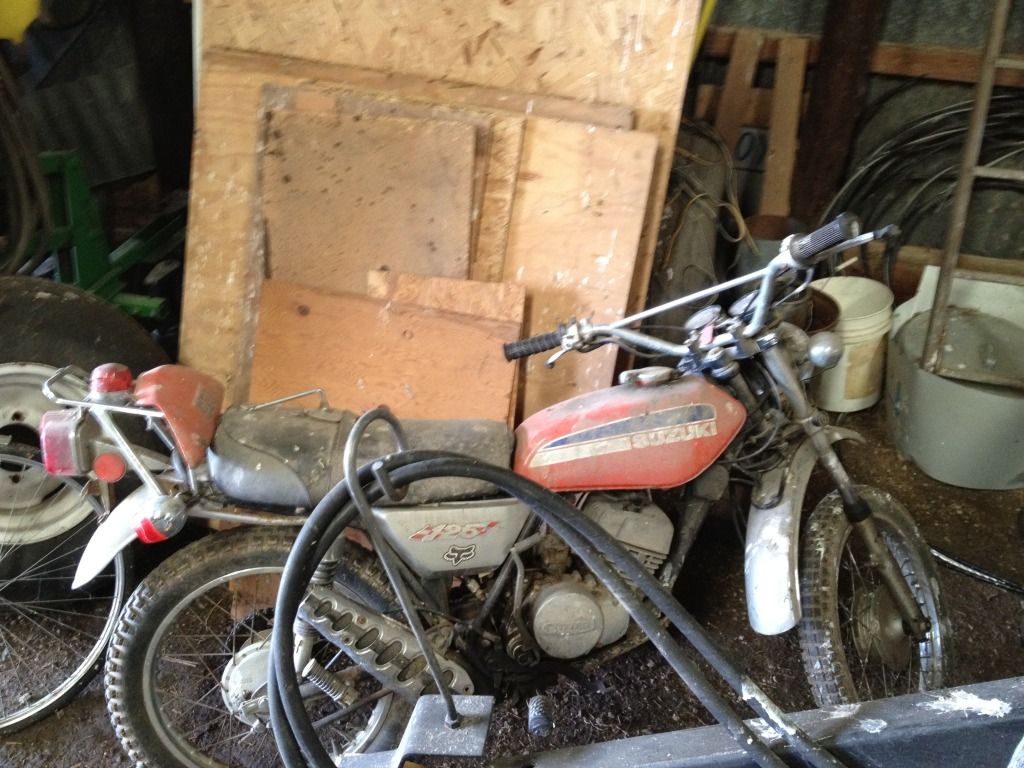 I talked my dad into coming down for a cookout memorial day and bringing me the TC along with a few other goodies from the farm that were no longer in use.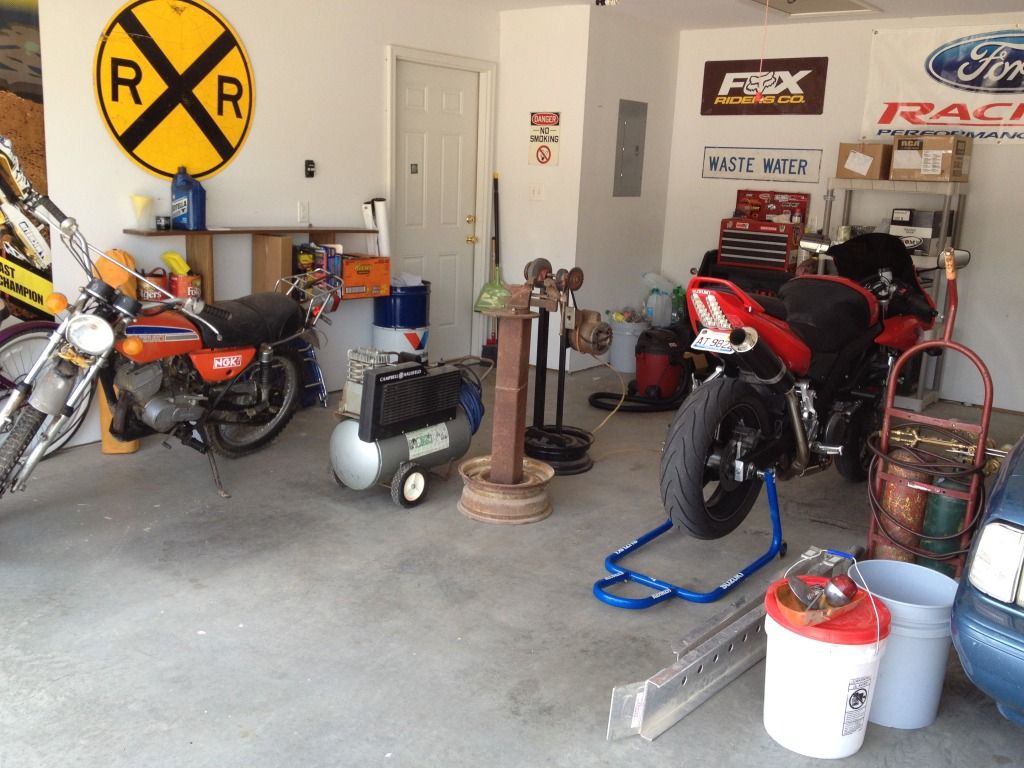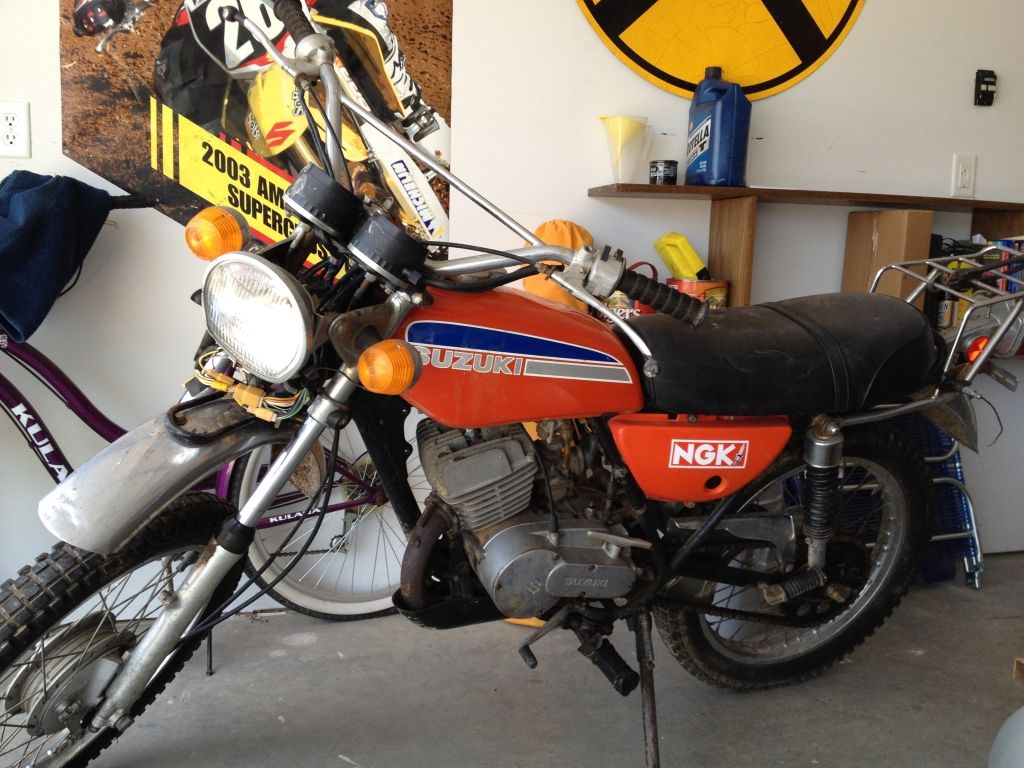 This is the beginning of a major tear down. I have 10 more years of motorcycle knowledge that I can apply to giving this baby what it really needs.
Day 1 tear down.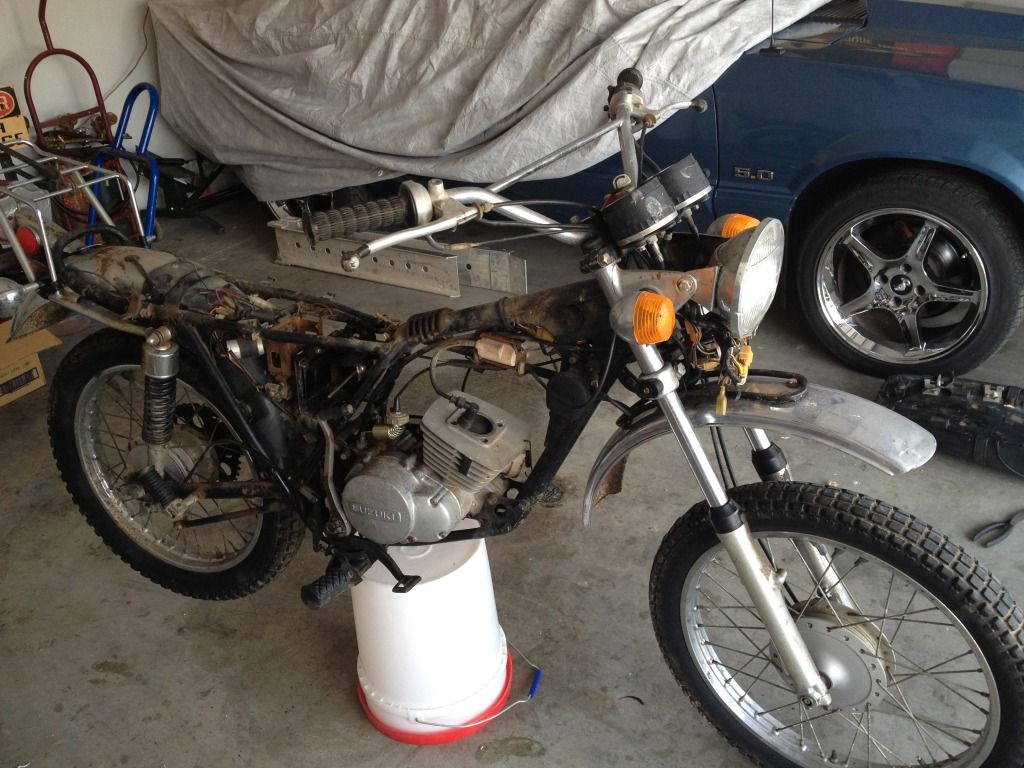 The tank had premix in it since 2004. Whoops! Now it is a rusty mess inside, either need to coat or eBay a different one.
The kick starter has always been a pain on this bike. It only catches on the bottom 1/3rd of the stroke so I assume there are damaged gears, teeth or something of the like in the mechanism somewhere.
Fast forward a touch and I've pulled the bars/controls, headlight, front fender, air box & side panels and a few others odds and ends. This is one of my first mock-ups of what I would like it to come together as. I want a lower set of bars, this was a shovel I had laying in the garage.
Trying to decide on whether to go for more of a cafe look or a flat track look.. Hmm ideas are percolating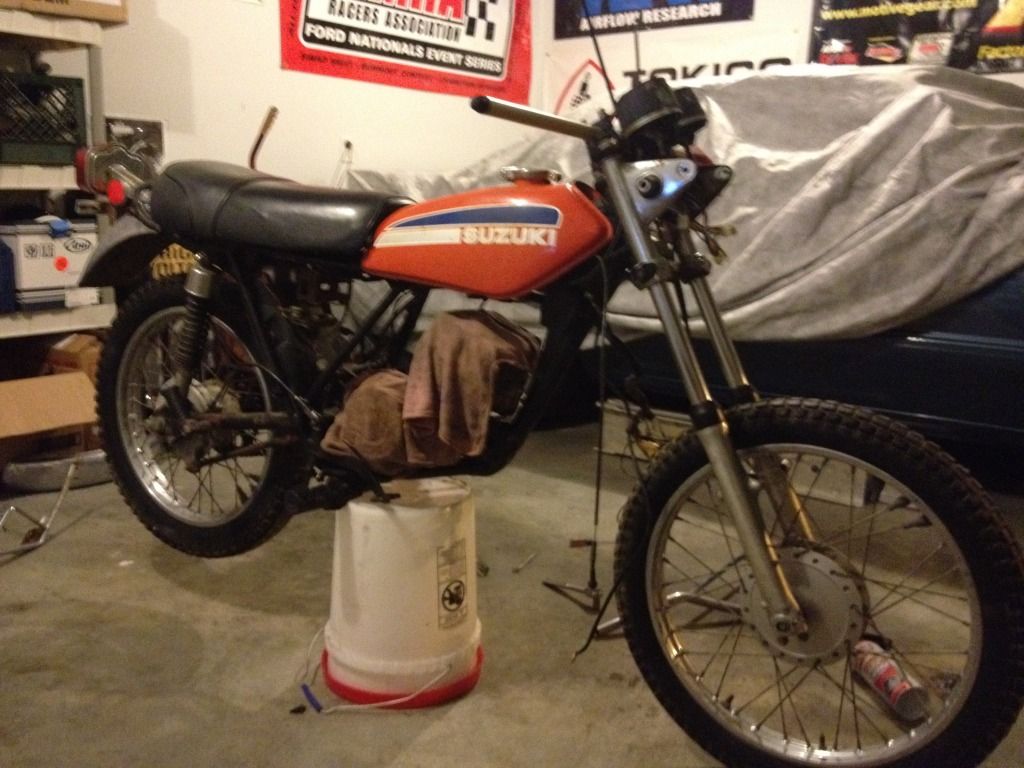 About to pull the forks here, yes I am using the torch as a counter weight to get the front end off the ground. Thanks gramps for teaching me to use what you have at you disposal!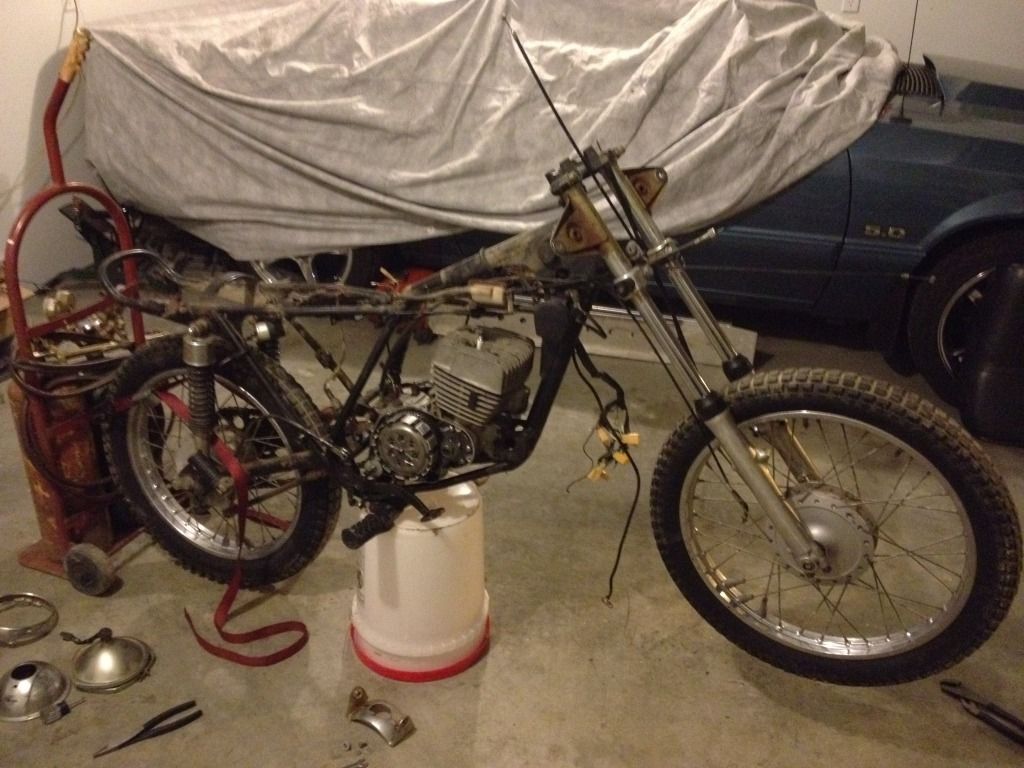 Headlights ears are pretty nasty, I have a set off a TS that are a few inches shorter (brings the headlamp closer to the trees) and the chrome is nearly perfect on I will be using.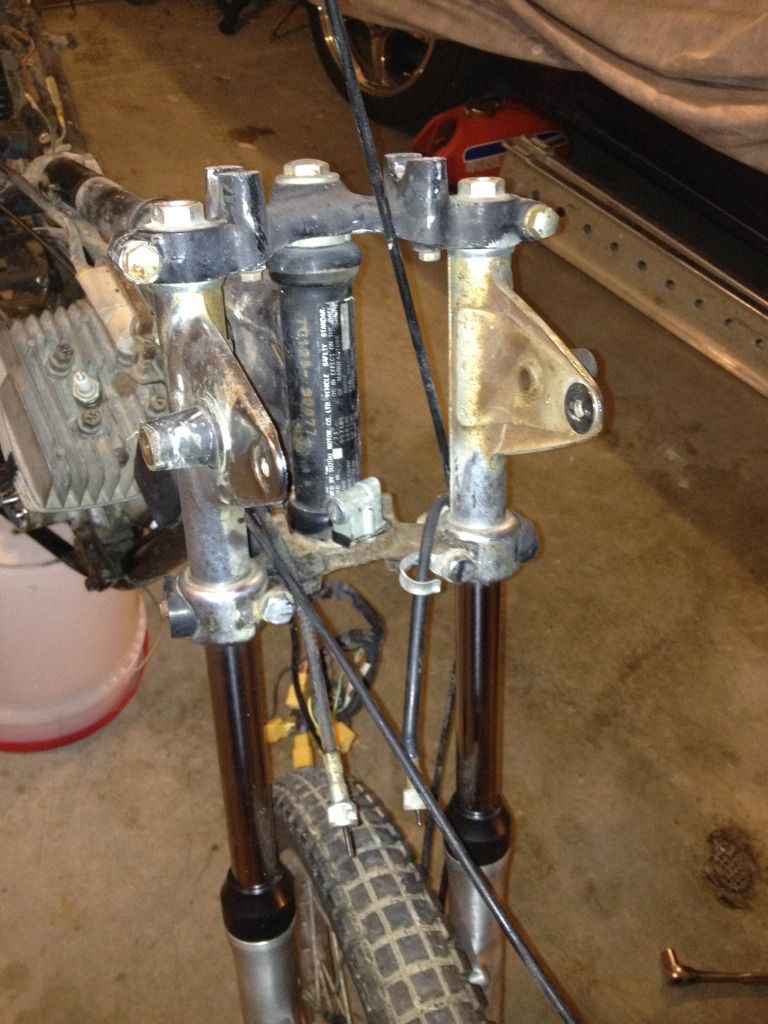 Just pulled the forks out..
Forks and all remaining body work free. Oh yeah along with the entire wiring harness, took a bunch of pics there but theyre not very exciting..
Inspecting my oil pump. I did run premix after discovering the line to the pump was gunked up, was told to disconnect the pump but with no idea of how to do this I did not. It was ridiculously easy to remove it and wish I would've done this years ago. I will test it to see if it works, it seems to spin freely and looks to be in good condition seeing how it was connected with no oil going to it for a summer or so.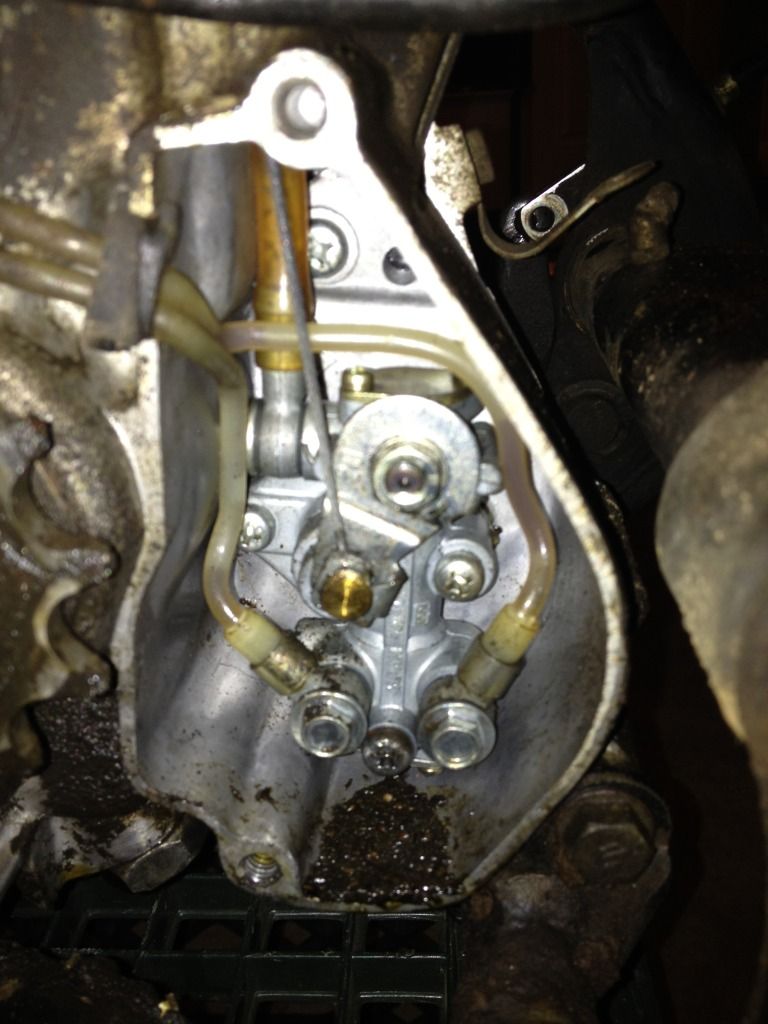 Battery box is toast. Too much battery acid saw this guy. Fleabay'ing to the rescue!!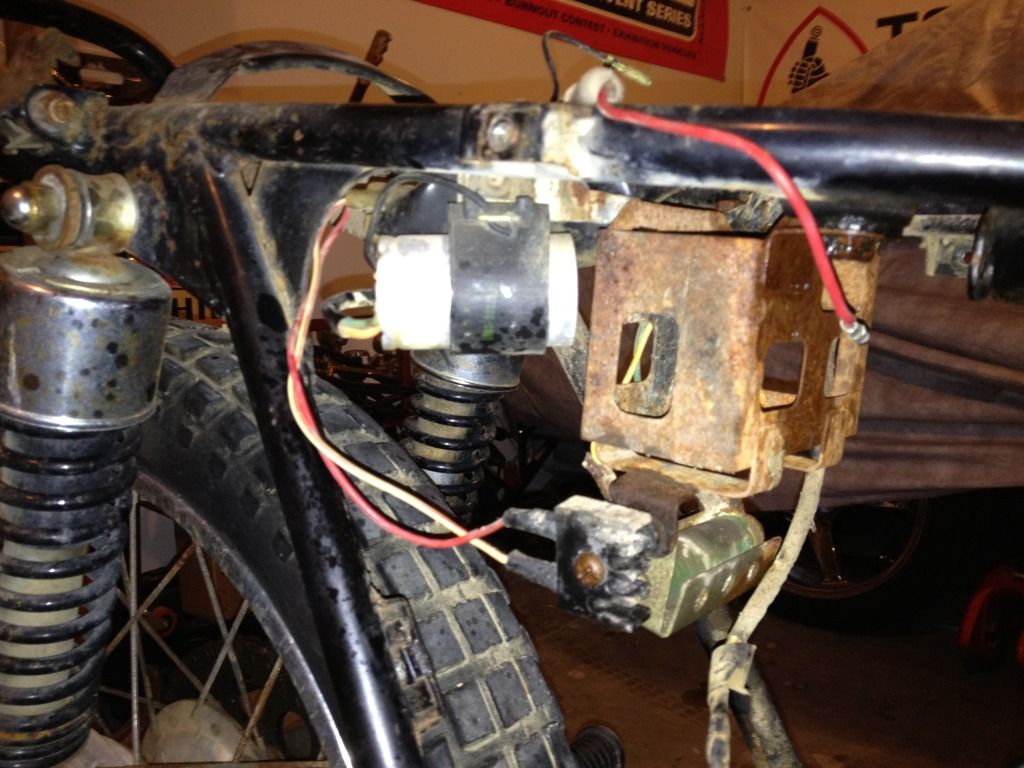 This is what 40 year old "chain lube." Just from knowing him, I am quite sure my grandfather used old motor oil as chain lube.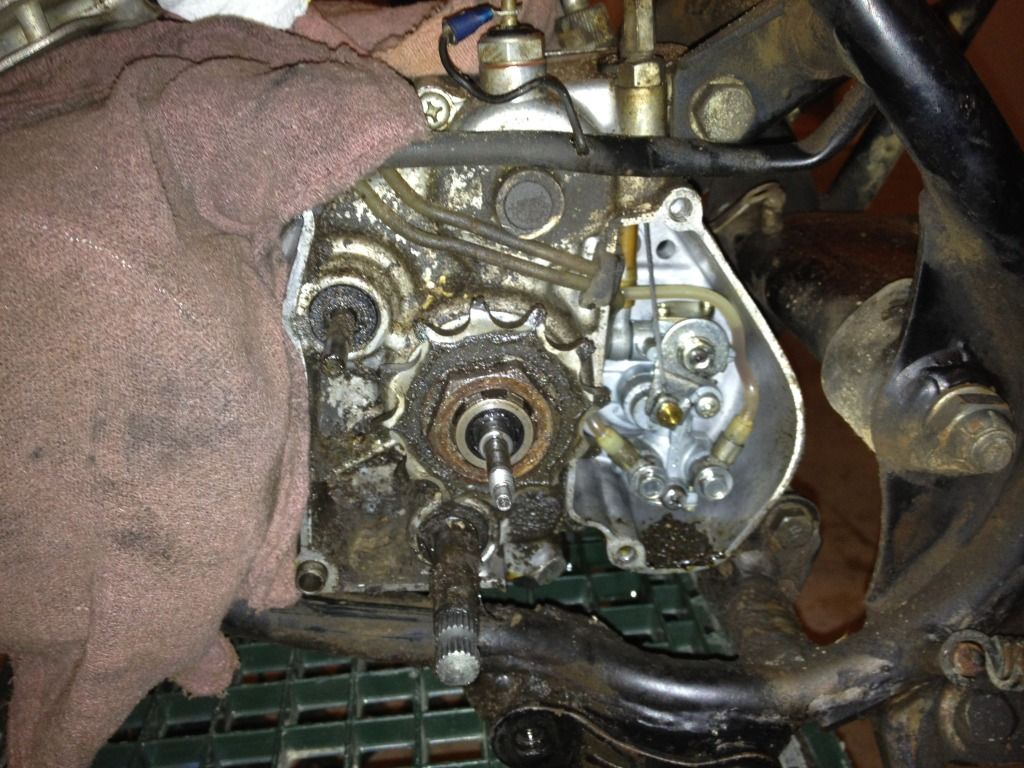 Preparing to remove clutch cable.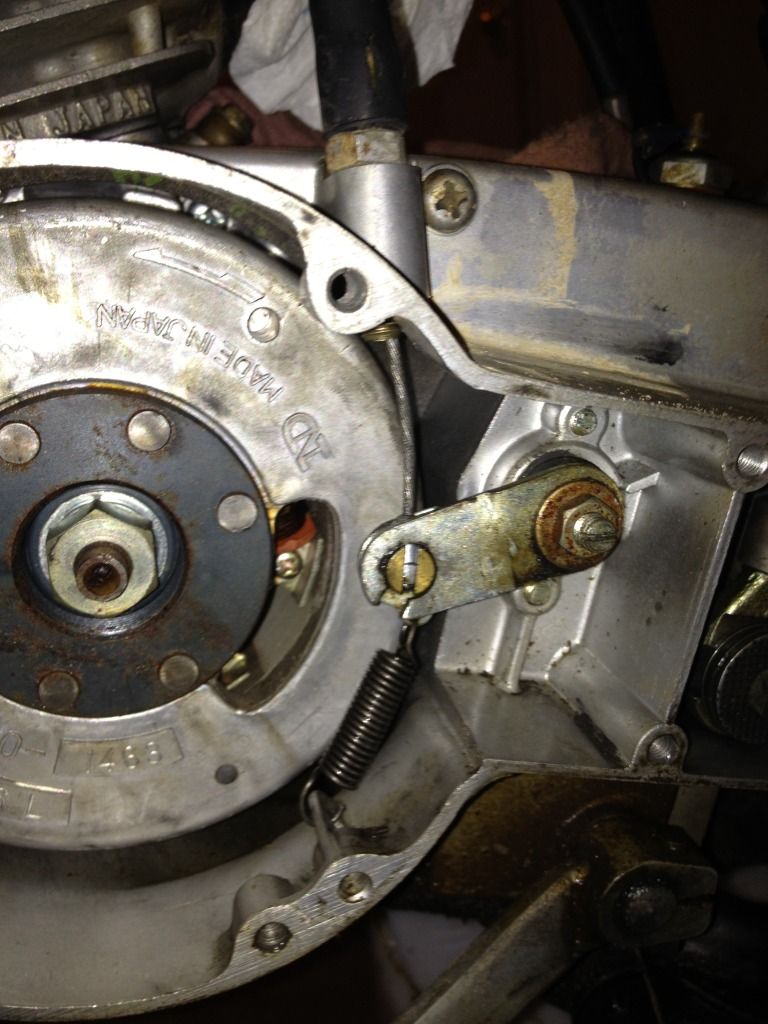 Motor free of frame.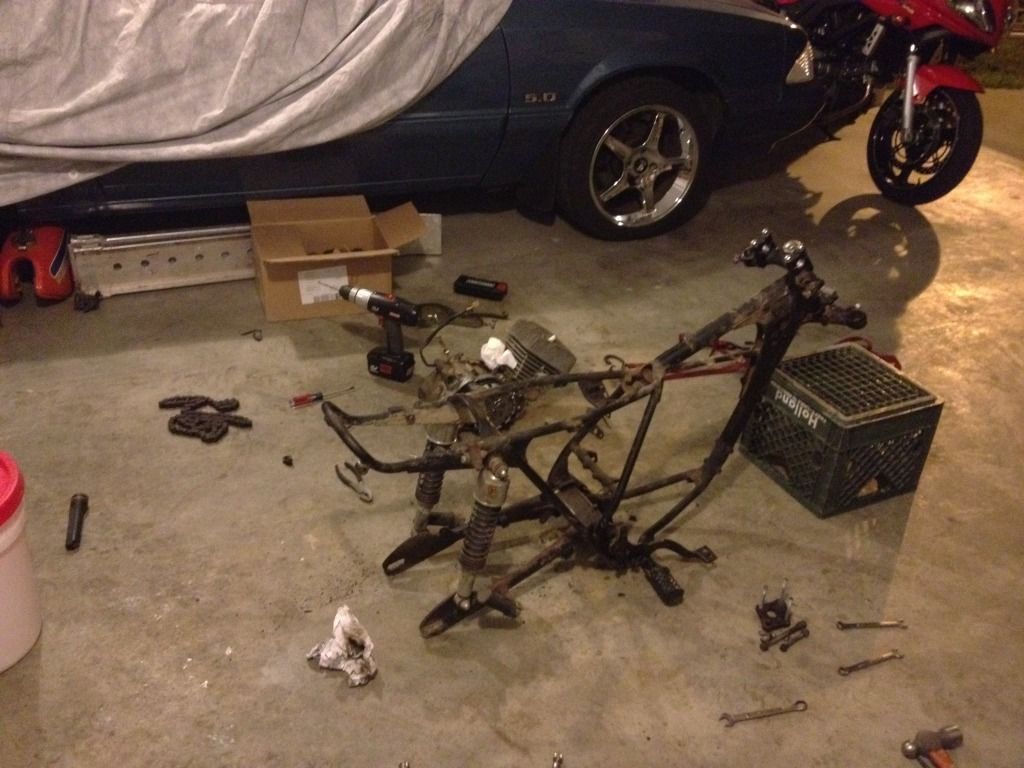 Rear wheel & brake drum. Shoes look good, only 11k miles on the clock.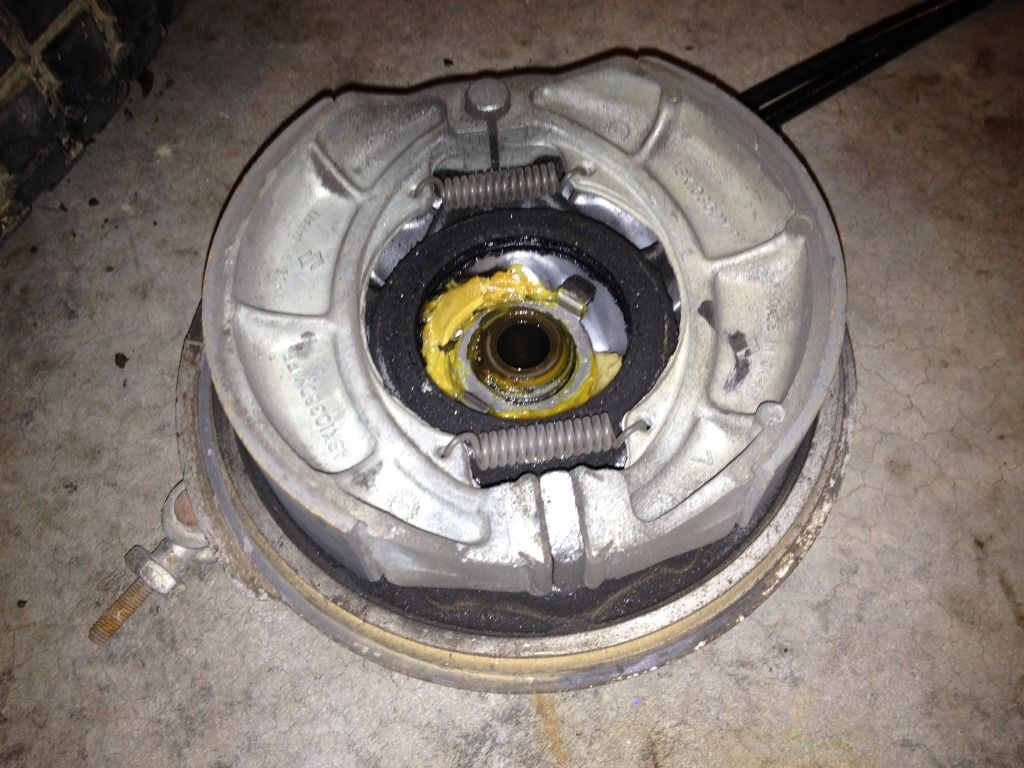 Rear wheel cleaning. Using aluminum foil to remove rust/oxidation. This works amazing!!! The wheel looks brand new after some serious elbow grease and lots of foil.