Discussion Starter
·
#1
·
Well I picked up a couple of 1972 CB350's. These are in much better condition than the CB750 that I built, but I amstill going to tear them down and build them back up. I am going to start with the burgundy one and use the red one for parts if need be. However, I am hoping to be able to build the red one for my daughter.
I have been poking at the wife for years to learn to ride a bike. I tell her she needs to get a scooter or one of those three wheel jobs. Always met with a NO from her. Then one day she made the cardinal mistake and said that if I got her a bike like my CB she would learn. Well I just happened to know a guy that was selling two of them.
So here we are...the starting platform(s).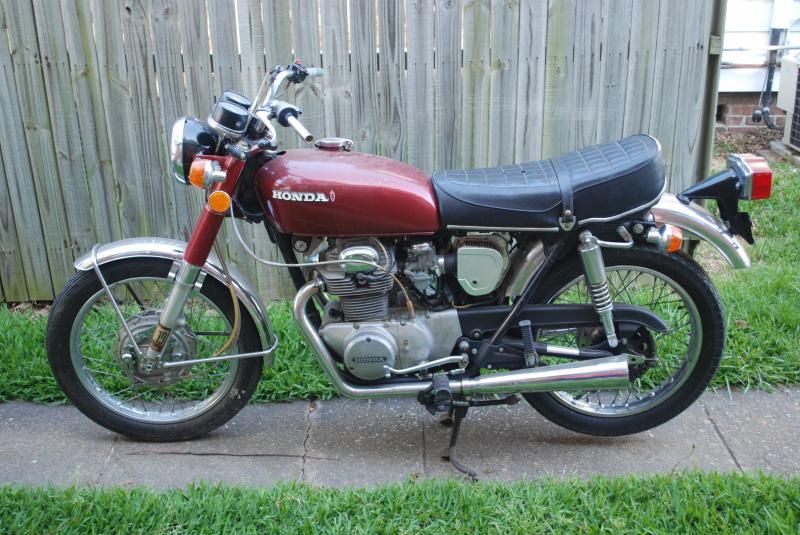 Kicking the bike over it appeared to have compression, I checked the petcock bowl and screen and they were nice and clean. Put some fuel in the tank, took out the float bowl drain screws, and opened the petcock. Fuel started to flow and I let it go until it was clean fuel coming out. Feeling good about what I have seen so far I decided to try and start her up. I jumpered it from my truck, but the only thing that lit up was the tail light and nothing happened when I thumbed the starter. Looked around noticed a bundle of electrical tape. I removed that to see what was underneath and found a some wires just twisted together. According to the wiring diagram there was suposed to be a 15amp fuse there. I had a single ATC blade fuse holder and fuse in my electrical parts bin so I hooked that up.
Since I wasn't getting anything other than the tail light I decied the jump the starter solenoid. As expected the engine started to turn over, but never even attempted to start. I realized I had turned the key one too many clicks and was in the park position vice run position.
The bike still wouldn't start. So I pulled the plugs to check for spark. Right side check. Left side...we have a problem. The plug looks like it had never been used, but it got spark. So that leads me to a carb issue. I checked for fuel flow and I wasn't getting any. I pulled the petcock and swapped it with the one from the red bike. Filled it back up with gas, and checked for flow...all good again.
Now that I had fuel flowing I tried to fire it back up again. WOOT WOOT she fired right on up, but is only runnig on one cylinder...the right. So I dropped the bowl on the left side then turned on the petcock. Fuel flowed out of the float valve, but it wasn't as fast as I thought it should have been. However, unsure as to how fast it should flow I thought it was good. At first fuel was very limited coming out so thought that maybe it was just a little clogged and that everything would be good do go so I put the bowl back on. I took off the bowl drain screw so I could visually see if the bowl was filling up. Cracked open the petcock and nothing. A big fat plate of nothing.
I took the bowl back off and took a good look at the float valve and float level tang. There wasn't very much movement of the valve from fully open to fully closed. Just a tiny bit of movement of the float caused the flow to stop. I decided to adjust the tang a little bit to see if that made a difference. Well it made a world of difference. Flow increased a lot and it took a bit more movement of the float before fuel stopped flowing. I buttoned everything up and gave it another whirl. When I opened the petcock I could hear the fuel flowing into the bowl.
I decided to see what happened when I started it. The bike roared to life and I could see some white smoke coming out of the left tailpipe. The exhaust gasses were warm and the header pipe started to heat up nicely. So I think I have that part semi licked. The carb will obviously need to be thoroughly gone through and cleaned, but it works.
I guess I can now start the tear down.