Discussion Starter
•
#21
•
Made some good progress over the last couple weeks! First of all I had to get the bottom bearing on the stem. So I put the bearing in the oven at 220F (recommended for bearings) and the bottom triple in the freezer. Well, didn't go so well for me.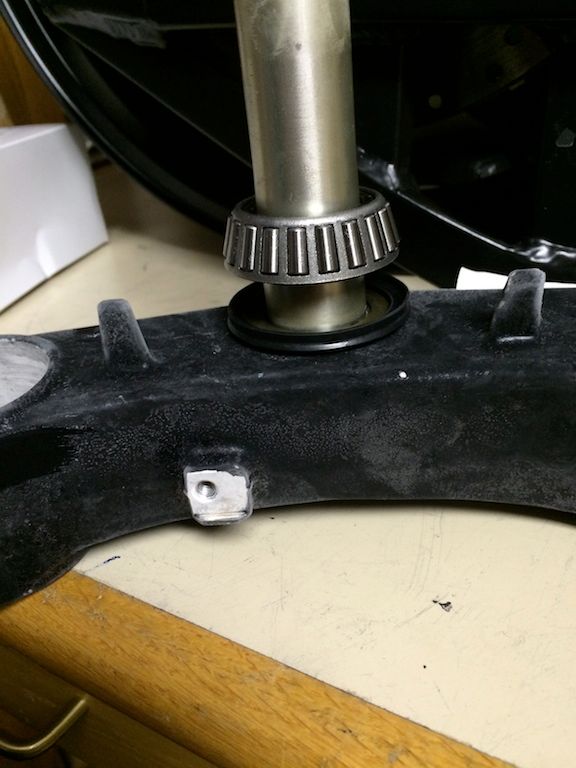 So, had to take it down to my friend's shop and he pounded it the rest of the way on with the bearing install tools he has. As long as I was there, he let me borrow his tools to take out the old races and put in new ones.
The old races out, looking a bit corroded.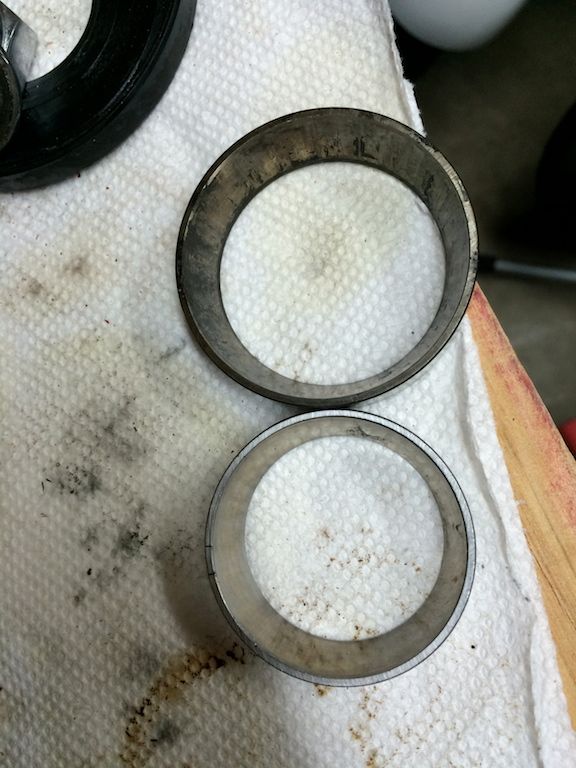 Then the new races went in. Here's the bottom pressed all the way in.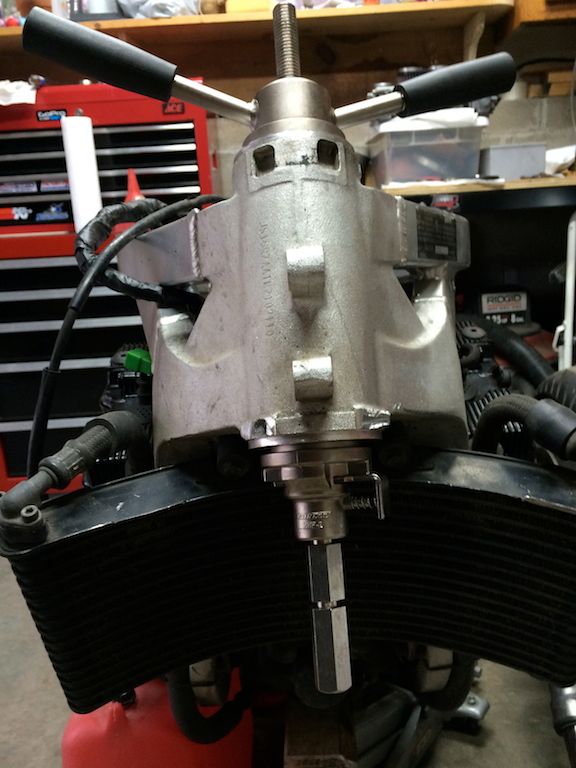 And here's the top pressed in.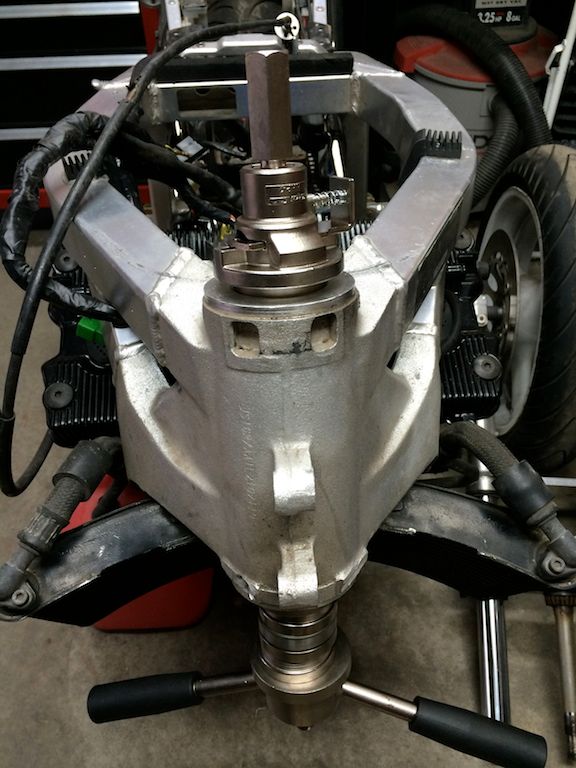 Lubed up the bearings with the marine grease I used for the swing arm bearings.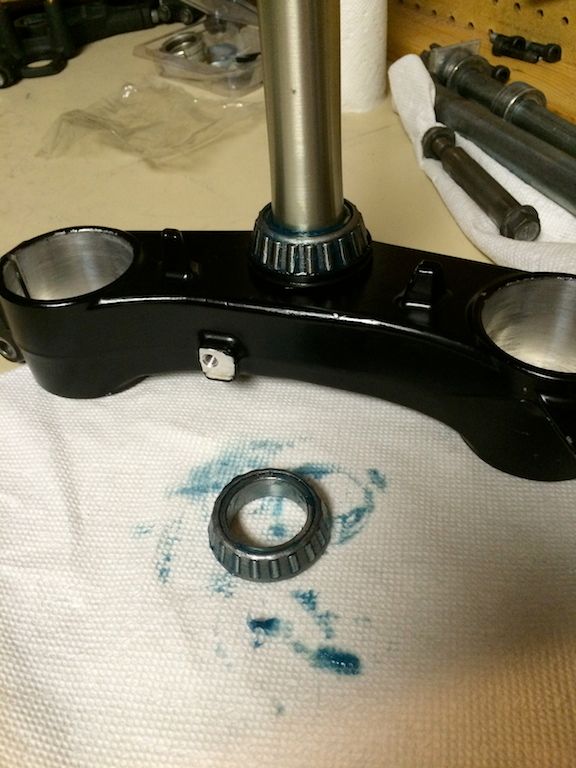 Then about 10 minutes later this is what I had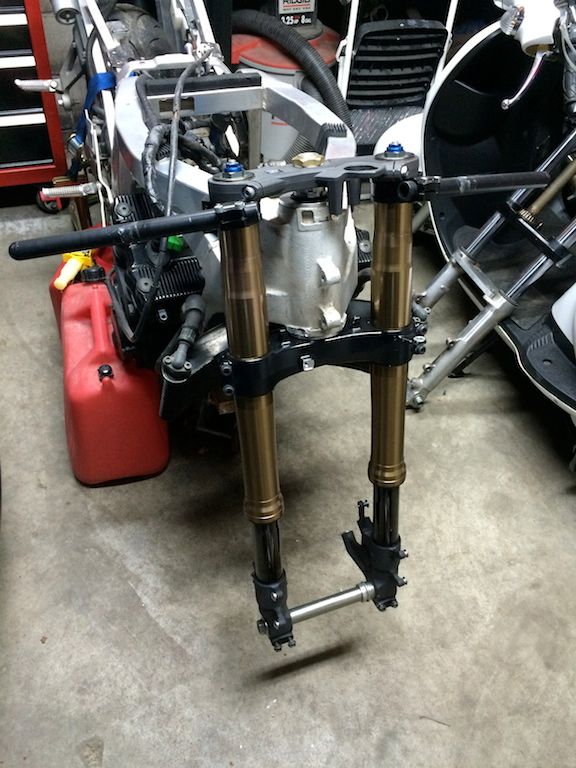 Wish I would have been thinking harder when I brought the triple down to my friend's shop and I would have brought the new rim and old wheel with me to get the tire switched over. Oh well, I had to go back down to the shop to return his bearing tools anyway, so I had the tire switched over then.
In my daily trolling of the moto forums, I picked up a cool trick to set the float heights in the carbs. Pretty simple really. Just get a piece of card stock and cut out "steps" in it at 14.6mm, and a higher one in the middle to clear the top of the float, like this. I made good use of the All Balls packaging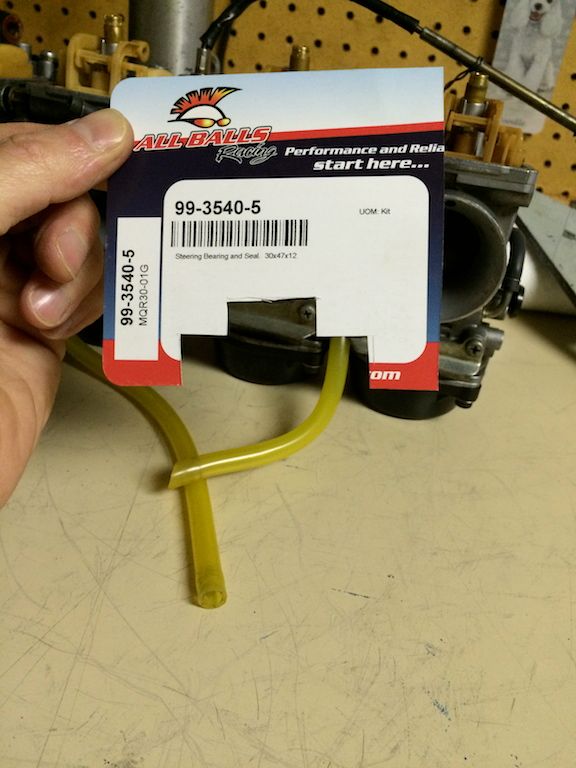 Using that template, I found that 3 of the floats were pretty far off, probably about 11-12mm, meaning, first of all, I suck at setting the float heights using my caliper and my eyeball, and second, the fuel level was high. I'm not sure, but maybe that might be the cause of the no response over half throttle, if it was getting flooded with fuel. Well, I reset those 3 floats to 14.6mm. I also had ordered a Motion Pro throttle cable, so I put that on the carb as well
Carbs buttoned up, tire switched over, gas tank clean and not leaking fuel - I guess it was time to put it back together and get that new V&H header on!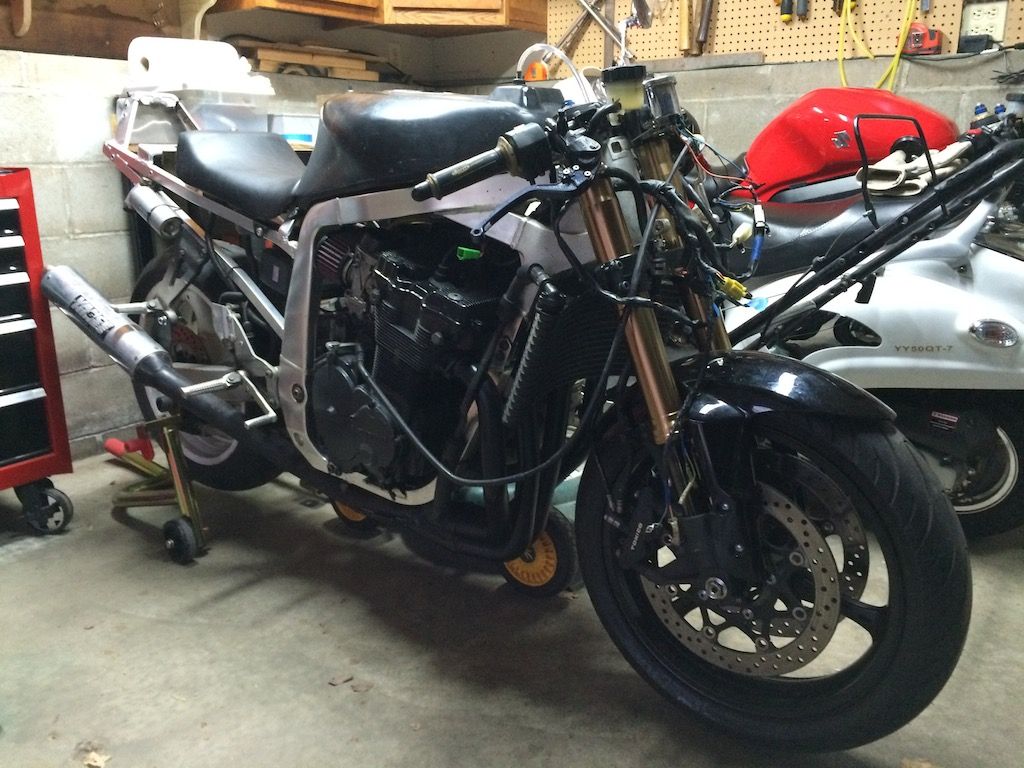 Of course, I'll have to do something with the rat's nest of wiring. There's a lot of excess at the front, and I was thinking of either coiling up the excess under the tank by the coils, or unwrapping the harness again and shorting all the wires I need, and taking out the ones I don't need. If anyone has advice, let me know.
Hopefully tomorrow I can get it started after it's long hibernation and take it for a ride!