Discussion Starter
·
#1
·
That's right folks, I am back with another build. This one will start out a bit slow due to a pretty aggressive honey-do list, but once it starts it will be hot and heavy.
So this is the starting platform. It didn't come with a title, but I have already rectified that with VA and I have a clean title in hand. The paint isn't nearly as good as it appears. The white stripes were painted by hand and in a lot of spots you can tell. The tank has been lined and the cross over tubes are clogged because of that. Not sure if there are pin holes or what, but I guess I will find out when I pour some MEK in the tank and go to town shaking the crap out of it.
I have worked it out with my daughter that I will fund the build and when I am done she will buy it from me. I am keeping a very detailed list of the expenses. Doing it this way will allow me to buy parts as needed and not have to wait on her to save up for them. Which should allow the build to go faster. I need to get it done before I retire while I still have a steady flow of income. While the honey-dos might keep me from working in earnest on it that doesn't stop me from looking and collecting parts for it.
I don't want to do spokes on this one. There is a guy that works next door to me that built a CB400A that needed some carb work done to one of his other bikes so I traded that along with some cash for a 78 CB400Tii front end, wheels, and swingarm (not sure if I can or will use that).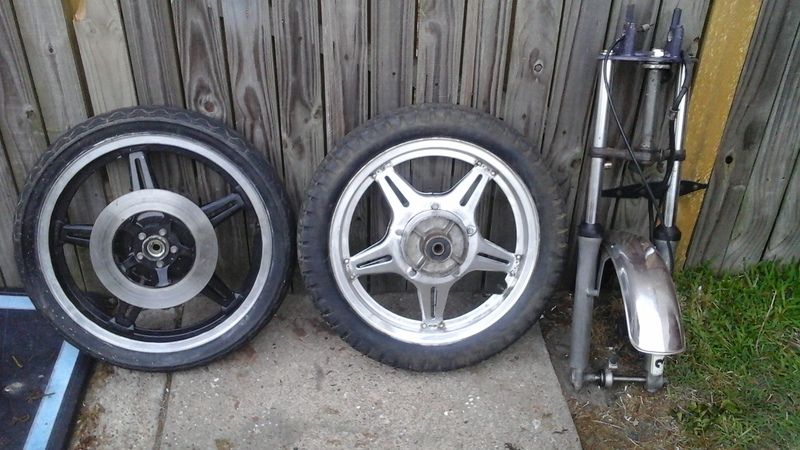 Yesterday I picked up a dual piston front caliper and mounting bracket off of an 85 VT1100C for a bit better braking. I also bought a caliper off of an 83 VF750. The caliper is the same, but the mounting bracket is different. I will use whichever caliper is in better overall condition and the bracket off of the VT1100C.
85 VT
83 VF (right center)