Discussion Starter
·
#1
·
*
CURRENT
*
_________
Again I am going to try to stick to a 'post as it goes format', I have a short list of items that are either going to be de-Modded/returned to OEM or existing Mods that are going to be refreshed either through maintenance needs or personal desire to have things look different.
-remove SV1K snorkle, replace the OEM SV650 snorkle
-replace Air Cleaner
-refresh rear wheel RClip tether, create and install Coil Tension Safety Clip & Tether
-replace engine case bolts to SS socket head cap screws
-refresh oil filler cap safety wire to replace with Coil Tension Safety Clip & Tether
-install Rear Brake Pressure Switch/Banjo
-refresh Rear Brake Reservoir delete
-fix front brake lines so that they sit symmetrically
-remove Zero Gravity logo stickers from windscreen
-replace cracked overflow and vent hoses
-sell off Sargent seat, replace with OEM seat
-complete install of Tyga Moto Maggot GP style exhaust canister, custom modified Hindle mid-pipe
-create QR tank pin tethers
-modify and refinish sprocket cover
So, TIA for looking and here goes what I started on today:
Here is what the 'official' HRC Rear Reservoir Delete kit looks like after a few years of use. The HRC hose (they call it a "pipe") appears to yellow and harden over time, probably not a big issue but personal preference dictated that I replace it.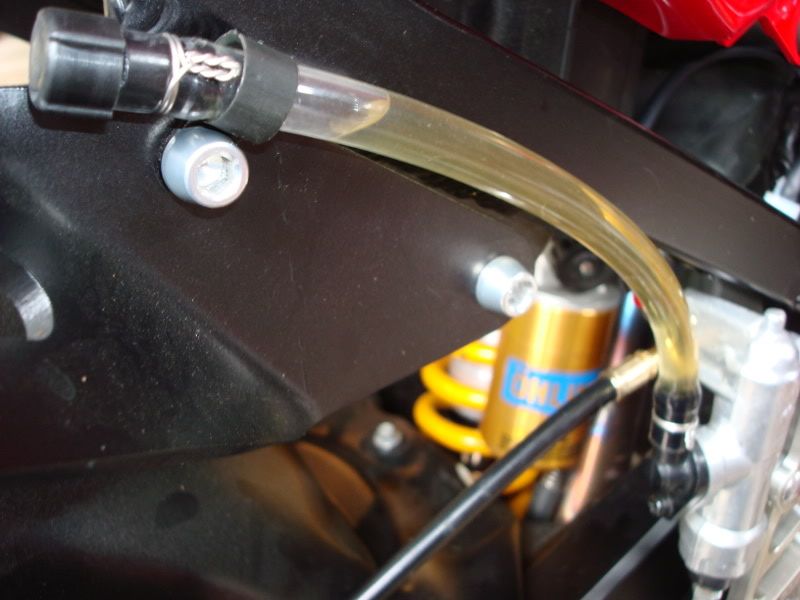 Boom, done. Nice new Tygon 2075 (non-hydroscopic) hose, Honda plug, and cable clamp; safety wired on top and bottom versus utilizing the HRC clamps and routed to the outside of the subframe just to mix it up a bit. Ultimately I believe I will run it under the rear inner fender and use a self tapping screw instead of having it on the outside of the subframe.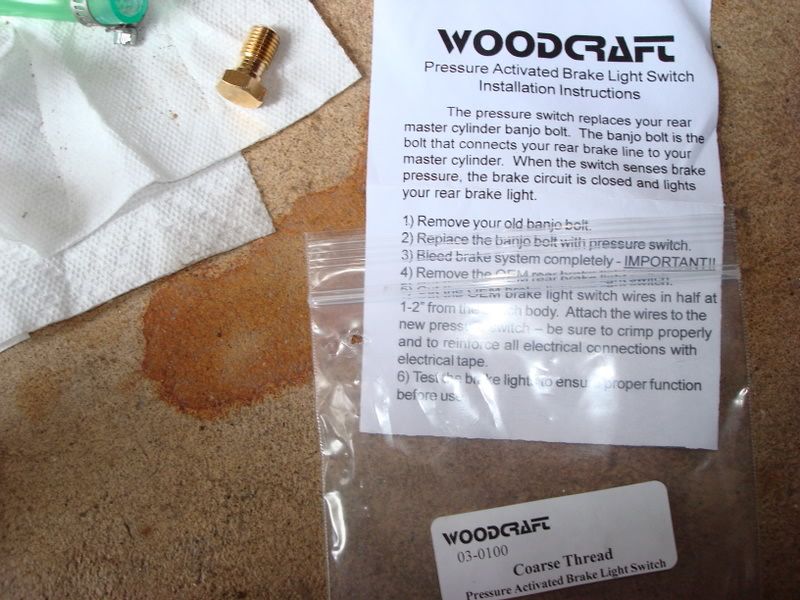 Woodcraft Coarse Pressure Switch/Banjo (package). For some reason I didnt take a picture of the unit itself. Thats the Galfer banjo in the pic. I have had this piece on my workbench for well over a year now and simply didnt make the time to install it. Today was the day, now my rear brakes activate the brake light(!).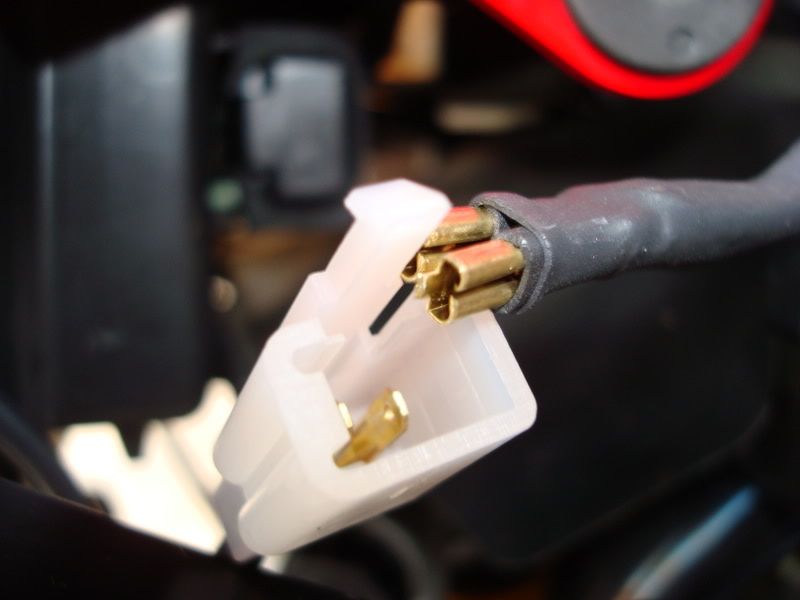 Here is what you get with the Woodcraft unit, a prewired connector and two female crimp connectors. No mating connector for some reason... So, using two different sizes of shrink wrap I made it as clean as possible. ***EDIT - see page 8 regarding the OEM harness and connector***
After plugging it all in and rebleeding the brake system I tested the unit to ensure it worked. Once it was tested I used another larger length of shrink wrap to go over both ends of the connection and seal it up, then I wrapped both ends of this length of larger shrink wrap with some electrical tape (not shown) and tucked it all in, zip tying it to the subframe rail.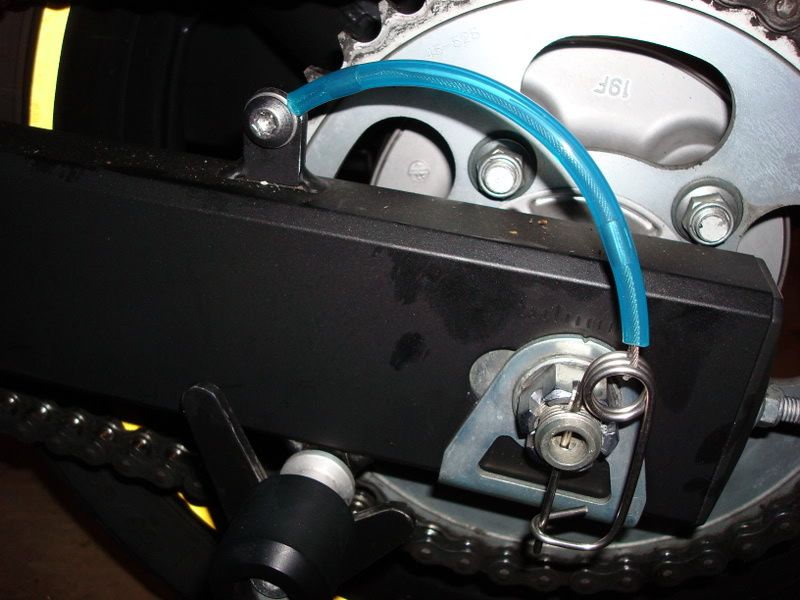 Picture update 11/14/08. Newest version is shorter and uses a different lanyard.
I replaced my old 'RClip' and safety wire tether with this. Its a coil tension stainless steel 'safety clip' and a stainless steel tether/lanyard, which I then sheathed in a length of polyurethane vent hose to keep it all tight and minimize flapping about.
Ahhh, the OEM seat. I sold the Sargent seat off a few weeks ago. I just didnt ride enough to merit the investment. It was a nice seat for sure, but since I actually ride a little less now than last year (in general) the OEM isnt so bad.
2006 SV650 K6 "S Conversion", April 2008 SVRider.com "SV of the Month"
-Front Galfer SS Superbike braided brake lines
-2005 GSXR750 Front Radial Mastercylinder
-2005 GSXR750 Front Dampers, Triples, Wheel, Radial Brake Assemblies
-DougZCustoms Fork Sliders
-LSL Offset Match Clip-Ons
-PP Tuning Preload Adjusters
-GI Pro ATRE
-Rear Galfer SS braided brake line
-V9 hybrid HRC Rear Master Cylinder Reservoir Delete Kit
-CRG shorty levers
-TechSpec High Fusion Tank Grips
-OEM S Upper, Duplicolor Bedliner coated and finished in Krylon Semi Flat Black
-Zero Gravity SR (Stock Replacement) Windscreen
-R6 Throttle Tube mod
-14t Afam Front Sprocket
-V9 Modified Cut-out and Refinished OEM Sprocket Cover
-EvoTech FE
-Ohlins 46PRCL rear damper
-Rizoma Zero-11 Turn Signals, Rizoma Resistor
-GP Shift
-Frame and Swingarm Motosliders
-CRG Hindsight Mirror, Renthal Bar Ends, Renthal soft street grips
-Suzuki Accessory Seat Cowl, CF Tank Pad
-Woodcraft Rearsets
-Woodcraft Coarse Thread Rear Pressure Switch/Banjo
-Leo Vince Full System (originally High Mount) with custom modified Hindle YZF R6 Mid-Pipe and Tyga Moto Maggot canister, M4 Race Mount Bracket
-Michelin Pilot Powers, 33psi front/36psi rear
-Tapeworks Gold Reflective Rim Stripes
-CNC race style fuel filler cap
-Hotbodies 2007 GSXR750 Carbon Fiber Front Fender
-Modified Battery Box with Tool Kit Area Removed
-Modified OEM Suzuki Rear Wheel Hugger
-Sato Racing Quick Release Tank Pin Set
-V9 Rear Axle Coil Tension Safety Clip & Tether
-Fiamm Freeway Blaster horn
-Silkolene Pro 4
-Safety Wired Oil
Mod Session 11.0:
http://forum.svrider.com/showthread.php?t=84789
Mod Session 10.0:
http://forum.svrider.com/showthread.php?t=83735
Mod Session 9.0:
http://forum.svrider.com/showthread.php?t=70574
Mod Session 8.0:
http://forum.svrider.com/showthread.php?t=64352
Mod Session 7.0:
http://forum.svrider.com/showthread.php?t=61311
Mod Session 6.0:
http://forum.svrider.com/showthread.php?t=58007
Mod Session 5.0:
http://forum.svrider.com/showthread.php?t=61022
Mod Session 4.0:
http://forum.svrider.com/showthread.php?t=51068
Mod Session 3.0:
http://forum.svrider.com/index.php?t...586#msg1076586
Mod Session 2.0:
http://forum.svrider.com/index.php?t...646#msg1052646
Mod Session 1.0: (dead link)
Mod Session .095: (dead link)
Mod Session .07, .08, & .09: (dead link)
Mod Session .06: (dead link)
Mod Session .05: (dead link)
Mod Session .04, .03, .02, & .01: (dead link)