There's a ton of info here on SVrider about the GSXR rear shock swap, and a ton of dead links as well. I decided to put a post up on the GSXR1K rear shock and address issues I had the most concern with, so those of you that may have had the same questions as me, I hope this does you a small favor.
I suspended the bike using the jack stands & threaded rod method:
The GSXR1K shock & YTZ10S Battery vs. Stock Shock & Battery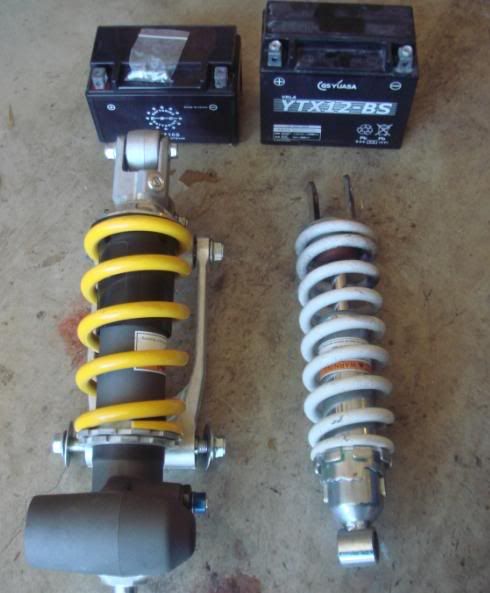 Battery Box Cutting: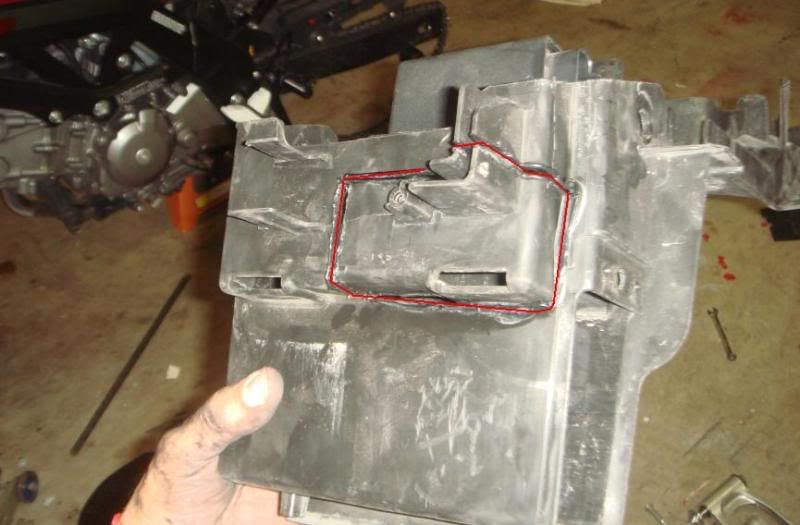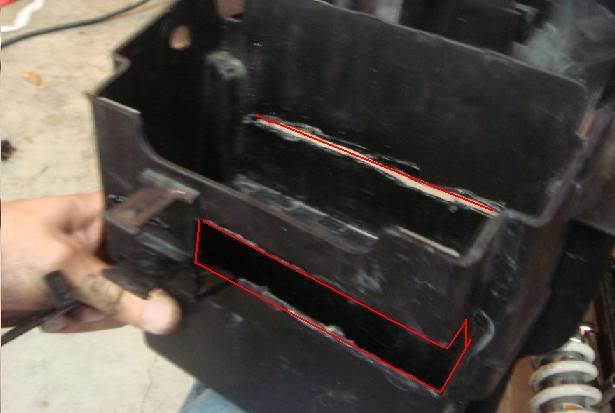 The 'shelf' fabricated from the plastic cover / partition from the battery tray (btw, the arrows are only for illustrative purposes, it's easier to slide the 'shelf' in through the rear):
Shelf Installed: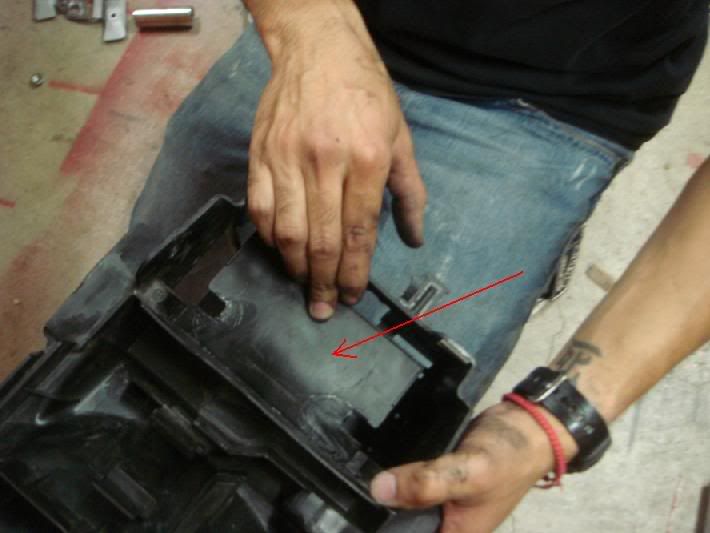 Shock reservoir fits like a glove (Shelf Removed for view):
Here's some views of the shock installed: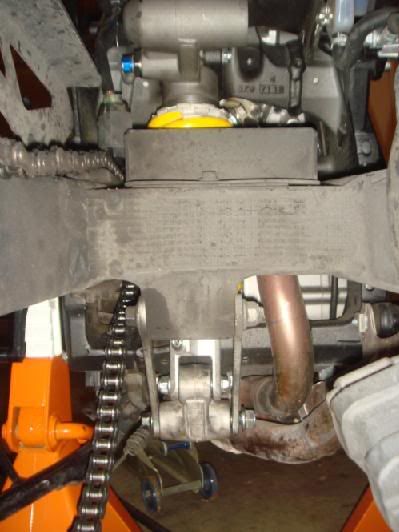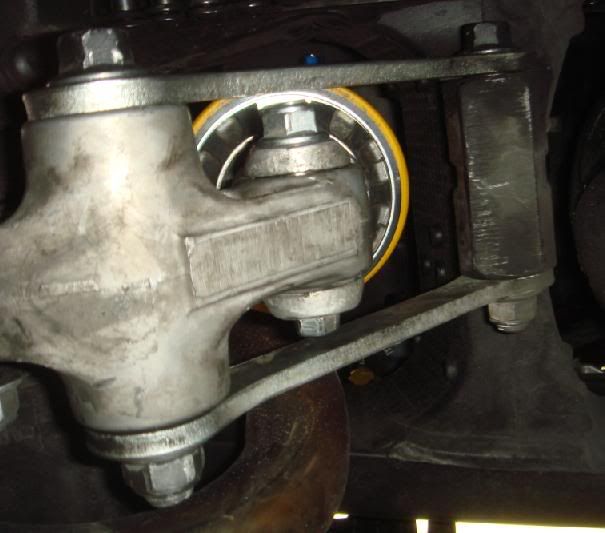 *THIS IS A VERY BASIC & ROUGH GUIDE I WANTED TO PUT TOGETHER TO CHANGING YOUR SHOCK OUT, MADE VERY SIMPLE SO EVERYONE EXPERIENCED & NEW CAN LEARN SOMETHING FROM IT.*;D
1. I removed both side covers and seats (front & rear).
2. I disconnected the battery (negative side first, sorry, old auto habit) and all connectors. Removed battery. I disconnected all cables and plugs that would otherwise not allow the removal of the tail section or the battery tray. Remove rear tail section. Loosen the 4 bolts holding the tray to the subframe. *it's not necessary to remove the rear tire, but I did anyway to have more room to work with and to replace my OEM Stock wraps with some nice Pirelli Diablos.*
3. I raised the bike using a floor jack on a solid point under the motor. I believe the best technique, the "threaded bar through the swingarm pivot point resting on jack stands" is solid and never had me worried when I was working under the bike.
4. I removed the old shock. I ran into no problems with seized or stuck shock bolts, even on the dogbone, then again the bike is brand new from the summer with only 8K miles on it. I started at the top mount (but left bolt in) then worked my way down. Since my new shock came with the stock GSXR dogbones & bottom shock knuckle, I used the bolts the GSXR shock came with, but used the SV dog bone bolt. (sorry if this makes no sense....it is really EASY and will make sense when you're looking at everything)
5. Battery box: I wanted to see if the box and battery would fit and there IS NO WAY it can. The only way is to cut your box and buy a shorter battery. You will need to order a CBR f4i battery or its equivalent, model YTZ10S. Look for the seller 'motobatteries' on eBay; I got my battery in less than 5 days, the battery was fully charged (BIG SURPRISE) and the the total price (shipping included) was about $64 bucks. The method used for cutting my box was a hot butter knife under my gas grill, which worked amazingly well. There was a member that used the same technique (but only with a butane torch) but a gas grill works just as good. There is a piece of plastic that was on the old tray in front of the battery. I used this as a 'shelf' and placed the rubber mat on top, then the battery would have a nice little place to set on.
6. Install the new shock. This went faster than removing the old shock for some reason. Make sure those bolts are torqued down pretty good (as far as recommended torque settings, i went with 65 ft/lbs for each. I don't have a service manual, but when I removed the stock shock bolts, I used those torque settings). There should be a little play in the shock from side to side, this is normal.
7. Put the battery tray back in, re-connect all the wires, and replace your rear tail plastics.
6. I didn't make any suspension adjustments, since spring rates, compression S/H, and other suspension ins and outs make no sense to me. I will probably take it to Road & Track here in San Antonio when I get my stock fork springs upgraded and some emulators put in.
7. You will most likely have to re-adjust your chain. As I stated above, I removed my rear tire so I had to anyway, but check your chain and adjust as neccessary.
I welcome all questions & criticism.
Hope this helps!