So the bike sat for almost ten years in a covered area, but not fully enclosed. Hereís where Iím at this stage of the resurrection:
Completely dismantled and cleaned the carbs. One pilot jet was completely clogged, the other one slightly. Got them all cleaned out, pilots and mains. Floats, float valve, and slide and slide diaphragms were fine with some light cleaning. Theyíre reinstalled now. Just got to make sure theyíre balanced now Ė I donít have gauges to do it. Iím willing to buy them as long as I get a kit that will work for both carbíed and FI bikes up to 4 cylinders (I have an Ď05 GSXR 750 as well). Iíve seen some YouTube vids on some DIY methods, so I may give that a go first.
Drained the old nasty gas out of the tank. I canít get a good look inside, but what I see from the filler hole is a really rough black textured look, sort of like a heavy truck bed liner, but doesnít look like rust. I canít see the top of the tank or any other areas. Should I try it as is, or maybe try some POR-15 treatment first?
Brakes need some work. The rear caliper is shot I think Ė the pads actually fell out without their backing plate which is fused to the brake pistons. The part of the pistons I can see look rusty but I canít tell if the dust shields are shot. One moves a bit when I pump the rear brake pedal but the other doesnít. Iím going to clean them as well as I can and see if I can get them moving freely. If so Iíll just throw some new pads in and leave it for now Ė who uses the rear brake anyway? Lol. If that doesnít work then a rebuild is in order. I think the fronts are OK but have to put new fluid in and test them along with the master cylinder. If not rebuilds all around!
As to the engine, I pulled the plugs and liberally sprayed some cylinder lube in them and got it turning pretty good manually with a 36mm socket on the front sprocket. I just replaced the battery today and she spins very well with the starter, so I think all is basically well with the engine. Iíll do a compression test in the future, but for now I just want to get it running. Checked for spark and both cylinders look well. The old plugs look fine, but I bought some new NGK iridium plugs since I donít think I ever change the old ones. But I checked for fire with just the old plugs only and they sparked fine.
The only thing that worries me is the starter relay. The engine cranks fine mostly, but every other try I just hear the relay click, but no crank. I did crack the cover to the relay when I removed the connector for a totally unrelated reason. But it does mostly work. Should I just replace it or tape up the cover (see pic below)?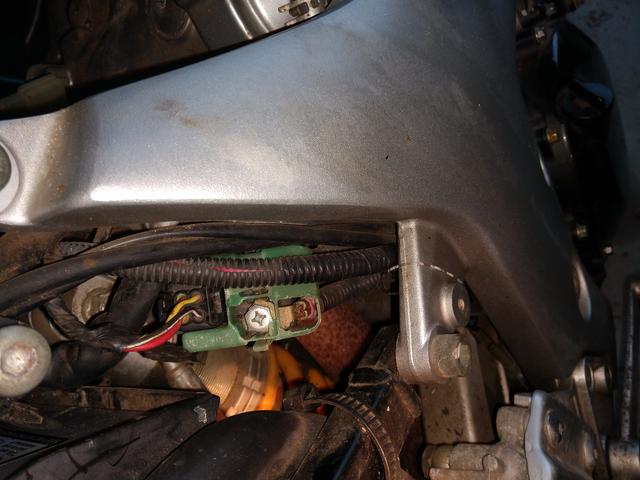 As stated, I havenít tried to fire the engine yet. It has oil but I donít know its condition. I always ran good full synthetic oil in it Ė it looks dark in the window but most likely itís at least OK (I donít remember how many miles I have on the oil). I have new oil and filter Ė the question is should I change it first or try to fire it on the old oil to get it warmed up and circulating and clear out any gunk from the upper cylinder head?
What else am I missing before a first run?