Just take a look at this dyno chart; it reveals that the TSS500GP engine developes some 30% more torque than a 600cc Supersport engine, in a bike that is 35kg lighter! The raw numbers alone - well they just stack up. A 120HP engine in a 130kg bike, with two mighty 250cc pistons churning out gutsy torque even at low revs.
This is not like the old-school four-pot 500s with their tiny 125cc cylinders and consequently 'boggy' lack of response when off the pipe.
Just think of a bike with 2 x CR250 motors, and you're getting close to understanding how strong the TSS500GP mill pulls from low revs.
And yet, due to our revolutionary new curved power-valve blades that follow the piston profile more closely than existing flat-blade designs, the strong bottom-end and midrange grunt is achieved without compromising top-end zing.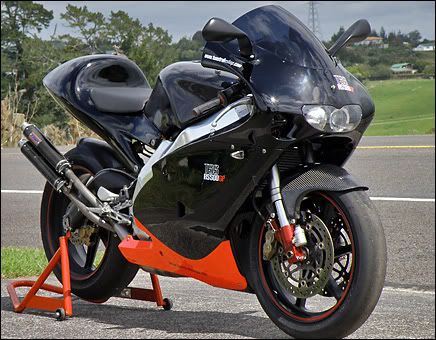 So you get all the righteous benefits of the two-stroke engine - an avalanche of torque straight off idle, building through a rollicking midrange and culminating in a classic two-stroke whack over the head top-end rush.
http://www.twostrokeshop.com/Aprilia_RS500_2008.htm