Then over this last winter the gsxr upgrade bug got ahold of me and i started collecting parts.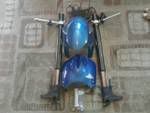 small, poor quality pic. but the list is 2006 gsxr 750 forks, front fender, buell m2 flyscreen, and all the odds and ends such as clip on's, m/c, clutch perch...etc.
and soome adjustable rearset plates rattle canned satin black.