I have a nice little update in store for you... so here goes.
first off, i made some new bushings. They are made out of Aluminum, but will be replaced with Bronze ones when i can find some material.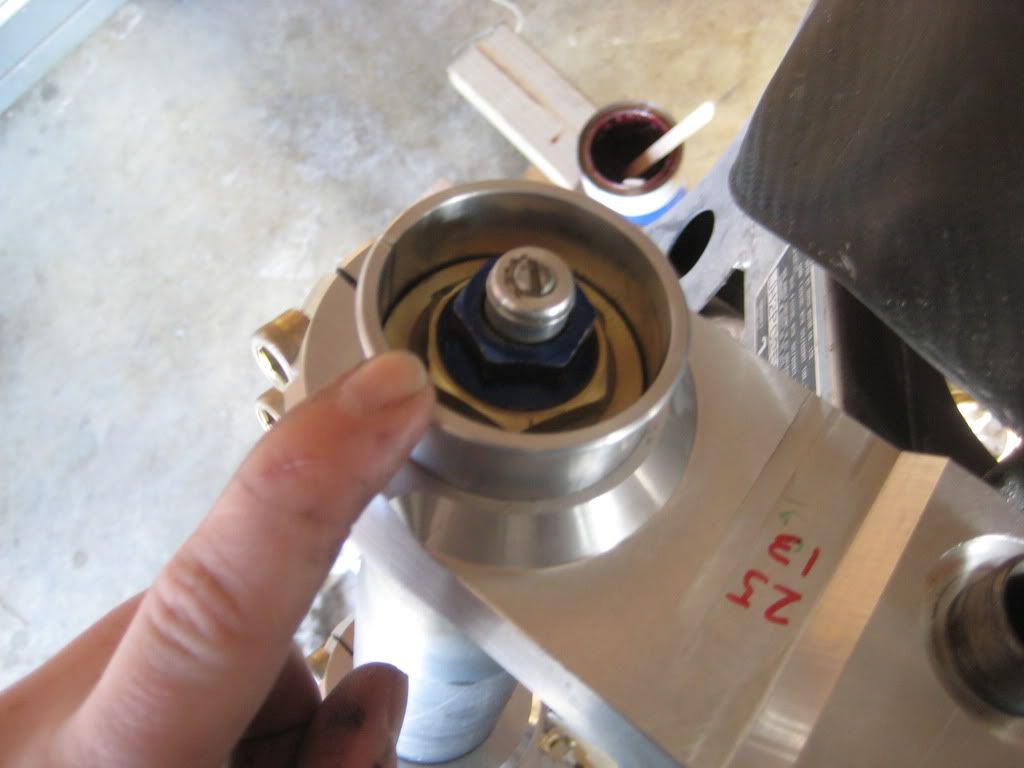 Now that i have the front end ironed out, i decided i could finally make my front fender. I have a 600rr front fender and it will actually bolt up to the GSXR front end... but.. i think it is too big looking. and plus, it is plastic... and orange.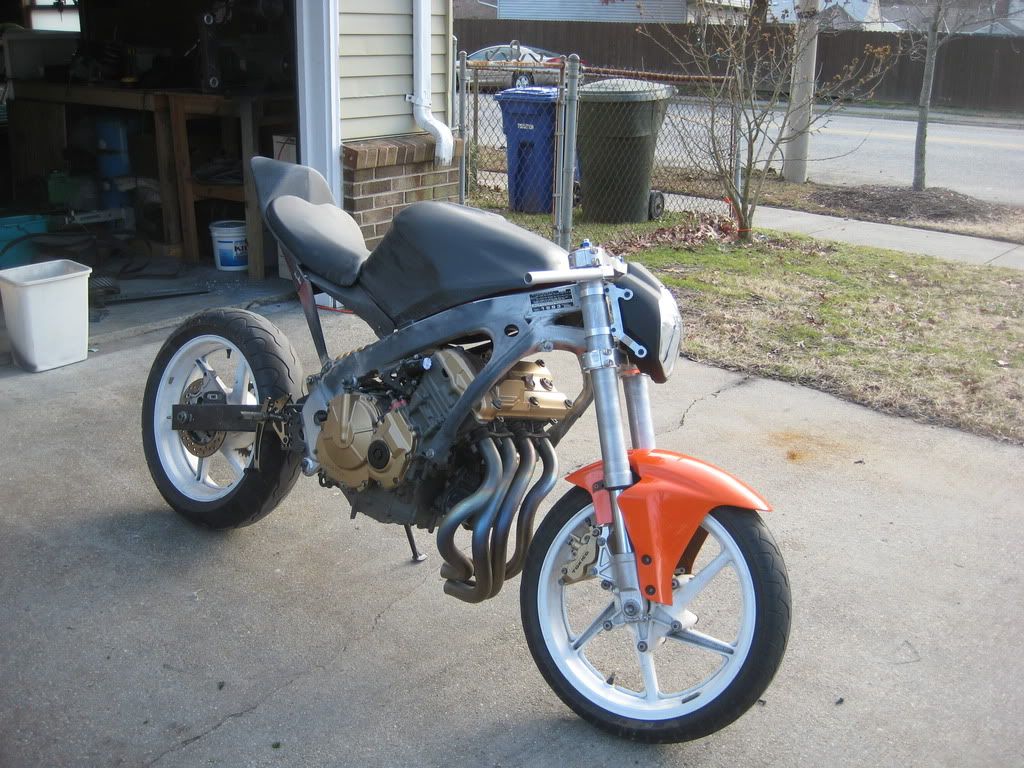 So, i decided to make a new one out of Carbon fiber. or rather to copy then modify the existing 600rr fender. the beauty of this plan is the fender was cheap, will make a great mold, and i like the overall shape.
The first order of business is the clean it up. i polished it up so as to resent as perfect a surface as i could (this minimizes sticking.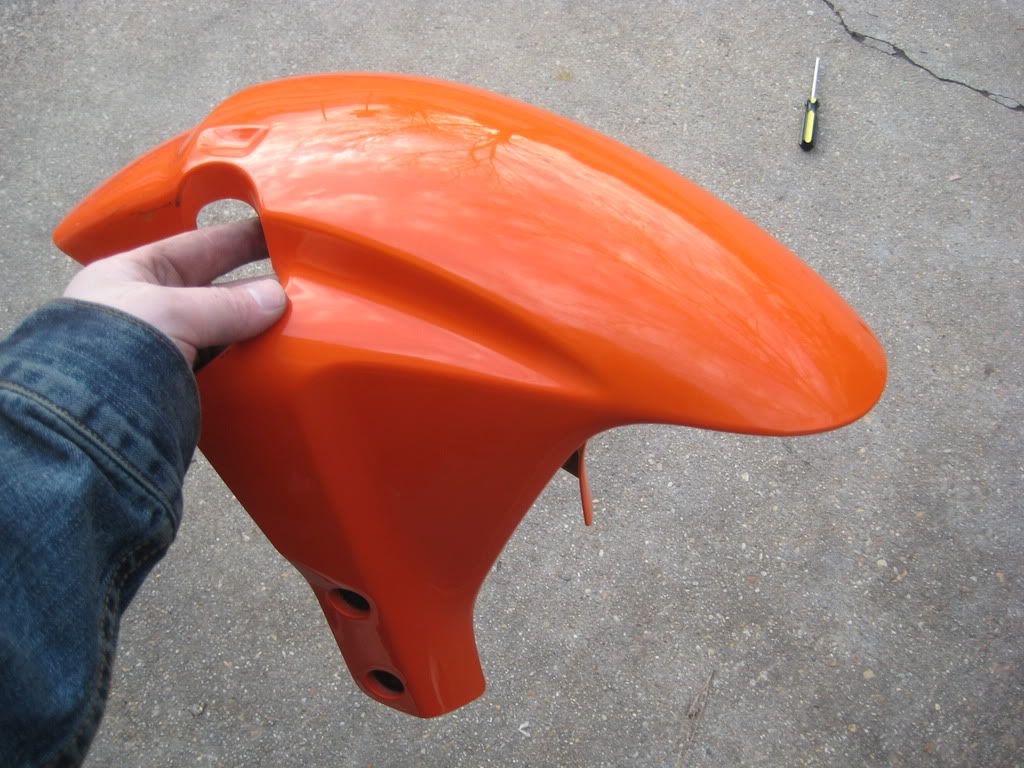 then i filled all the holes that i didnt want with clay. not totally neccesary but makes for a better part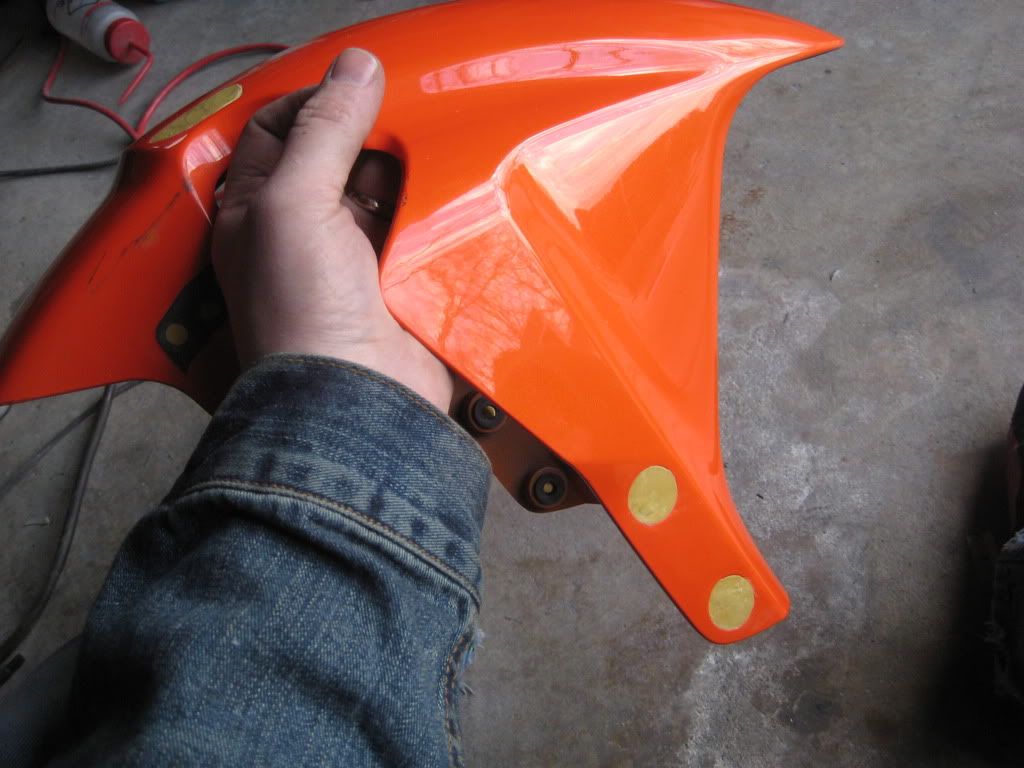 I then covered them with tape. I have special non-stick teflon tape, but packing tape would work just as well for this. the clay supports the tape, and the tape provides a flexible resin-proof barrier.
Then you wax your part. regular car-wax will work if it is actually wax. (i didn think you needed a picture)
Once your part is ready, cut out your cloth. I used a 3 peice method. on for the top and rear section, and then another peice for each side. the simpler your plan the better. but have a plan... even if it is complex. Carbon has a way of sneaking up on your and entangling you in its sticky web if you go in unprepared. you were warned.
and.... it is because of that sticky web that i dont have any pictures of the lay-up. but it is simple. you want to wet the whole part with resin, then lay on the first piece (start with the biggest or most stable) and smooth it down. do this with all your pieces, only applying resin if the cloth wont stick. make sure to overlap if you have multiple pieces. then apply a coat of resin over the cloth. and repeat the process. i use a Bondo squeegee to smooth the cloth and ensure the resin has permeated it.
So here is the fender all laid up and curing overnight. dont rush it letting it cure. if you take it off too soon the part will still be pliable and can warp pretty badly. then you are screwed. dont do it. please.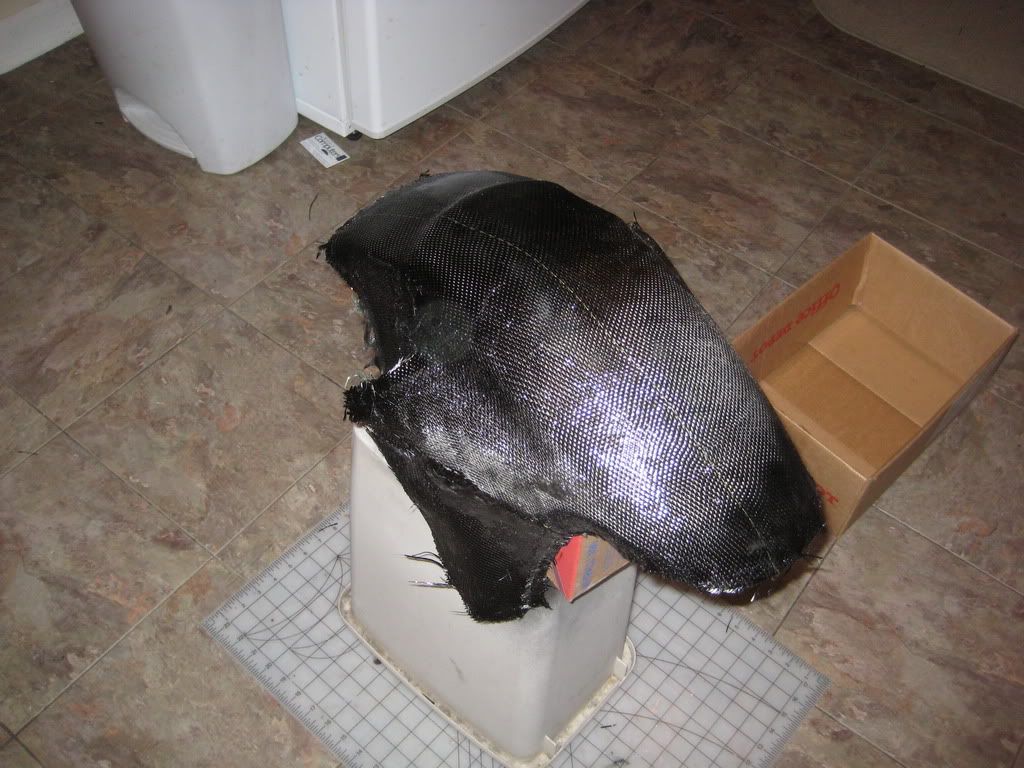 Then... when your part is done curing (give it a full day at least) remove it from your mold. the nice thing about the plastic fender is it is flexible and you can use popsicle stick, paint stirrers and (very carefully) a screwdriver, to pop the part off. after that... you just have to trim it.
I sanded and shaped mine before i took the picture...
and then you get to see how it looks. still needs some work IMO.. but looking good.
now... while the part was curing i put the brakes, controlls grips and stuff on the bike...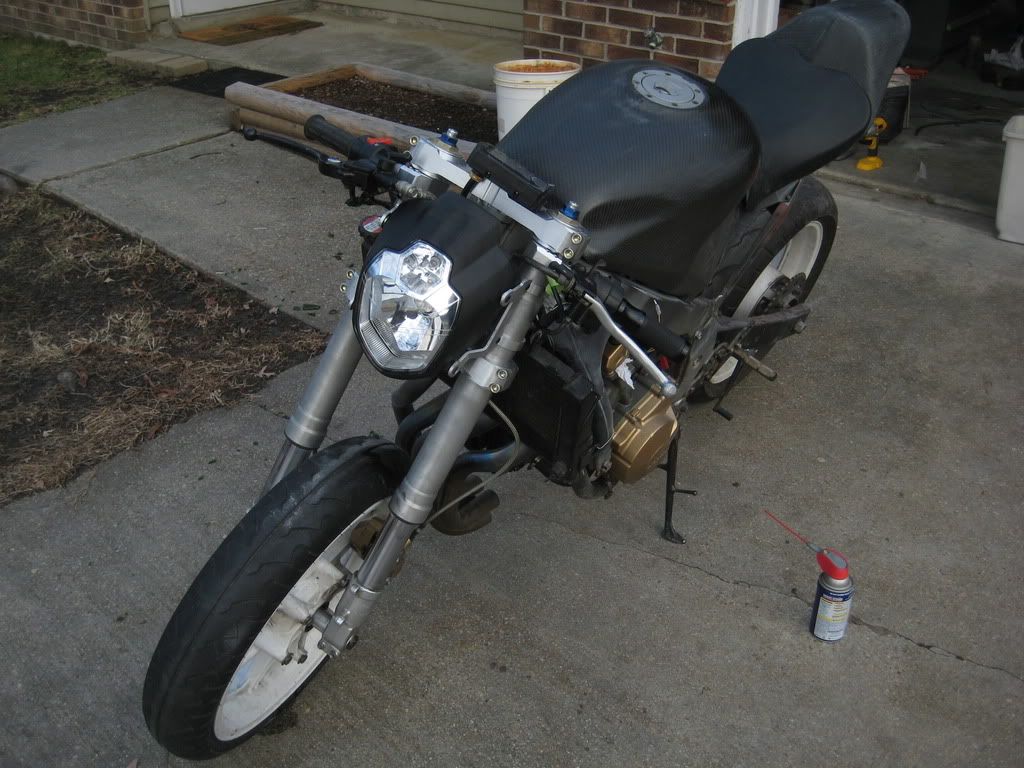 I need to make a bracket for this.. but cant decide where it should go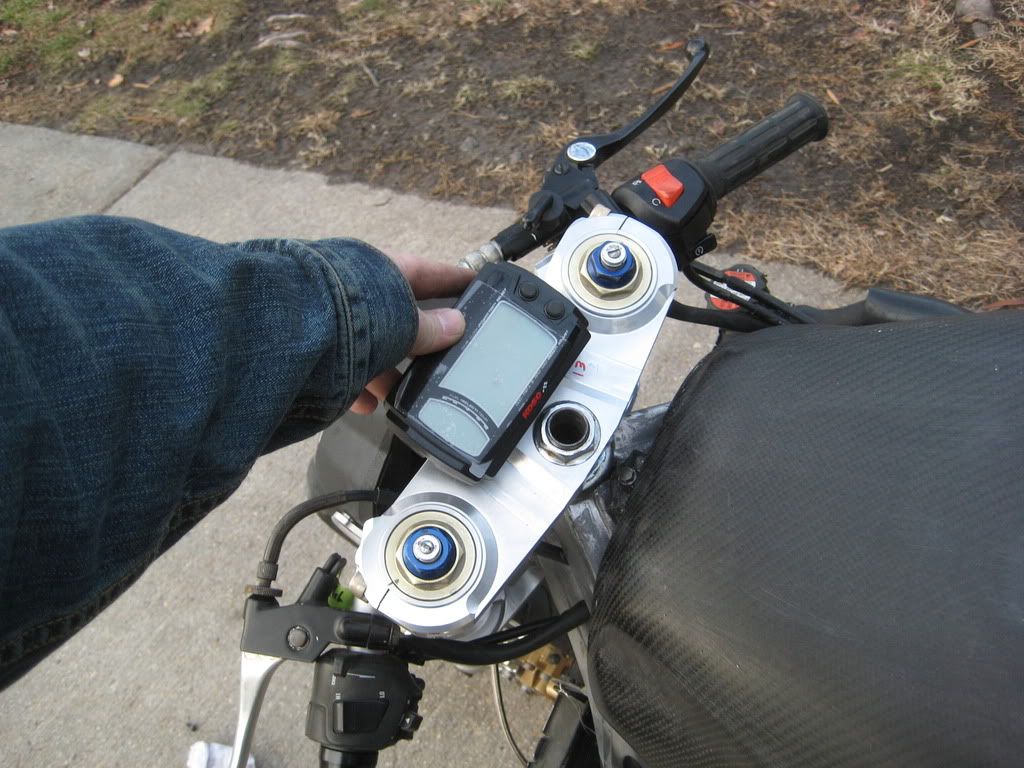 anyway... there is more where this came from...
thanks for looking!
~Chris