Quote:
Originally Posted by
Syscrush
I've been thinking about gorgeous pipes lately.

What's the prettiest custom exhaust you've seen?

I know I've seen some jaw-dropping stuff, but when I go hunting for nice exhaust specifically I end up stumped.
Love the challenge. You'll definitely get a response from me. Can I have a little guidance? You might think my taste is in the tongue of my boot. Does it have to be custom? Are you a 4-1 lover like me, or are you a v-twin-snakes-making-love kinda guy?
Here is a nice 6-6 to start proceedings.
You're gunna hafta wear some reposts on this project. Staying with the DOHC-one-pipe-per-pot-theme, Benji makes a nice 4-4.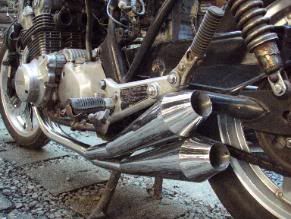 http://www.benjiescaferacer.com/750DOHC.html