Well finally my magnets are here and of course they aren't the right size... Apparently the GSXR has a diminishing diameter in the holes of the rotor for what I guess is added ridgity.
So it required me to go against the advisory on the magnet site and I had to cut them to size. I bought 3/8" X 3/8" and the right ones would have been 3/8" X 1/4". Oh well..
They fit anyway so who really cares at this point.
So this is kind of what they look like. Thankfully the mutilated side goes on the inside.
After this you can mount the sensor and the fender. Since the SRAD forks are wider unless you get some sort of custom fender the GSXR fender will not fit on the bike. So I decided to go with the BUSA fender..Not my first choice but whatever.
Here it is mostly put together:
Then you go ahead and get yourself some headlight brackets. There are several kinds but I decided to go with aztec8 parts since that's what a lot of people do and they're not that expensive. I used 4: 2 48mm's and 2 54mm's. Of course they dont make 53 but the lower 54's are really only there to keep the headlight steady so it worked out ok.
Now since the forks are wider, the aztec 8 parts will need to be cut. I cut one side of the 2 piece clamp so that the headlight bracket itself will fit within the forks. I didn't really measure as you have some leeway since the headlight bracket is rubber mounted and bends a little. However, you have to be VERY careful not to cut too deep otherwise you will compromise the ridigity of the pieces.
I don't have a pic of the cut pieces because I put them on before I got my hands on another camera but I'm sure you can use your imagination.
Here's the headlight on the bracket after everything is said and done.
Note how the inner side of the aztec8 piece is smaller than the outer one: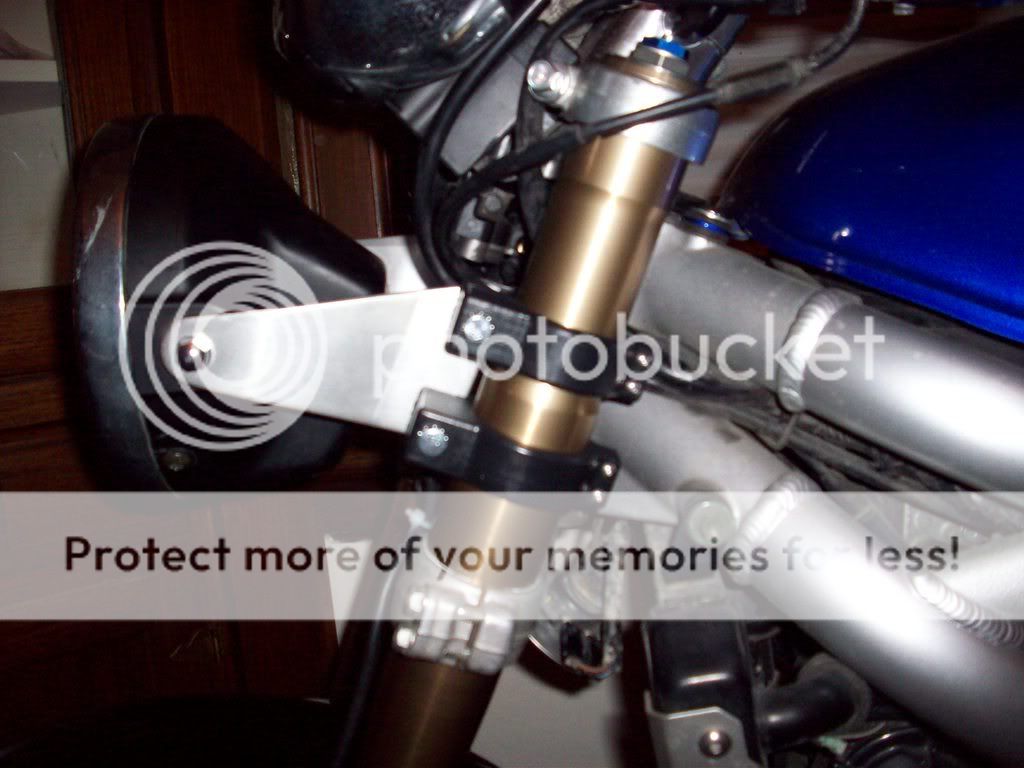 And the bike how it is now:
All that is left is a set of brake lines from cyclebrakes and then that will be it.
What a **** ton of work...